COVID-19 vaccinations in New Jersey: What you need to know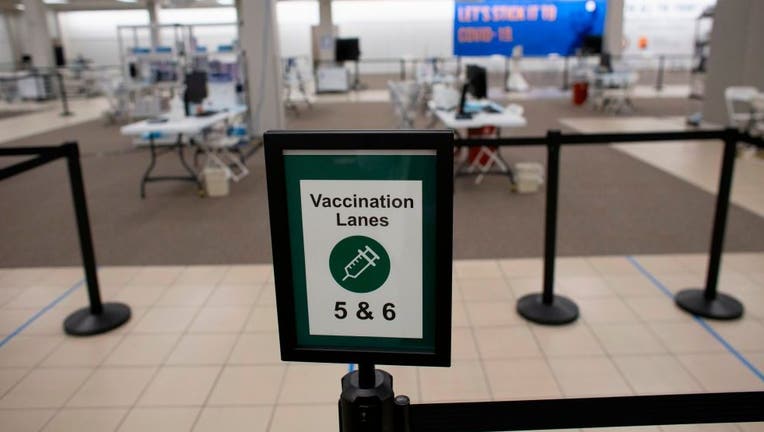 article
PHILADELPHIA - Officials in New Jersey are hard at work in their effort to deliver the COVID-19 vaccines to residents across the state.
The most densely populated state in the country began its arduous vaccination rollout in early December. State officials are hoping to inoculate 70% of the state's adult population, or nearly 5 million people, in the months ahead.
To help speed up that process, New Jersey has opened six mega-sites that serve as vaccination hubs for residents across the state. The sites - located in Morris, Gloucester, Atlantic, Bergen, Burlington, and Middlesex counties - are joined by more than 200 smaller sites to expedite the rollout.
Those smaller sites include individual hospitals, federally qualified health centers, urgent care centers, chain pharmacies, and localized sites created in coordination with county & local health departments.
New Jersey remains in the early stages of its vaccination roll out but it's slowly expanding eligibility as doses become more abundant and federally approved. The state started its plan in January by offering vaccines to frontline healthcare workers and nursing home staff and residents.
Officials have since expanded eligibility to include first responders, people 65 and older, and residents 16-64 with serious medical conditions. In early March, Gov. Murphy made educators and staff pre-K through 12th grade eligible for their first jab.
Beginning March 15, local transportation workers, public safety workers, migrant farmworkers, members of tribal communities, and those experiencing homelessness will be eligible to get their COVID-19 vaccination. 
On March 29, all frontline workers in the food industry, remaining elder care workers, elections personnel, medical supply chain workers, hospitality workers, clergy, postal and shipping services, warehouse and logistics, and social services support staff became eligible to make a vaccine appointment.
New Jersey expanded COVID-19 vaccine eligibility on April 5 to people ages 55 and older, as well as to people 16 and older if they have intellectual or developmental disabilities.
The newly eligible also include higher education educators and staffers, along with communication support workers, including engineers and members of the media.
Real estate, building, and home service workers will also be permitted to get shots, along with sanitation workers and bank tellers, accountants, and other financial industry employees. Laundry service workers, utility workers, and librarians round out the "1C" category that Murphy will greenlight Friday.
Come April 19, all adults in New Jersey aged 16 and up will be eligible to receive their vaccinations, Gov. Murphy announced on April 5. 
For more on vaccine eligibility and the state's phases, CLICK HERE. 
The New Jersey Department of Health has set up an online portal where residents can go to pre-register to receive the COVID-19 vaccine.
Pre-registering allows residents to reserve their spot to get vaccinated by filling out a form.
The form will determine if and when you may be able to receive doses of the vaccine and only takes about 15 minutes to fill out.
To pre-register to receive the vaccine, CLICK HERE.
Those who are eligible to receive the vaccine have several ways to get vaccinated, according to the state's website.
Make an appointment at a designated vaccination site. Click here to view a full list of these designated vaccination sites.
Pre-register to be notified when an appointment is available. Click here to to visit the NJ Vaccine Scheduling System.
Check with your employer. Healthcare facilities, including many hospitals, are offering vaccines to their workers. Contact your employer to find out more about potential availability and appointments.
New Jersey has expanded its vaccination locations to include phramcies such as Rite Aid and CVS. Like most states, New Jersey will rely on its partnerships with chain pharmacies to facilitate the distribution of the three federally approved vaccines.
You can find a full map show all the clinics and facilities offering the COVID-19 vaccine by clicking here and navigating to "vaccination site map" towards the bottom of the dashboard.
State officials say no one will have to pay for the vaccine itself. Based on the CDC COVID-19 Vaccination Program Provider Agreement, all providers must vaccinate individuals regardless of whether they have health insurance coverage or what type of coverage they have, and are prohibited from balance billing or otherwise charging vaccine recipients.
For more on coverage, visit the state's website.
New Jersey added a tab to its coronavirus dashboard that allows users to track the progress of the state's vaccine rollout. As of March 1, 2021 New Jersey The latest numbers show New Jersey has administered over 2 million total vaccinations and over 720,000 people are now fully vaccinated. 
____
RELATED COVERAGE: 
COVID-19 timeline: How the pandemic unfolded over 1 year
Trump administration recommends states begin vaccinating people older than 65, stop holding back 2nd dose
ShopRite announces 16 South Jersey COVID-19 vaccination sites
Biden unveils $1.9 trillion COVID-19 stimulus plan, including $1,400 stimulus checks
Coronavirus Restrictions: What you need to know in Pennsylvania, New Jersey, and Delaware
___
For the latest local news, sports and weather, download the FOX 29 News app.
DOWNLOAD: FOX 29 NEWS APP
Sign up for emails from FOX 29, including our daily Good Day Digest newsletter