2 emaciated dogs rescued, 1 found dead within 24 hours in North Philadelphia
NORTH PHILADELPHIA - The Pennsylvania SPCA's Humane Law Enforcement team is investigating three separate cases of animal cruelty it says occurred in North Philadelphia within the span of 24 hours.
Officials rescued two emaciated dogs and recovered the body of another.
A 5-year-old female pit bull, Samara, was found emaciated inside a home on the 3900 block of M Street. The dog is now in the care of the PSPCA.
On the same block, a deceased female black and white pit bull type dog was found after a concerned citizen called the PSPCA Cruelty Hotline.
Rescuers say the dog, still inside her filthy crate, was abandoned near the alleyway at the intersection of M and Luzerne streets.
Officials do not believe the cases are related.
---
FURTHER INFORMATION
How to help: Volunteer | Foster | Donate
Animals available for adoption: Dogs | Cats | Other
Other resources: Pet owners in need | Pet surrenders
---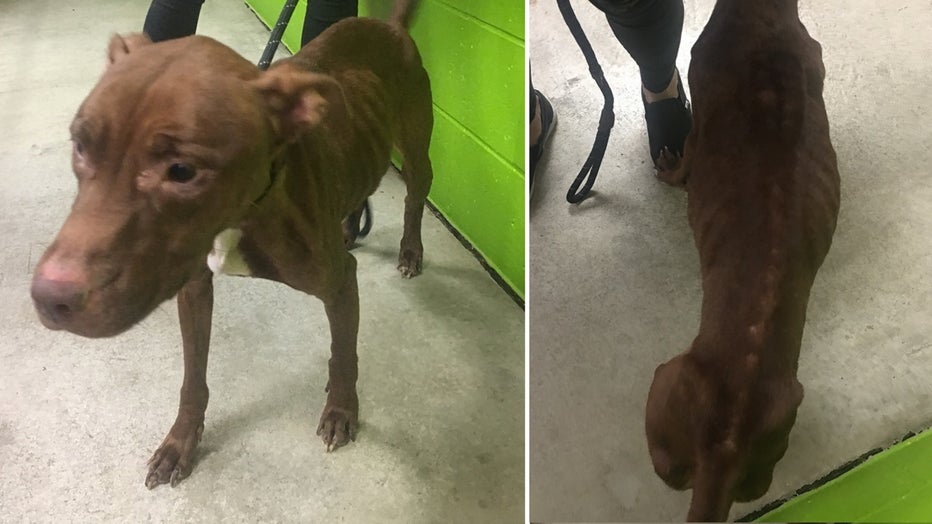 Mom Mom, also a pit bull, was rescued from North 15th Street in North Philadelphia. (PSPCA)
Another female pit bull was found emaciated in a backyard on the 4800 block of North 15th Street. The property's resident, who is believed to be the owner, surrendered the dog. The dog, Mom Mom, is in the PSPCA's care and is expected to recover.
Charges are pending further investigation in all three cases.
"It is cases like this that remind us that animal cruelty is continuing to happen every day, all day, in our very own backyard, the city of Philadelphia," said Nicole Wilson, the PSPCA's director of humane law enforcement.
"These particular acts of cruelty did not happen overnight, they happened over the course of weeks, and months, while these animals suffered. Our team is working to ensure that not only do these animals receive justice, but that we set a precedent that this abuse will not be tolerated."
Anyone who witnesses acts of animal cruelty is encouraged to call the PSPCA's Cruelty Hotline at 866-601-7722. Animal cruelty can also be reported by filling out the PSPCA's online form here.
Those interested in donating to the PSPCA can do so here.