Black Americans weigh in on what's needed to overcome racial inequality
Black History Month kicks off another year of advocacy on a racial justice agenda — from reparations to police reforms and strengthening voting rights to solutions for economic and educational disparities. 
This year's theme, "Black Resistance," honors the politics, arts and education that have emerged in the resistance to oppression over the decades. And the work to overcome racial inequality is still ongoing. 
A survey from Pew Research Center explored Black Americans' thoughts on what's needed to overcome inequality. Nearly 4,000 Black American adults participated in the week-long survey in October of 2021. 
Here is an overview of the findings. 
RELATED: Black History Month 2023 theme highlights Black resistance in America
What needs to change?
More Black adults (52%) said systemic or institutional racism, such as in current or previous laws, is a bigger problem than racism by individual people (43%). And changing U.S. institutions such as policing, courts and prison systems are imperative for ensuring racial equality, the survey found. 
Roughly 90% said changing some aspect of the criminal justice system is needed to ensure fair treatment — with most feeling the biggest change is needed within the prison system (54%). 
The percentage of Black adults who said each of the following needs to be completely rebuilt for Black people to be treated fairly: 
The prison system (54%)
Policing (49%)
The courts and judicial process (48%)
The political system (42%)
The economic system (37%)
The health care system (34%)
RELATED: Parades, festivals, expos: Black History Month events in 10 US cities
Strategies for change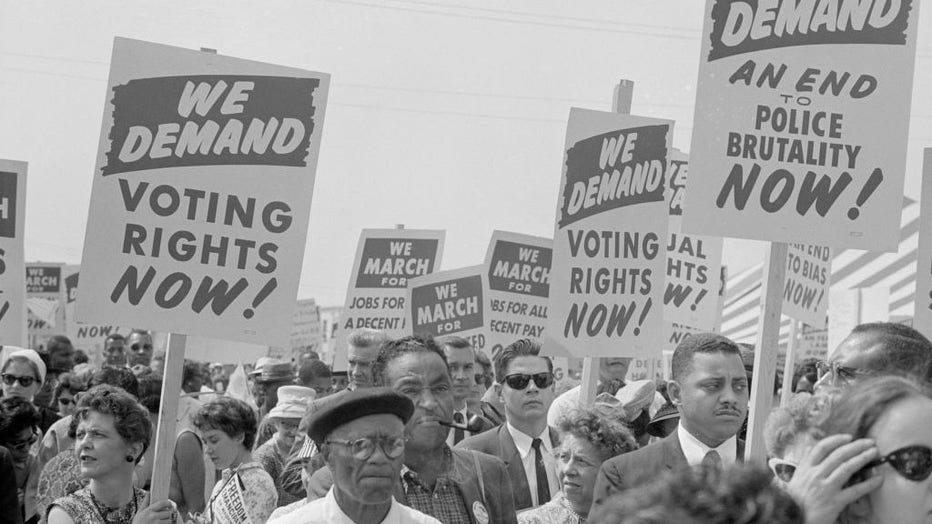 Demonstrators hold up signs as they participate in the March on Washington for Jobs and Freedom, Washington DC, August 28, 1963. (Photo by Library of Congress/Interim Archives/Getty Images)
Black Americans have a clear view of what types of engagement they believe will move communities forward in America, with the majority believing voting is the most important and effective strategy (63%). 
The percentage of Black adults who said each of the five following choices are extremely/very effective tactics:
Voting (63%)
Supporting Black-owned businesses (58%)
Volunteering with organizations dedicated to Black equality (48%)
Protesting (42%)
Contacting elected officials (40%)
Those surveyed were also asked which of the following they've felt has done the most to help Black people in the U.S. in recent years: 
Black Lives Matter (39%)
The NAACP (17%)
Someone else (14%)
Black churches or other religious organizations (13%)
The Congressional Black Caucus (6%)
The National Urban League (3%)
Thoughts on reparations
While the fight for institutional change in America is ongoing, so is the fight for reparations. 
Reparations would compensate Black Americans today for the suppression that has spanned generations due to institutional wrongs or discriminations, such as slavery.
RELATED: Slavery reparations: How the US can follow one town's effort to right dark past
The Pew Research survey found most Black Americans said the legacy of slavery affects the position of Black people in the U.S. either a great deal (55%) or a fair amount (30%). 
And roughly three-quarters (77%) said descendants of people enslaved in the U.S. should be repaid in some way.
Pew also asked which type of repayments were thought to be most helpful: 
Educational scholarships (80%)
Financial assistance for starting or improving a business (77%)
Financial assistance for buying or remodeling a home (76%)
Cash payments (69%)
You can read the full report and its findings from Pew Research Center here. 
This story was reported from Detroit.