Blind Como Zoo cougar adjusting to life without eyes
ST. PAUL, Minn. (FOX 9) - Jasper, a 4-year-old cougar living at the Como Zoo and Conservatory in St. Paul, is adjusting to life without his eyes. 
Jasper first came to Como Zoo in 2018. He was found alone in California after his mother was shot and killed by a hunter. In June 2020, zoo staff started noticing changes in his eyes and eyesight. 
"We had seen some corneal changes. We saw some cloudiness in his eyes," Jill Erzar, senior zookeeper Como Zoo and Conservatory, said. 
Erzar says the changes came on due to a genetic condition that restricted blood flow to his retinas. The condition made his eyesight progressively worse. Erzar says zoo staff started performing procedures every few months to try and ease the progression of the condition, but it progressed and started impacting his health. 
"You and I, when we're outside and it's windy and there's dust, we can close our eyes and we can avoid that discomfort. Jasper couldn't do that. He couldn't voluntarily close his eyes, so we were seeing a lot of ocular discharge and we were seeing really swollen eyelids," Erzar said. 
As his condition worsened, zoo staff made the difficult decision to remove Jasper's eyes to improve his quality of life. They performed the procedure in April and Jasper quickly adapted to his new normal.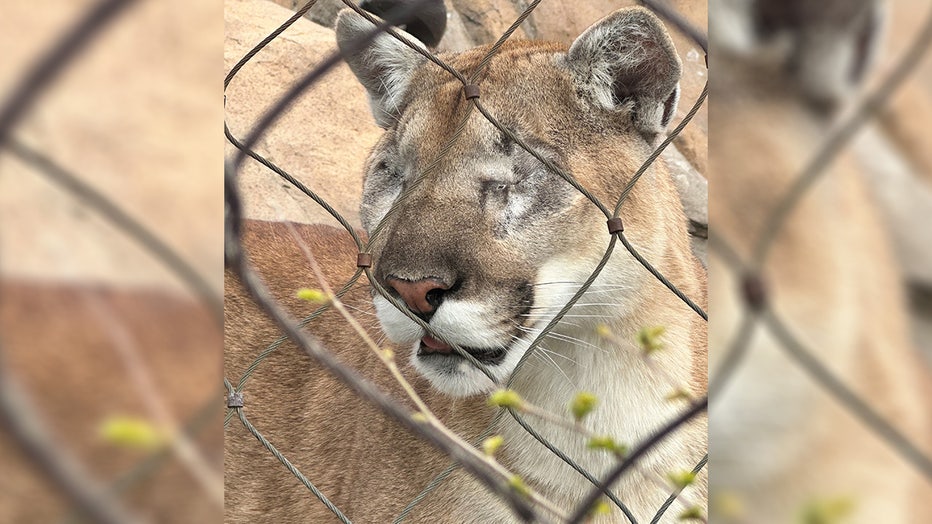 Jasper is a blind cougar who lives at the Como Zoo in St. Paul.
"Honestly, nothing really changed for him. He was already an unseeing animal so [during] the initial response he was a little bit sore and something felt different in his face but, for the most part, his movement hasn't changed, his senses haven't changed, he just had to get over that feeling that something was different on his face," Erzar said. 
From a distance, zoo visitors may not even notice that Jasper can't see. He uses his senses of touch, smell and hearing to navigate his habitat. His companion Ruby, another cougar, also helps him navigate his enclosure. 
Because Jasper has lived at the zoo most of his life he's familiar with his surroundings, Erzar said. They follow familiar routines to help Jasper navigate his world without his eyesight. 
"When we bring animals in at Como we commit to them for life. Eyesight or no eyesight, it doesn't matter. We're committed to Jasper and telling Jasper's story," Erzar said. 
Jasper's story is already inspiring visitors to the zoo. 
"He's blind and he can still walk and he looks like he's fine," Jaxson Volbreht, an elementary school student on a trip to the zoo, said. "He still can do most of the stuff everybody can."