Delta flight attendant breaks wine bottle over man's head after brawl breaks out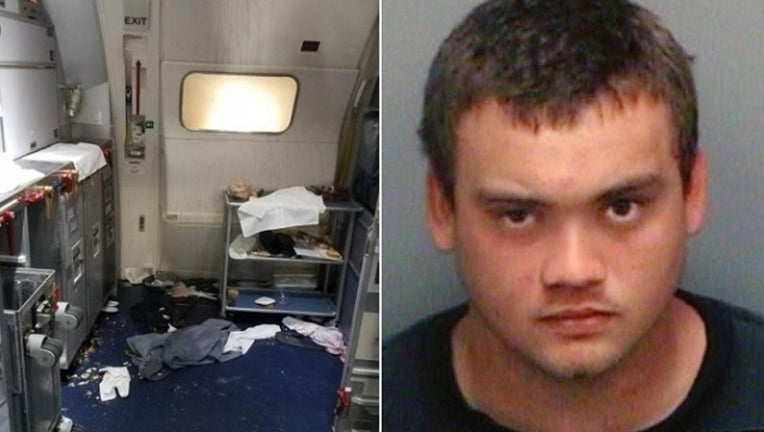 article
(INSIDE EDITION) - A wild brawl broke out on a Delta flight on Thursday after a passenger allegedly tried to pry open an emergency exit door while the plane was mid-air.
It took several passengers and two flight attendants to subdue the Florida man, who authorities have identified as 23-year-old Joseph Daniel Hudek IV.
Hudek allegedly asked for a beer before takeoff on Delta flight 129 from Seattle to Beijing, according to a criminal complaint, but attendants on the flight said he had no other alcoholic drinks and did not appear intoxicated.
An hour into the flight, however, Hudek, who was seated in first class, got up to go to the bathroom.
He then reportedly got up a second time to use the restroom a short time later and when he when he returned, he asked a flight attendant a question before he allegedly sprinted towards the emergency door, grabbed the handle and tried to open it, reports said.
Two flight attendants and several passengers began scuffling with Hudek in attempt to get him away from the door, reports said.
Hudek allegedly punched one of the passenger's in the face and hit another over the head with a wine bottle during the brawl, the complaint said.
A flight attendant was eventually able to hit Hudek over the head with two wine bottles, breaking one of them, the complaint said.
Passengers subdued Hudek long enough to place zip ties on his wrists, but he allegedly remained "extremely combative," according to the report.
The plane was rerouted back to Seattle-Tacoma International Airport during the incident, reports said.
Hudek was reportedly flying on a "dependent pass" and is related to someone who works for the airline.
Hudek was arrested and was charged Friday with one count of interference with flight crew members.