Cameras captured deadly I-95 crash in Philadelphia; Overnight thunderstorms; Moderna COVID vax for kids
Cameras captured clear video of I-95 crash that killed 2 Pennsylvania State Troopers, sources say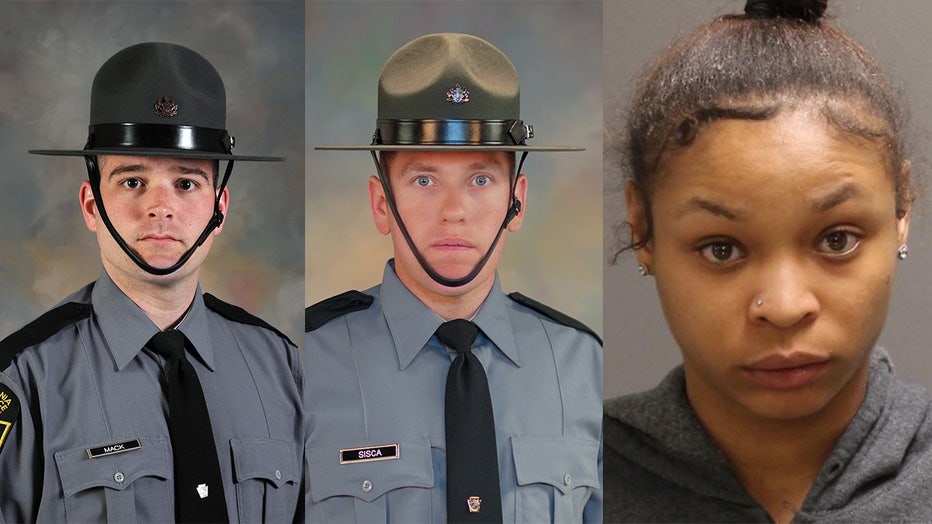 Trooper Martin Mack, Trooper Branden Sisca, and Jayana Tanae Webb (L to R)
Law enforcement sources on Wednesday shared new details about a deadly crash on I-95 in Philadelphia where an alleged drunk driver plowed into 2 Pennsylvania State Troopers and a civilian being helped off the busy highway. 
Sources tell FOX 29's Steve Keeley that a camera positioned on Lincoln Financial Field capture "crystal clear" recording of the crash that killed 29-year-old Martin F. Mack, 33, and Branden T. Sisca, 29, as they assisted Reyes Rivera Oliveras, 28, early Monday morning. 
Sources said Trooper Mack and Trooper Sisca stopped Webb for speeding on northbound I-95 between the Girard and Allegheny exits shortly before she allegedly rammed into them. 
A recording from the trooper's dashboard camera shows the stop lasted "less than a minute" before the pair is dispatched to the pedestrian walking southbound on 95 near the stadiums.
Webb appears to have documented the stop in a tweet posted just before the crash that read "why the cop pull me & he say im doing 110 ina 50." In a tweet from mid-January, Webb appeared to boast about her abilities to drive while intoxicated. "If you ask me, I'm the best drunk driver ever," the post reads.
Mack and Sisca exited I-95 at Allegheny Ave and traveled southbound to make contact with the highway walker later identified as Reyes Rivera Oliveras. Sources believe Webb happened to follow the same path and eventually slammed into all three men in her 2014 Chevy Captiva. 
Webb was lead out of Pennsylvania State Police Troop K barracks yesterday shackled in the handcuffs that belonged to Troopers Mack and Sisca. She was denied bail and had a preliminary hearing scheduled for Apr. 5.
Webb faces more than a dozen charges, including three counts of third-degree murder, three counts of homicide by vehicle while driving under the influence, and two counts of second-degree manslaughter of a law enforcement officer. 
Overnight storms could bring rumbles of thunder to parts of Delaware Valley
Rain showers will drench the Delaware Valley overnight and into Thursday before sunshine returns in time for the weekend, but don't expect those warm spring temperature to follow. 
Spotty showers will hang around for the bulk of the evening before a warm front pushes heavier storms into the area around midnight. Temperatures will sit around 50 degrees overnight as the warm air from the south accompanies the impending storms. 
Parts of the Delaware Valley could notice a rumble of thunder overnight as the storms push through. FOX 29's Kathy Orr says winds will gust to around 25 MPH. 
The brunt of the storm should sweep across the Delaware Valley around midnight, with the heaviest storms skewing towards the New Jersey side. Showers will continue throughout Thursday as a cold front pushes the storms off the coast and dips temperatures by nighttime. 
Moderna says its low-dose COVID shots work for kids under 6; will seek federal approval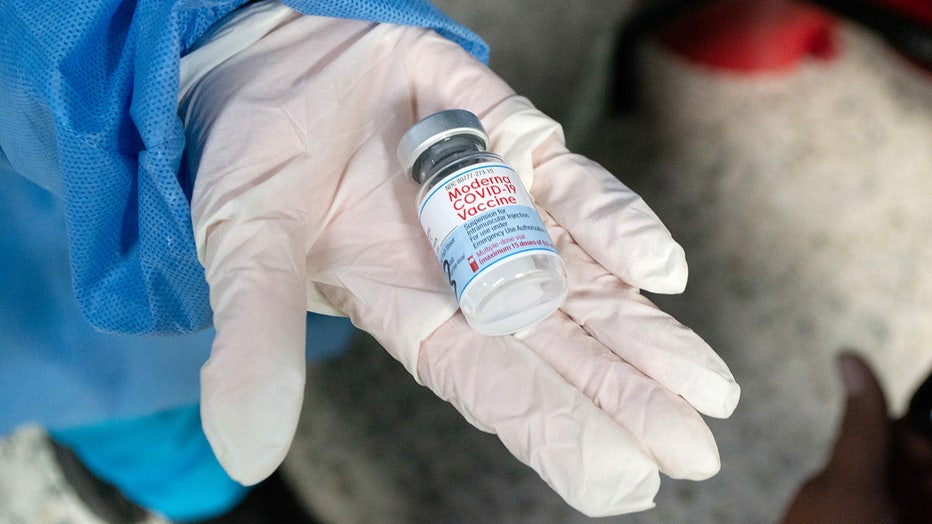 A nurse shows the vial of the Moderna novel Coronavirus vaccine in Bogota, Colombia on August 2, 2021. (Photo by: Martin Galindo/Long Visual Press/Universal Images Group via Getty Images)
Moderna's COVID-19 vaccine works in babies, toddlers and preschoolers the company announced Wednesday -- and if regulators agree it could mean a chance to finally start vaccinating the littlest kids by summer.
Moderna said in the coming weeks it would ask regulators in the U.S. and Europe to authorize two small-dose shots for youngsters under 6. The company also is seeking to have larger-dose shots cleared for older children and teens in the U.S.
The nation's 18 million children under 5 are the only age group not yet eligible for vaccination. Competitor Pfizer currently offers kid-sized doses for school-age children and full-strength shots for those 12 and older.
But parents have anxiously awaited protection for younger tots, disappointed by setbacks and confusion over which shots might work and when. Pfizer is testing even smaller doses for children under 5 but had to add a third shot to its study when two didn't prove strong enough. Those results are expected by early April.
Vaccinating the littlest "has been somewhat of a moving target over the last couple of months," Dr. Bill Muller of Northwestern University, an investigator in Moderna's pediatric studies, said in an interview before the company released its findings. "There's still, I think, a lingering urgency to try to get that done as soon as possible."
The younger the child, the smaller the dose being tested. Moderna said a quarter of the dose it uses for adults worked well for youngsters under age 6.
Moderna enrolled about 6,900 tots in a study of the 25-microgram doses. Early data showed after two shots, youngsters developed virus-fighting antibody levels just as strong as young adults getting regular-strength shots, the company said in a press release.
Moderna said the small doses were safe, and the main side effects were mild fevers like those associated with other commonly used pediatric vaccines.
Once Moderna submits the data to the FDA, regulators will debate whether to authorize emergency use of the small doses for tots. If so, the Centers for Disease Control and Prevention then will decide whether to recommend them.
Gas price stimulus checks proposals head to Congress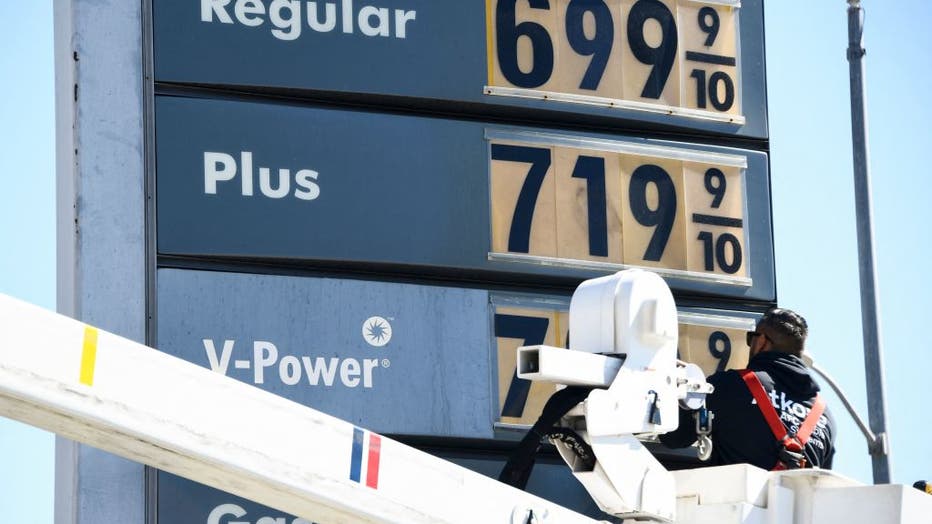 An electrical contractor repairs a sign with gasoline fuel prices above six and seven dollars a gallon at the Shell gas station at Fairfax and Olympic Blvd in Los Angeles, California, on March 8, 2022. (Photo by Patrick T. FALLON / AFP) (Photo by PAT
With Americans still in shock over jaw-dropping, rising gas prices, a few proposals have floated around Congress and elsewhere about offering some relief to drivers. 
One proposal comes from Reps. Mike Thompson of California, John Larson of Connecticut, and Lauren Underwood of Illinois. 
The congressional lawmakers propose the Gas Rebate Act of 2022 where Americans would get an energy rebate of $100 per month (and $100 for each dependent) for the rest of 2022 in any month where the national average gas prices exceed $4.00 per gallon.
The rebate follows the same phaseout as the most recent Economic Impact Payments (EIPs) where $100 will be given for single filers earning less than $75,000 and phased out to $80,000. The other part includes $100 for joint filers more than $150,000 and phased out at $160,000.
Motorists have found some relief at the pump in recent weeks - albeit pennies worth - but experts believe gas prices will worsen in the coming months as pandemic-weary travelers plan to hit the road again this summer. 
According to AAA, the national average for a gallon of regular gasoline has fluttered down to $4.23. Pennsylvania's average price sits a few cents above that at $4.31, and in neighboring New Jersey and Delaware drivers are paying around $4.
Experts say the ongoing war in Ukraine is partly to blame for the high prices at the pump, but it's not the only reason driver's wallets will continue to get hammered. AAA spokeswoman Jana Tidwell says summer travel and the annual upcoming switch to 'summer blend' gasoline will balloon prices again. 
"We're coming up on the summer travel season, we're coming up on the switch over to summer blended gasoline in mid-April, and that is a more expensive blend of gasoline compared to the winter blend, so that's going to add about another 15 cents a gallon," Tidwell said. 
Organization provides free cameras for homes, businesses in West Philadelphia to fight crime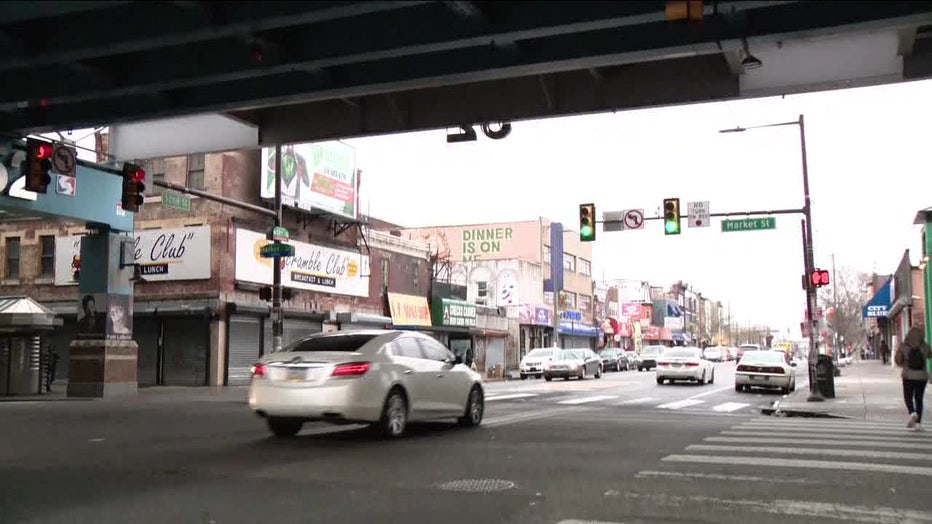 A Philadelphia organization is doing its part to thwart crime and violence in local communities by giving out free cameras to residents and businesses. 
The Safe Corridors program focuses on neighborhoods in West Philadelphia that are far too often besieged by gun violence. More than 760 people have applied for a free camera, made possible through a $182k grant from the state with the help of Rep. Amen Brown. 
"We're putting power in the hands of residents by giving away free cameras to residents and businesses in these areas," President of the West Philadelphia Corridor Collaborative Jabari Jones said. 
Homes and businesses are chose based on their proximity to the highest crime areas. Jones said the program has received maps from the Philadelphia Police Department and Delaware Valley Intelligence Center that have pin-pointed violent crimes by block. 
Anyone who would like to apply for a free camera can visit the organization's website.
More Headlines From FOX 29
___
DOWNLOAD: FOX 29 WEATHER AUTHORITY APP
SUBSCRIBE: Good Day Digest Newsletter | FOX 29 Philly on YouTube