FIFA suspends Spanish soccer president Luis Rubiales amid conduct probe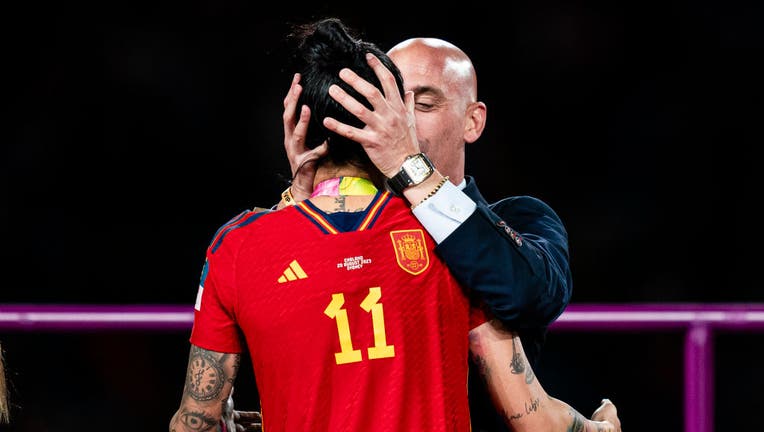 article
GENEVA (AP) - FIFA suspended Spanish soccer federation president Luis Rubiales from office on Saturday while its disciplinary committee investigates his conduct at the Women's World Cup final, which included kissing a player without her consent.
FIFA said Rubiales is removed from soccer duties for 90 days "pending the disciplinary proceedings opened" against him Thursday.
Rubiales refused to resign from his soccer presidency Friday at an emergency meeting of the Spanish soccer federation's general assembly when he had been expected to leave under intense pressure from the Spanish government, women players plus soccer clubs and officials.
RELATED: Spain's Women's World Cup win signals bright future with young talent
FIFA has given no timetable for a ruling by its disciplinary panel. The body's disciplinary judges can impose sanctions on individuals ranging from warnings and fines to suspensions from the sport.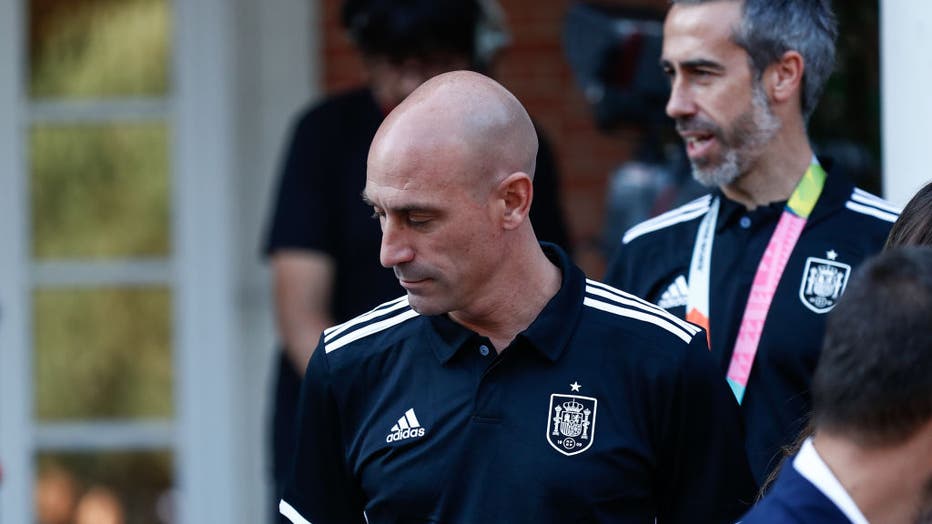 MADRID, SPAIN - AUGUST 22: Luis Rubiales attends a reception hosted by Pedro Sanchez, First Minister of Spain (not pictured) for the players and staff of the Spain women's national football team after they won the FIFA Women's World Cup Australia &am
FIFA's move came after the Spanish federation had even threatened action against star player Jenni Hermoso for refusing to accept Rubiales's version of the kiss that happened at the on-field medal and trophy presentation after Spain's 1-0 win against England last Sunday in Sydney, Australia.
FIFA's suspension should prevent Rubiales working in soccer or having contact with other officials.
FIFA disciplinary judge Jorge Palacio also intervened Saturday to protect the "fundamental rights" of Hermoso and the integrity of the disciplinary case.
Palacio ordered Rubiales "to refrain, through himself or third parties, from contacting or attempting to contact the professional player of the Spanish national football team Ms. Jennifer Hermoso or her close environment," FIFA said in a statement.
RELATED: Now that the 2023 Women's World Cup is over, will the hype last?
"Likewise, the RFEF (Spanish soccer federation) and its officials or employees, directly or through third parties, are ordered to refrain from contacting the professional player of the Spanish national team Ms. Jennifer Hermoso and her close environment," FIFA said.
Palacio is a Colombian lawyer and former member of its constitutional court who has worked in women's rights.
Rubiales is a vice president of UEFA, holding the No. 3-ranking elected position at the top of the European soccer body which pays him 250,000 euros ($270,000) annually plus expenses
He was elected to the executive committee by UEFA member federations in 2019 and was within weeks promoted to the vice presidency by UEFA president Aleksander Čeferin.
Neither UEFA nor Čeferin have commented on the Rubiales scandal this week. FIFA has now intervened in the case twice.