It's a Philly thing: Police will grease poles ahead of Eagles-49ers NFC Championship game
PHILADELPHIA - As the Eagles' playoff motto goes: It's a Philly thing.
With the Eagles on the cusp of a Super Bowl appearance, the Philadelphia Police Department said it will grease traffic poles and light poles as part of its safety precautions across the city.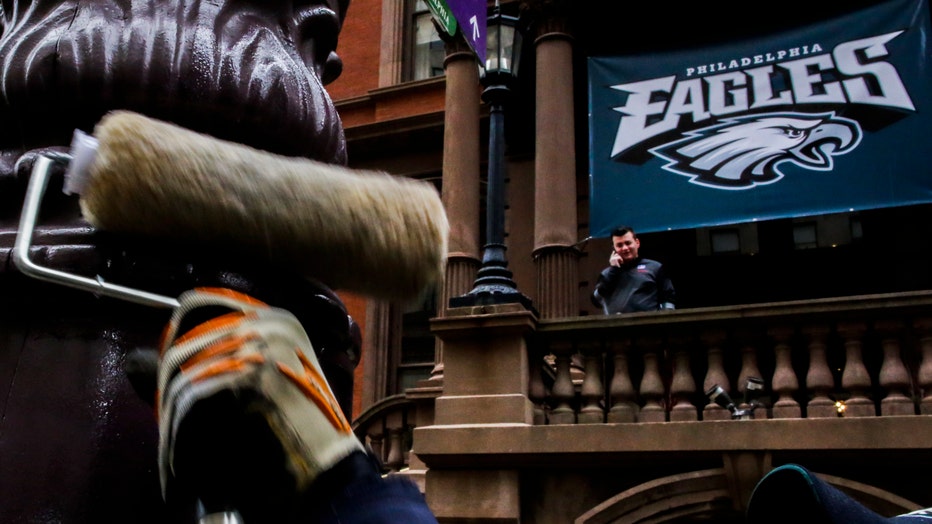 PHILADELPHIA, PA - FEBRUARY 04: Philadelphia Police officer greases a traffic light pole as security measure for Super Bowl LII fans on February 4, 2018 in Philadelphia, Pennsylvania. The Philadelphia police department is using gear oil to grease up
"We will be instituting the practice of 'greasing poles' as a deterrent for climbing poles and light fixtures," a police spokesperson said. "We encourage everyone to celebrate safely and responsibly."
The department is anticipating large crowds in the city for Sunday's NFC Championship game being played at Lincoln Financial Field at 3 p.m. 
RELATED COVERAGE
Barricades have already popped up in popular areas of the city in anticipation of fans celebrating an Eagles Super Bowl berth, including at Philadelphia's City Hall.
"Many of the preparations that have been undertaken mirror similar events that have occurred in the past with the Phillies' NLCS celebrations as the most recent example," police said. 
The department will add officers Sunday to ensure adequate a staffing is on hand to control rowdy crowds without disturbing regular services in other parts of the city.