Large warehouse fire that caused air quality concerns in Wissinoming placed under control
PHILADELPHIA - More than 130 firefighters were needed to contain a massive warehouse fire that ignited at a Philadelphia recycling business and caused the city's health department to issue an advisory about air quality concerns Monday. 
Firefighters from the Philadelphia Fire Department responded to the 5100 block of Darkrun Lane around 9:45 a.m. and one floor completely engulfed in flames. The fire quickly struck 2-alarms as thick black smoke billowed high into the air and could be seen for miles. 
Investigators have not said exactly what caused the fire to ignite, and they have not pinpointed where the blaze started. One employee who spoke to FOX 29 said a propane tank attached to a forklift caught fire and caused the flames to spread.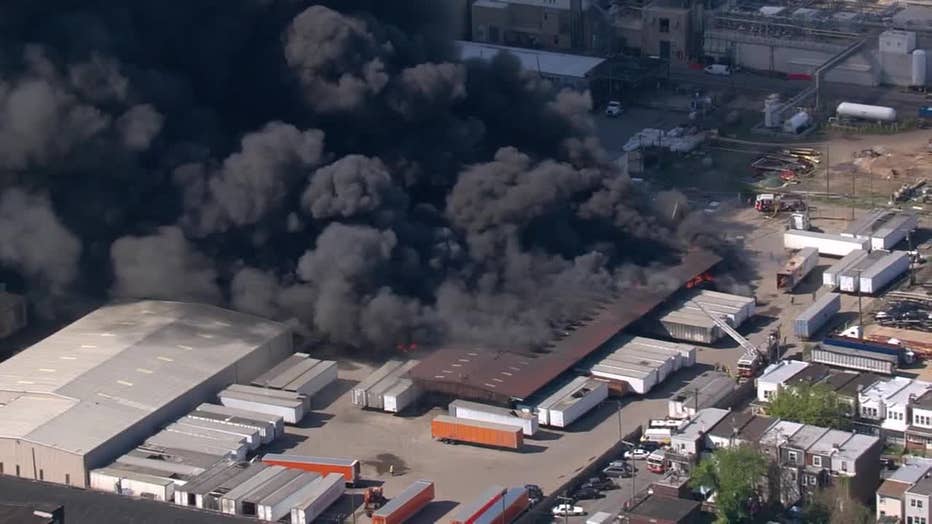 The fire reached 4-alarms before being placed under control around 11:30 a.m. The Philadelphia Health Department told residence when the to avoid going outside and to shut all windows and doors due to concerns about burning plastics and other materials in the air.
"In response to a large smoke-producing fire on Darkrun Lane in the Wissinoming section, the Philadelphia Department of Public Health is warning residents to avoid the area or try to stay inside," the department said. "The Health Department has dispatched inspectors to the area to collect air samples to assess air quality and the potential for any threat." 
While the department later said no specific hazardous substances were identified, officials asked residents to remain cautious for several hours. First Deputy Fire Commissioner Craig Murphy told reporters that a hazmat tests showed that the air is clear.
One employee reportedly suffered burns, but all others made it out safely. There were no injuries to firefighters.