NFL Draft: Eagles select Georgia defensive stars Jalen Carter, Nolan Smith in Round 1
PHILADELPHIA - Jalen Carter said the Philadelphia Eagles never really asked him about his role in a fatal car crash. The Eagles just wanted to learn more about the Georgia defensive tackle's "love of the game."
"Just getting to know my personality and stuff like that," Carter said.
The 22-year-old Carter, though, is known these days for much more than his personality and the two national championships he won at Georgia.
Eagles general manager Howie Roseman said the organization did its due diligence on Carter in the wake of the crash as they would with all players with background issues.
What the NFC champions learned didn't dissuade them from taking Carter with the No. 9 overall pick of the NFL draft on Thursday night, trading up one spot with the Chicago Bears to get a player who may have still been available because other teams had concerns about him.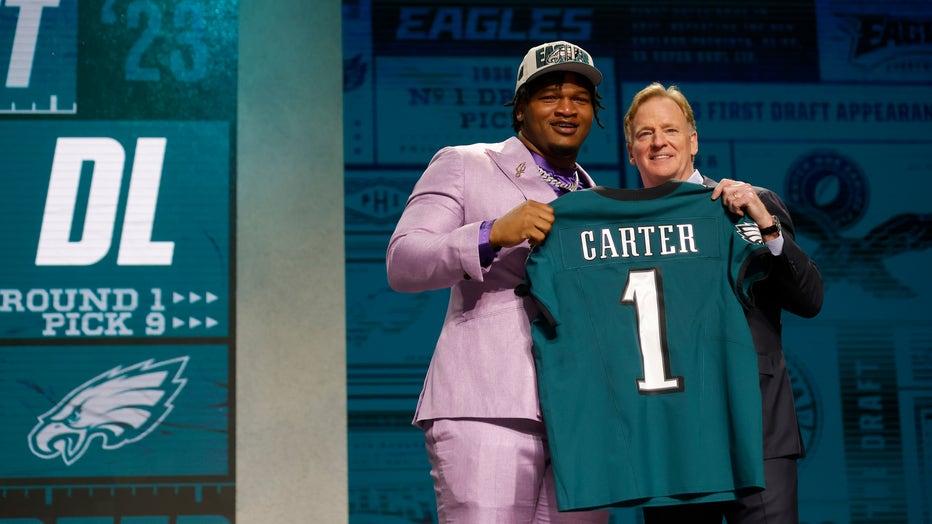 KANSAS CITY, MISSOURI - APRIL 27: (L-R) Jalen Carter poses with NFL Commissioner Roger Goodell after being selected ninth overall by the Philadelphia Eagles during the first round of the 2023 NFL Draft at Union Station on April 27, 2023 in Kansas Cit
"We're going to wrap our arms around him and do the best we can to help him," Roseman said.
Carter was once projected to be the No. 1 overall selection before the Bears traded that pick to the quarterback-needy Carolina Panthers. There were questions about how far the standout defensive lineman would slip because of his involvement in a crash that killed a teammate, offensive lineman Devin Willock, and a Georgia recruiting staffer, Chandler LeCroy.
Carter was given one year of probation and fined $1,000 last month after pleading no contest to misdemeanor charges of reckless driving and racing related to the wreck.
"They're just getting the best person in the draft," Carter said.
Carter was considered the best interior defensive lineman in this year's class.
"We understand that there's a reason that he was available at nine," Roseman said. "I think everyone will tell you this is one of the most talented players in the draft and one of the most talented players to come out of college football in a long time."
Carter said most teams he met with didn't raise issues surrounding the crash, including the NFC champion Eagles.
"We spent a lot of time investigating the incident around it," Roseman said. "We talked to Jalen about a variety of things. We're not going to get into what we talk to our players about."
Roseman added, "nobody's hiding from the fact a tragic event happened."
The Eagles were busy on draft night and surrendered the No. 10 pick to take Carter. Chicago also got a fourth-round pick in 2024.
Georgia's national championship-winning defense is finding a home in Philly.
The Eagles took another Bulldog, edge rusher Nolan Smith, with the 30th pick of the draft. Smith, who helped lead Georgia to consecutive national titles, had 110 total tackles and 12 1/2 sacks in four years at the school.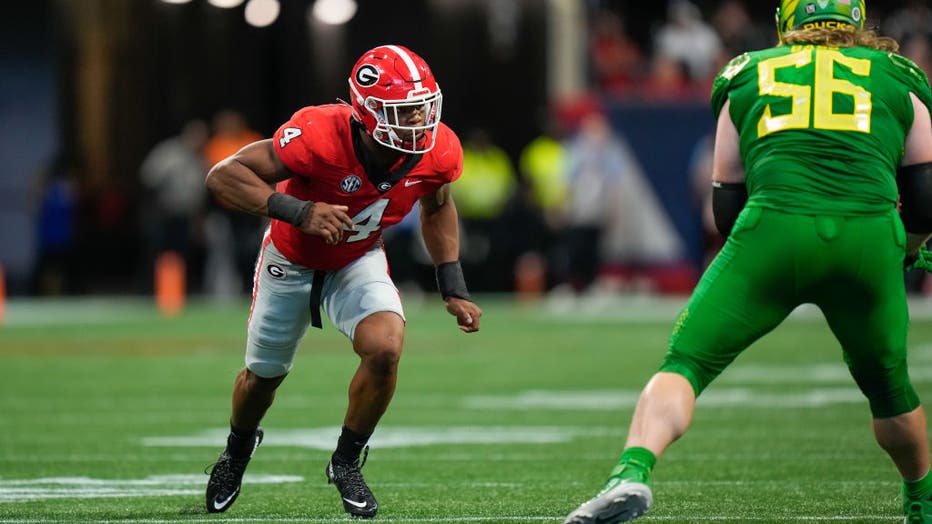 ATLANTA, GEORGIA - SEPTEMBER 03: Nolan Smith #4 of the Georgia Bulldogs works against T.J. Bass #56 of the Oregon Ducks during the Chick-fil-A Kickoff Game between Oregon and Georgia on September 03, 2022 in Atlanta, Georgia. (Photo by Paul Abell/Get
That made it four Georgia defenders drafted by the Eagles in the last two drafts.
Philly may have gotten a steal if Carter has no further off-the-field issues. He could end up like Warren Sapp and Randy Moss, who became stars after they saw their stock fall on draft day because of character concerns.
"I had high hopes with Philly because I had a good visit with them," Carter said.
The 6-foot-3 Carter was listed by Georgia at 300 pounds last season and checked in at 314 pounds for the scouting combine in late February. He had 32 tackles, including seven for losses, and three sacks as Georgia won its second consecutive national championship.
Carter will be reunited with two other former Georgia teammates, linebacker Nakobe Dean and defensive tackle Jordan Davis, on the Eagles.
"We might have a little FaceTime call real quick and just talk about what we're about to do," Carter said.
Eagles center Jason Kelce celebrated with Carter at the draft in Kansas City, Missouri, and told the incoming rookie he was already pumped for 1-on-1 drills against him.
The Eagles also hold picks in the second round (No. 62) and third round (66). Philadelphia has just two other picks, both in the seventh round.
The Eagles moved up in the third round on draft night courtesy of a settlement with Arizona after the Cardinals made impermissible contact during their head coaching search this past January. The Cardinals self-reported to the NFL that general manager Monti Ossenfort had a phone conversation with then-Eagles defensive coordinator Jonathan Gannon in the days following the NFC championship game, a period during which contact is not allowed under the NFL's tampering policy.
Gannon's defense scheme was heavily criticized after the Kansas City Chiefs beat the Birds 38-35 in the Super Bowl. Eagles coach Nick Sirianni defended Gannon, and did not think the interview played a role in the Super Bowl loss.
"I know Gannon gave everything he had to that game," Sirianni said.
To resolve the matter, the Cardinals and Eagles agreed to swap third-round picks and Arizona received Philadelphia's fifth-round selection in 2024.
The Eagles lost seven starters in free agency, five of whom helped Sirianni's defense finish first against the pass and second overall on defense. Defensive tackle Javon Hargrave (11 sacks), safety C.J. Gardner-Johnson (team-high six interceptions) and middle linebacker T.J. Edwards (team-high 159 tackles) are especially big losses.
With Carter, the Eagles began to replenish.
"I'm a good pass rusher, run stopper," Carter said. "At Georgia it was always run stop, stop the ball from running first, so I got that down pat, and now I'm opening up with my little pass rush moves. I feel like just both of those will help a lot."