NWS confirms 8 tornadoes in NJ, Pennsylvania and Delaware as destruction found across region
PHILADELPHIA - A line of severe thunderstorms, with tornadoes, claimed the life of one person in Sussex County, Delaware Saturday, as they ripped through the region, dumping copious rain and containing frequent lighting, strong, gusty winds and hail. In total, six tornadoes were confirmed, four in New Jersey, one in Delaware, and one in Pennsylvania.
Forecasters warned of the potential for severe weather, as part of a system that produced many strong tornadoes in the Midwest and southern states Friday evening, advanced into the northeast Saturday.
Across the Delaware Valley, storms began to develop about 5 p.m., moving west to east, igniting the northern and western Philadelphia suburbs with warnings, both severe thunderstorms and tornadoes, as the system marched across the area on its way to the Jersey shore.
In its wake, the system dumped drenching rain, causing flooding in some locales, such as the Schuylkill Expressway, in King of Prussia and frequent cloud to ground lighting.
In Sussex County, Delaware, officials say one person died after a confirmed tornado caused a house to collapse. Delaware Gov. John Carney offered his condolences, saying "Our prayers are with the family of the victim in Sussex County, and everyone affected by today's severe storms."
In addition to the deadly tornado in Delaware, seven other confirmed tornadoes caused widespread damage in New Jersey and Pennsylvania. In New Jersey, officials say six tornadoes touched down in Allentown, Cinnaminson, Crosswicks, Howell, Jackson, and Sea Girt. On Monday, the NWS confirmed an EF-1 tornado also touched down in lower Bucks County, Pennsylvania.
Areas not touched by tornadoes still experience the storm's severe effects. Pea-sized hail, heavy rain, and gusty winds stretched across the Delaware Valley until the system exited the region after 8 p.m., leaving many residents to clean up storm damage.
Neighbors in Cinnaminson are wrapping their heads around the widespread damage now confirmed by the National Weather Service to be caused by an EF-1 tornado.
"It went from a beautiful, sunny day. My husband was washing cars, earlier in the afternoon," resident Kristin Parry said.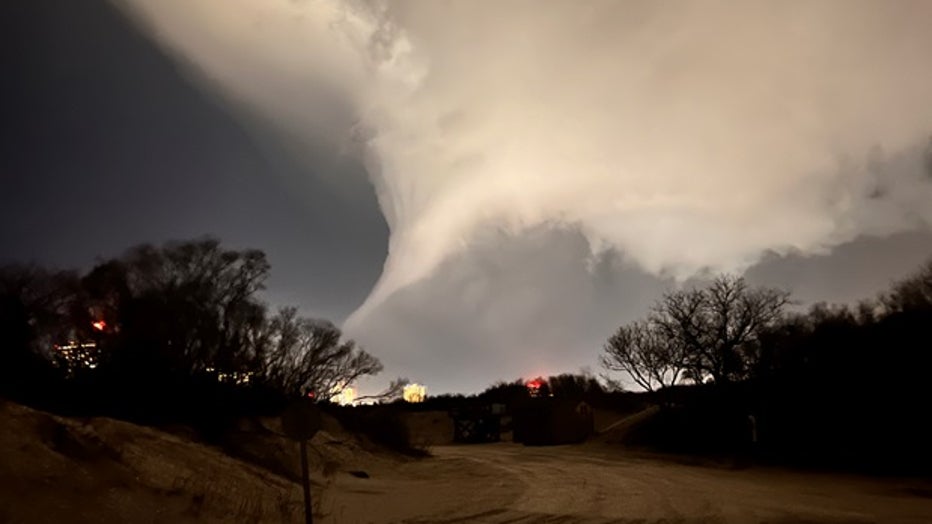 Severe storm in Brigantine, N.J. (@richlevering)
Parry lives on Riverton Road and says one tree snapped up at the top, while seconds later, another tree was uprooted, slamming into power lines and a transformer. "Big, huge boom. Sparks everywhere."
Chester County hail. (Mrs. Anderson)
Damage is extensive in the Burlington County town, as access to some rods were cut off. The roof of one home is gone, the homeowner saying he can see the sky from his second-floor bedroom. A blue pickup truck was crushed under limbs and branches.
Mark Fillion says the truck is 20-years-old. He's relieved no one was in it when the tree came crashing down. "I parked the truck away from the tee, but the whole tree came down. What are you gonna do? Nobody got injured, so thank God for that."
Neighbors banded together, forming assembly lines to clear downed trees and tree contractors got to work early Sunday morning, anticipating several days of storm clean up.
A team from the National Weather Service surveyed the damage and said it's significant.
"Certainly, it's always heartbreaking to hear stories of any damage that occurs, or any loss of life," Meteorologist Mike Lee said.
Over and over again, homeowners remained positive and thankful the damage wasn't worse.
"Luckily, it didn't fall on the house, cause we were in the living room," Parry added.
In addition to the tornado moving through Cinnaminson to Delran and on to Moorestown, the lead up to that event saw strong downburst of wind on Palmyra and Riverton.
Over in Jackson, in Ocean County, Tom Seig was camping when the massive storm hit. He and his family raced to find shelter in the basement of a nearby church.
"When I saw the hail and then the truck was shaking, I said, 'We're in trouble!'" Seig said. "Scary, scary, but the people at the church, they took us in. I'm actually going back to give them food for the food pantry, cause they took us in. God was watching out for us."
On this Palm Sunday, many people cleaned up after two confirmed tornadoes in Jackson and in Howell.
"The important thing is we're all okay and the house actually is okay. It was just all the stuff in the backyard," Howell resident Jeff Ilardi said.
Ilardi and his family weren't home when the twister hit and feels lucky his house was spared. But, he cannot believe the damage it caused in such a short amount of time to some of his neighbors' homes.
Some of the worst damage hit Adventure Sports, one of the largest sports bubbles in the world, just off Highway 527. Parts of the 100,000 square foot complex collapsed during the storm.
As crews fanned out to clean up all over the area, even Six Flags Great Adventure closed until Wednesday because officials declared a state of emergency, encouraging people to stay off the roads.
PSE&G adds an important safety reminder – always consider any downed wires to be live wires. Utility are working around the clock to restore power to homes and businesses.