Pennsylvania Election Day; Teen critically shot near school; Ex kills woman's new lover, police say
THE RUNDOWN: 
1. John Fetterman wins Pennsylvania Democratic Senate primary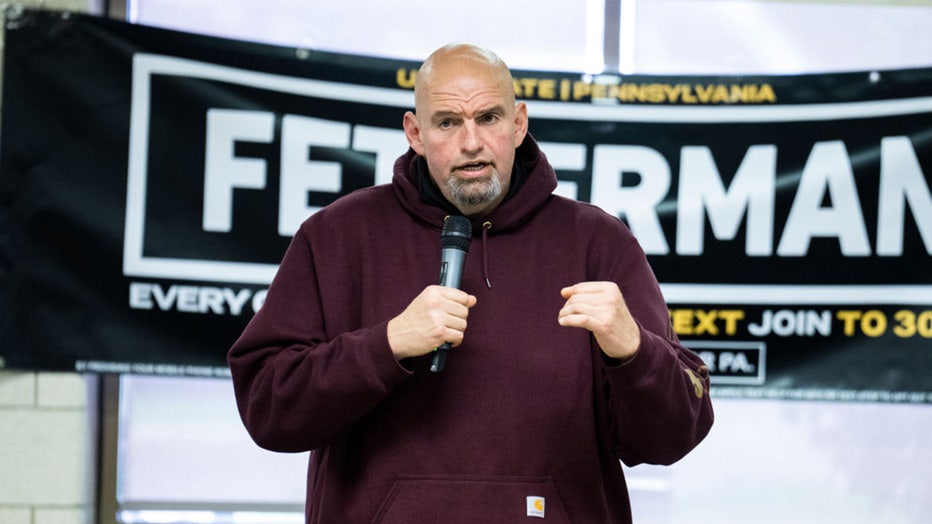 FILE - Democratic candidate for U.S. Senate Lt. Gov. John Fetterman, D-Pa., speaks during a rally at the UFCW Local 1776 KS headquarters in Plymouth Meeting, Pa., on Saturday, April 16, 2022. (Tom Williams/CQ-Roll Call, Inc via Getty Images)
PHILADELPHIA – Pennsylvania Lt. Gov. John Fetterman has won the Democratic nomination for Pennsylvania's open Senate seat in one of the nation's most competitive races, according to the Associated Press.
Fetterman, 52, defeated four other Democratic Party nominations, including emergency room physician Kevin Baumlin, U.S. Rep. Conor Lamb of suburban Pittsburgh, second-term state Rep. Malcolm Kenyatta of Philadelphia and liberal activist Alex Khalil.
The state's lieutenant governor led polls and fundraising throughout the divisive race. He also made headlines over the weekend when he announced that he had suffered a stroke on Friday. He said the stroke was caused by a heart condition called atrial fibrillation and that his doctors say he's on the path to a full recovery. 
RELATED: Live TV debate exposes Democrats' differences in Pennsylvania Senate race
He faced brunt attacks during the live primary debate when confronted over a 2013 when he was mayor. Shotgun in hand, Fetterman confronted someone who he believed to be involved with gunfire.
Fetterman is set to face a to be decided republican challenger, libertarian Erik Gerhardt, green party candidate Richard L. Weiss and independent Everett Stern in the general election on November 8. 
Candidates are seeking to replace outgoing GOP Sen. Pat Toomey, who is retiring after two terms.
2. Teen killed while digging hole with younger sister on New Jersey beach, police say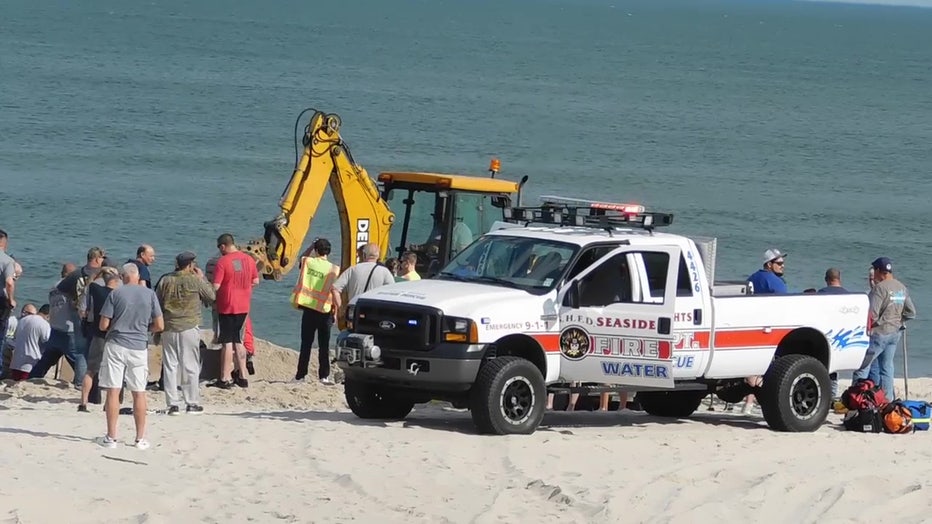 TOMS RIVER, N.J. - A teenage boy died on a New Jersey beach when police say the hole he was digging with his sister collapsed and trapped them both. 
Emergency responders from Tom's River and neighboring areas responded to the beach entrance near Seaview Road on the barrier island around 4 p.m.
Authorities say the teen siblings, who were visiting with family from out town, were digging a large hole when it caved in. 
A 17-year-old girl was pulled from the hole and treated at the scene, according to authorities. 
In an update posted to Facebook, the Toms River Police Department said 18-year-old Levy Caverley died in the collapse. 
3. Doug Mastriano wins GOP nomination for 2022 Pennsylvania governor's race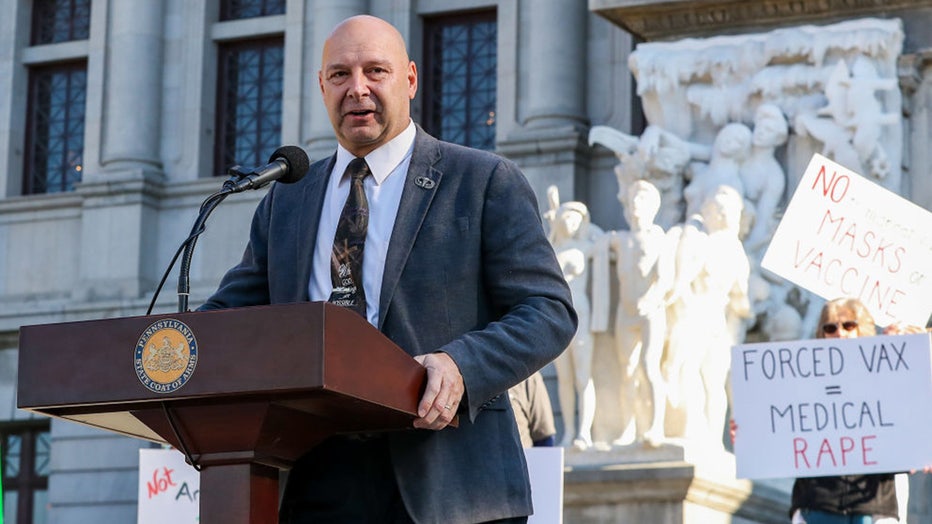 FILE - Pennsylvania State Senator Doug Mastriano (R - Franklin County) speaks during the "Medical Freedom Rally" on the steps of the Pennsylvania State Capitol.  (Paul Weaver/SOPA Images/LightRocket via Getty Images)
PHILADELPHIA – Doug Mastriano has clinched victory in the Republican primary to take on Democrat Josh Shapiro for governor in Pennsylvania, according to the Associated Press. 
Mastriano defeated a nine-person Republican field, including former U.S. Rep. Lou Barletta, President pro tempore of the, cardiothoracic surgeon Dr. Nche Zama, Montgomery County Commissioner Joseph Gale, political strategist Charlie Gerow, former U.S. Attorney William McSwain and former Delaware County Councilmember Dave White.
A state senator since 2019, Mastriano faced fierce opposition from fellow Republicans who claimed he was too far right to win in a general election. 
Several GOP members believed he would fumble away an opportunity for the party to take over the battleground state's executive suite due to his inability to attract moderate voters.
"Mastriano has appeal to base Republicans, but I fear the Democrats will destroy him with swing voters," said Kate Ward, state Senate's Republican floor leader. "Winning the primary and losing the general because the candidate is unable to get the voters in the middle, isn't a win."
3. Farmers concerned about food supply amid rising diesel prices
PILESGROVE, N.J. - The price of fuel could soon be affecting more than just our wallets. The price of diesel has skyrocketed so much that farmers are concerned about how they are going to harvest and import various foods and goods.   
The farm equipment that is used to harvest and deliver foods all run on diesel and farmers are saying that it's costing them three times more to fill their tractors. 
With the upgraded cost in shipping prices, vendors at Cowtown Farmer's Market in South Jersey are fearful that they may not be able to access their products.
"All my imports are double or triple the price of what they used to be," said Scott, a vendor that sells healing balms and oils out of a stall at the Cowtown Farmer's Market. "Now that the shipping is going insane, all my products are going up in cost, almost double."
The shipping costs are just one of the issues that the farming business is experiencing. Cowtown's market is nationally known for its rodeo, but owner, Grant Harris is worried about the cost to transport and feed his livestock. 
4. "Another level of evil": Scammers targeting parents desperate to find baby formula
PHILADELPHIA - As the national baby formula shortage continues, officials say parents desperate to feed their children have fallen victim to formula scams. 
FOX 29's Kelly Rule spoke with a New Jersey mother who said she connected with a woman on Facebook who offered to ship five containers from Iowa for $135. 
Kelsey Oczkowski, the mother of a 5-month-old, said she sent the money but the formula never came. She later received a message from someone else who told her that the woman was running a scam. 
"It's honestly like another level of evil that somebody would think it's OK to steal money, but ultimately they are potentially harming these babies," Oczkowski said.
She isn't the only person who has fallen victim to formula scams. The Pennsylvania Attorney Generals Office issued a warning to parents about bottle bilkers. 
"I cannot even fathom if I was counting on this woman to ship me formula and I didn't have anything else on hand," Oczkowski said. 
Although the federal government made some potential headway in relieving the formula shortage, stores across the country are still struggling to keep shelves stocked. 
"It's extremely hard, as you can see we're trying to keep it in stock as much as we can, we're ordering from different companies," said Ehmud Ibrahim who manages a local grocery store. "Sometimes even by the time you call and come in, it might be gone." 
Baby formula maker Abbott said Monday it has reached an agreement with U.S. health regulators to restart production at its largest domestic factory, though it will be well over a month before any new products ship from the site to help alleviate the national shortage facing parents.
Abbott did not immediately detail the terms of the agreement with the Food and Drug Administration, which has been investigating safety concerns at its Sturgis, Michigan, plant since early this year. The consent decree amounts to a legally binding agreement between the FDA and the company on steps needed to reopen the factory.
After production resumes, Abbott said it will take between six-to-eight weeks before new products begin arriving in stores. The company didn't set a timeline to restart production.
5. Weather Authority: 75 and sunny Wednesday leads into an even warmer rest of the week
PHILADELPHIA - A sunny and breezy Tuesday with temperatures in the upper 70s will lead us into even warmer temperatures throughout the rest of the week. 
The wind will die down overnight, leaving temperatures in the 50s. 
Wednesday will be sunny and temperatures will be in the mid 70s, but leading into the weekend, we can expect summer-like temperatures. 
The sun will stay out for most of this week with some expected morning showers on Thursday. 
Philadelphia can expect to reach record heat with temperatures in the mid 90s on Saturday, which will bring some scattered storms on Sunday.