Police: Man wanted in 2 bank robberies in Delaware County
MARPLE TOWNSHIP, Pa. - If at first you don't succeed, well, try again.
That's what the man accused of robbing a Delaware County bank seemed to do Monday when he came up short.
The suspect started at the Wells Fargo branch on West Chester Pike around 2:30 p.m. He arrived wearing a bucket hat, a Phillies T-shirt and dark colored shorts. 
He slid a note to the teller, demanding cash. The teller refused, so he walked out with nothing. Witnesses tell police he got in a red Jeep and took off eastbound on West Chester Pike.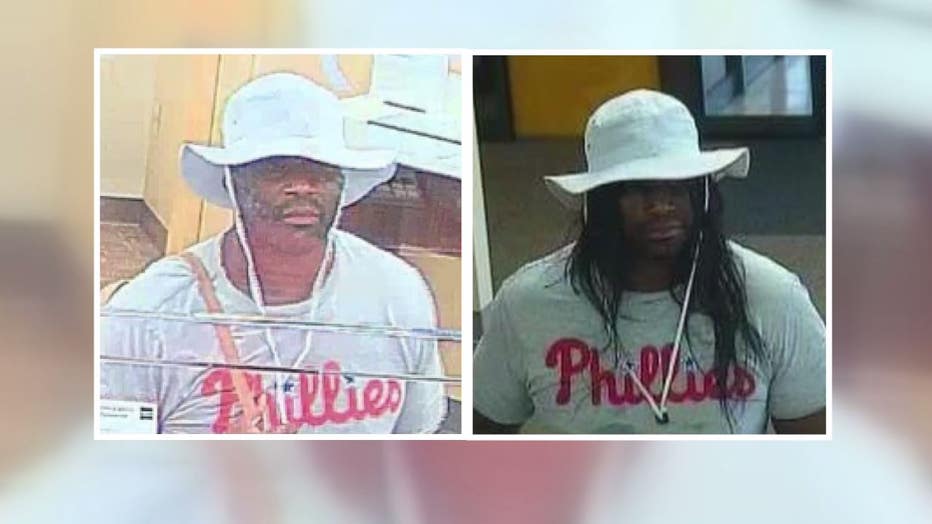 About 14 minutes later, the suspect was captured on camera at a different Wells Fargo branch further down West Chester Pike. He again walked inside and produced a note, but this time walked away with cash.
He was then spotted fleeing westbound on West Chester Pike. 
Police are confident the suspect from both robberies is the same man, with a slightly different look. For the second robbery, he allegedly threw a wig underneath his bucket hat.
The suspect is described as a black man with a medium to heavy athletic build in his late 20s or early 30s. Anyone who recognizes him is urged to call police.