Thybulle bids farewell to Philly as 76ers land Jalen McDaniels in four-team deal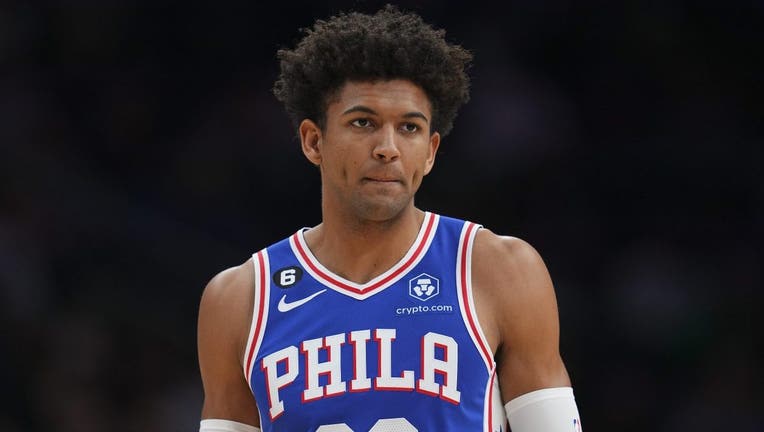 article
PHILADELPHIA - The 76ers acquired forward Jalen McDaniels Thursday, ahead of the NBA's Trade Deadline, in a four-team deal that sent defensive specialist Matisse Thybulle to the Portland Trail Blazers. 
In all, Thursday's trade involved the 76ers, Trail Blazers, Charlotte Hornets, and New York Knicks. The Sixers also received second round picks in 2024 and 2029 as part of the deal. 
McDaniels, 25, brings some more firepower to the 76ers lineups and was averaging career highs in points (10.4), rebounds (4.8), assists (2.0), steals (1.2), and blocks (0.5) in 56 games with the Hornets this season.  
76ers President of Basketball Operations Darly Morey discussed the deal on Friday and thanked Thybulle for his time with the 76ers. 
"Thank you to Matisse. Great run here. Gave us a lot of great minutes, became a fan favorite," Morey stated. "We wish him all the best in Portland. We know he's going to have a long NBA career." 
Morey discussed preparations for the postseason and how McDaniels may fit the team better in some matchups as a factor in Thursday's deal.
"A big theme of our season this year was to prepare for the playoffs and a championship, as you guys know," Morey said. "We wanted to make sure we gave Doc [Rivers] as many two-way players as possible and we think Jalen is one of the up and coming, solid defenders – somebody that's a little easier to keep on the floor in a lot of matchups."
Thybulle, 25, was known for his defensive efforts during his time in Philadelphia, and had struggled to expand his offensive game since he was drafted in the first round in 2019. 
Thybulle said farewell to the city and fans on social media Friday by sharing a video of him spray-painting 'Thank You' on a mural of him. 
Sixers guard Tyrese Maxey also shared his thoughts on the trade when speaking to the media on Friday. 
"It's a hard day. It's a tough day. To see one of your brothers, one of mine that I've been with here for the last three years depart, and all you can do and wish him the best of luck. 
 A full breakdown of the deal can be found below: 
76ers receive: 
Jalen McDaniels
2024 Second Round Pick (from Charlotte)
2029 Second Round Pick (from Portland)
Hornets receive:
Svi Mykhailiuk
2023 Second-Round pick (from Philadelphia)
2027 Second-Round pick (from Portland)
Trail Blazers receive:
Cam Reddish
Matisse Thybulle
Ryan Arcidiacono
2023 First-Round Pick (from New York)
Knicks receive: