Man smashes church altar with sledgehammer, steals 1,500-year-old relics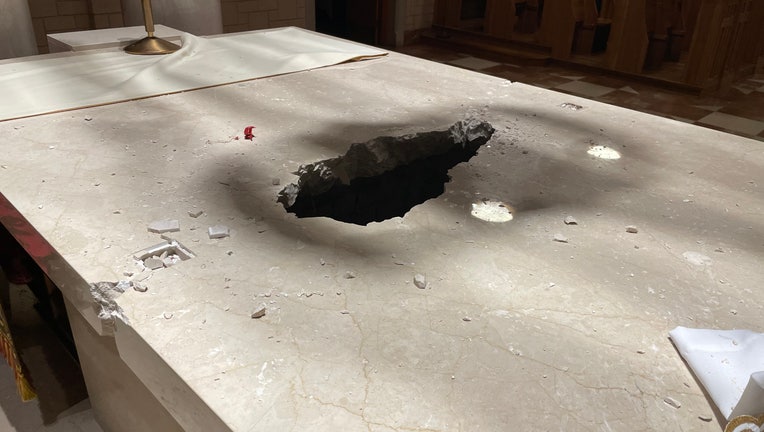 article
SUBIACO, Ark. - An Arkansas man was arrested this week for reportedly breaking into a church while intoxicated, smashing its altar with a sledgehammer, then stealing 1,500-year-old relics.
The Logan County Sheriff's Office in northwest Arkansas responded Thursday to Subiaco Abbey, a Catholic boarding school and monastery for Benedictine monks. 
Witnesses said a man, later identified as 31-year-old Jerrid Farnam, went into the Abbey Church of St. Benedict between 3 p.m. and 4 p.m. and used a sledgehammer to desecrate the altar. The altar is made of imported Italian marble and has two reliquaries (small, brass-colored boxes) embedded inside.
Farnam is accused of stealing the relic boxes, which contained 1,500-year-old relics from saints, then leaving the church.  But "ironically," he came back to the Abbey soon after, and deputies returned to arrest him. 
(Photo courtesy Subiaco Abbey)
He was booked on charges of theft of property, criminal mischief in the first degree, residential burglary, breaking or entering, and public intoxication. Those charges could be upgraded because of the age and value of what he destroyed. 
"The sheriff reported that the man had wanted to break into the tabernacle, but had looked up at the statue of Mary and decided he couldn't do that to her," Abbey officials said.
READ MORE: 'It's hot where you're going': Church tells thief who stole AC unit to keep it with message on sign
Deputies said they found tools in Farnam's truck that had marble dust on them, along with one of the relic boxes. Investigators later recovered the second relic box, and all items have been returned to the church.
Church officials said they are "fairly confident" they've seen him at the church before. The monks will use a portable altar until the damage can be repaired.
READ MORE: Pope Francis says he'll slow down, possibly retire
"Now that the gentleman has been caught and justice will proceed, may we also offer a prayer for him," they said on their website.