Villanova coach Jay Wright announces his retirement, Kyle Neptune takes over
PHILADELPHIA - Longtime Villanova men's basketball head coach Jay Wright announced his retirement Wednesday night, calling his time with the team "an honor and a privilege."
"Over the last 21 seasons, I have had the opportunity to live out a professional dream as the head coach at Villanova," Wright said. "Patty and I have been blessed to work with incredible, gifted young men who allowed us to coach them and brought us unmatched joy."
In a statement, Villanova said Kyle Neptune will take over as Villanova men's basketball's new head coach. Neptune was previously on the Villanova staff prior to serving as head coach at Fordham University in 2021. 
Villanova said Wright will stay involved with the university. His next position will focus on fundraising, advising, education and more, the school said. 
"He will be forever known to our community as Villanova's winningest coach, who did things the "Wright" way, guiding, developing, and empowering the student-athletes who played for him to not only be better on the basketball court but in their personal lives," Villanova President Rev. Peter M. Donohue and Villanova Vice President and Director of Athletics Mark Jackson said in a joint statement. 
"Jay taught us all the true meaning of "ATTITUDE," so, on behalf of everyone associated with Villanova Basketball, we would like to express our overwhelming "GRATITUDE" for everything he has done for Villanova."
ESPN's Adrian Wojnarowski said Wright has had significant interest from NBA teams in the past, but "his intention is to retire from coaching --- not only Villanova." 
"Those who've talked to Wright don't believe the NBA holds appeal to him -- not now, or in future," Wojnarowski said in a tweet.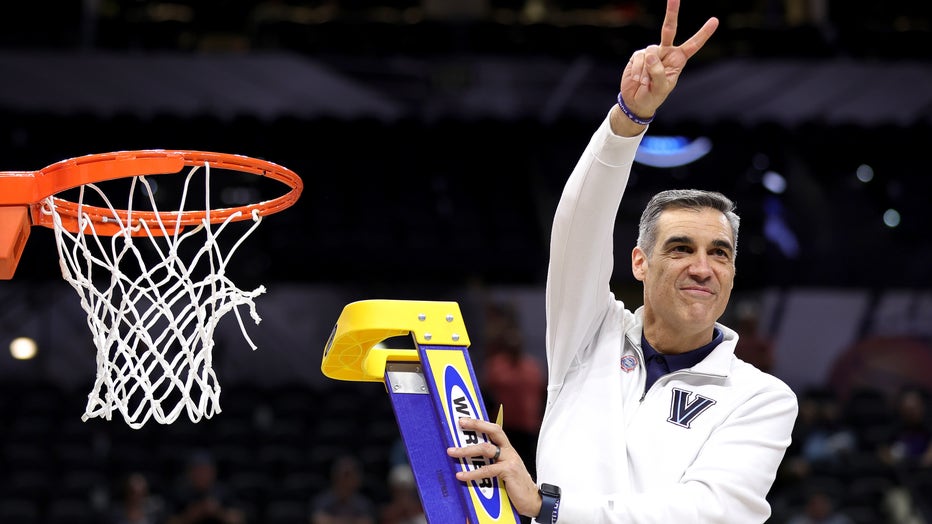 SAN ANTONIO, TEXAS - MARCH 26: Head coach Jay Wright of the Villanova Wildcats cuts down the net after defeating the Houston Cougars 50-44 in the NCAA Men's Basketball Tournament Elite 8 Round at AT&T Center on March 26, 2022 in San Antonio,
Wright, 60, took over as the Wildcats head coach in 2001 and helped elevate Villanova's basketball program to one of the best in the country. Under Wright, Villanova won two NCAA Men's Basketball Championships in 2016 and 2018, made four Final Four appearances and won five Big East Tournaments. 
Wright was named the Naismith College Coach of the Year in 2006 and 2016, and the Big East Coach of the year six times. 
A native of Churchville, Pennsylvania and a graduate of Council Rock High School North, Wright played college basketball at Bucknell University. 
Wright's got his first coaching job as an assistant at the University of Rochester, then moved on to Drexel and Villanova. He was an assistant at UNLV for two years before a seven-season tenure as Hofstra's head coach. 
Wright finished his head coaching career at Villanova with a 520–197 record. He was inducted to the Naismith College Basketball Hall of Fame last year. 
Wright will hold a press conference Friday to discuss his departure.