Eagles Free Agency: Bradberry returns on multi-year deal, Rashaad Penny signs with Philly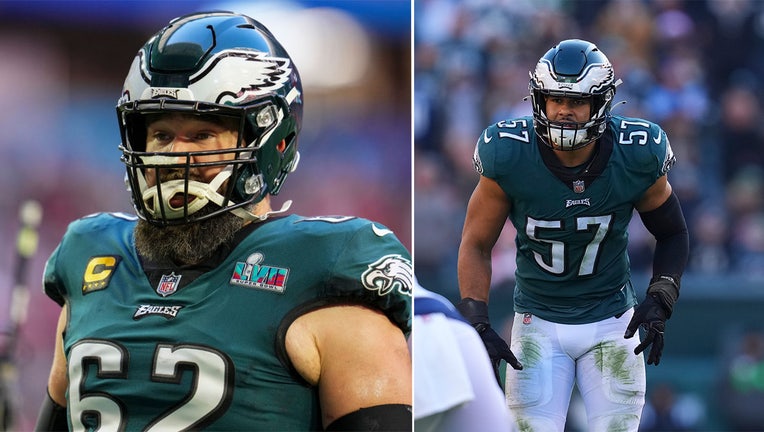 article
PHILADELPHIA - The NFL's so-called 'legal tampering' window opened at noon Monday, and the Philadelphia Eagles quickly learned news about key contributors on the offensive and defensive sides of the ball.
All-Pro center Jason Kelce announced in a tweet Monday morning that he would be putting off retirement to play another season. Tuesday morning, it was reported that Kelce and the Eagles agreed to a one-year deal worth $14.25 million - making him the league's highest paid center. 
"I have put much thought into whether it makes sense to play another season. After talking it over with my wife and many other friends and family, I have decided to return for another year. Thank you to all my supporters and detractors for fueling me, I ain't [expletive] done yet!" Kelce wrote. 
He also appeared to have celebrated his return with Eagles Vice President and General Manager Howie Roseman in a video posted by Kelce's "New Heights Show" podcast account on Twitter. 
Kelce has been as durable as they come with the Super Bowl putting him at 149 consecutive games played. The 35-year-old Kelce was a sixth-round pick in the 2011 draft and is a five-time All-Pro.
Kelce is a big fan favorite and has done it all outside the football field such as singing the national anthem at a 76ers game, partying with the Phanatic and pounding a beer to a roaring ovation at a Phillies playoff game.
But the moment that endeared him for life to the Philly faithful came at the 2018 Super Bowl parade when he dressed as one of Philadelphia's famed Mummers and the ultimate underdog delivered a fiery, profane speech that whipped the crowd into a frenzy.
"No one likes us! No one likes us! No one likes us! We don't care," Kelce exclaimed. "We're from Philly! No one likes us! We don't care!"
TJ Edwards to Chicago
ESPN's Adam Schefter and NFL Network's Ian Rapoport report free agent middle linebacker TJ Edwards plans to sign with the Chicago Bears in free agency. The deal was reportedly worth $19.5 million over three years, with $12 million guaranteed. 
Edwards was among a number of high-profile free agents the team could potentially see leave in free agency. Roseman, admitted earlier this offseason that the team wouldn't be able to sign back all of their pending free agents. 
Edwards led the team with 159 tackles from his middle linebacker position. Although the Eagles don't value linebacker as highly as other positions in their scheme, Edwards has been dependable since being signed as an undrafted free agent in 2019.
Javon Hargrave to San Francisco
After a phenomenal 2022 season with the Eagles, defensive tackle Javon Hargrave is reportedly cashing in on a new deal with the San Francisco 49ers. Rapoport reports Hargrave has agreed to an $84 million deal over four years.
Hargrave had a career-high 11 sacks to help the Eagles to an NFL-leading 70 sacks last season.
Marcus Epps to Las Vegas 
Safety Marcus Epps, who played the most defensive snaps for the Eagles last season, reportedly agreed to a free agent contract with the Las Vegas Raiders on Monday. Epp, 27, played three and a half season in Philadelphia after coming over from the Minnesota Vikings in 2019. 
Andre Dillard to Tennessee 
Offensive lineman Andre Dillard has found a new home, reportedly coming to an agreement with the Tennessee Titans. Dillard, 27, was picked 22nd overall by the Eagles in the 2019 NFL draft and spent three season in Philly. He appeared in 17 games with the Birds last season, but started none of them.
James Bradberry stays in Philadelphia
The Philadelphia Eagles have reportedly re-signed cornerback James Bradberry to a mutli-year contract.
ESPN's Adam Schefter reports through sources that Bradberry's new three-year, $38M contract includes $20M of fully guaranteed money and another $6M in incentives. 
Bradberry, 29, started all 17 games for the Eagles during last years run to the Super Bowl. He nabbed three interceptions along the way and earned second-team All Pro honors. 
Rashaad Penny sings with Eagles 
The Philadelphia Eagles and running back Rashaad Penny have agreed on a contract, a person familiar with the deal told The Associated Press on Tuesday.
Penny's most productive season was 2021, when he ran for a career-best 749 yards with six touchdowns and led the NFL with an average of 6.3 yards per carry. He rushed for 349 yards last season, with an average of 6.1 per carry. Penny's career average is 5.7 yards per carry.
The NFC champion Eagles likely won't re-sign Miles Sanders, who led the team with 1,269 yards rushing last season. Miles tweeted Tuesday: "To the city of Philadelphia Thank you from the bottom of my heart."
___
A full list of unrestricted Eagles free agents includes the following:
DT Fletcher Cox, LB T.J. Edwards, S C.J. Gardner-Johnson, DT Javon Hargrave, DT Linval Joseph, P Brett Kern, QB Gardner Minshew, WR Zach Pascal, DE Robert Quinn, RB Miles Sanders, RB Boston Scott, G Isaac Seumalo, DT Ndamukong Suh, LB Kyzir White.
Other key free agents still include safety C.J. Gardner-Johnson and cornerback James Bradberry. 
Gardner-Johnson tied for the league lead with six interceptions despite missing five games late in the season. Bradberry helped secure the back end of a defense that finished first against the pass. Those three players would be the most costly losses, figuratively, and the most costly to re-sign, literally.
Offensively, the 35-year-old Kelce was expected to either retire or be re-signed. The two biggest names on offense who could be elsewhere in 2023 are Seumalo, an intelligent player and a key part of perhaps the league's top offensive line; and Sanders, who rushed for a career-high 1,269 yards. Those are potential holes that Roseman will need to fill, and there isn't money for everyone.