Embiid, Harden double-doubles lift 76ers past Magic 105-94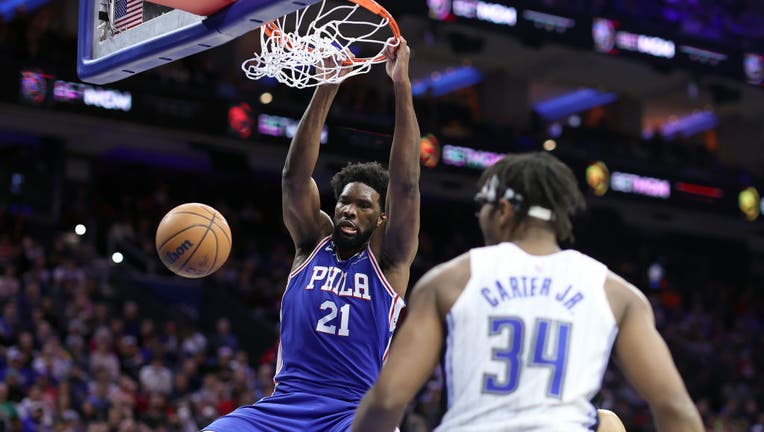 article
PHILADELPHIA - Joel Embiid had 28 points and 11 rebounds, James Harden added 26 points and 10 assists and the Philadelphia 76ers beat the Orlando Magic 105-94 on Wednesday night.
The Sixers split the home-and-home set this week with Orlando. The Magic stormed back from a 21-point, first-quarter deficit to beat the 76ers 119-109 on Monday night. That loss ended the 76ers' seven-game winning streak.
But, despite uneven moments against a young, rising Magic team, the Sixers steadied themselves late and improved to 20-8 at home.
Markelle Fultz led the Magic with 18 points
Embiid, the NBA scoring leader, made all 10 of his free throws and was 9-of-17 shooting overall to help keep the Sixers within striking distance of the top seed in the Eastern Conference. Harden hit six of Philadelphia's 14 3-pointers.
The Sixers used a 17-0 run in the first quarter to take a 56-53 lead into halftime. The Sixers' play with Embiid out again highlighted Philadelphia's need to try and acquire a reliable backup option for the big man. The Sixers were a plus-12 when Embiid played in the half, while Montrezl Harrell (minus-6) and Paul Reed (minus-3) struggled in limited action. With the trade deadline ahead next week, 76ers President Daryl Morey will surely try and beef up the bench.
But don't expect a seismic deal like the one at last season's deadline, when the Sixers acquired Harden.
Coach Doc Rivers declined to talk about potential moves. But the third-year Sixers coach knows he has his best team yet in Philadelphia -- one that should contend for a championship.
"This team, I think is better, better equipped for the playoffs," Rivers said. "I think we have toughness. We're not as young. I think we have less holes. Every team has holes."
TIP-INS
Magic: Made 6 of 39 3-pointers.
76ers: De'Anthony Melton and Tyrese Maxey shot a combined 1 for 11 from the floor through three quarters. Maxey broke through for a 3 midway through the fourth for a 93-83 lead.
DOC AND BRADY
Rivers was still the Boston Celtics coach the first time he was invited to be a guest speaker at a New England Patriots practice. Rivers had a casual friendship at the time with now-retired Tom Brady. They golfed together and Brady gave a few pep talks to the Celtics. Rivers recalled the first time he spoke at a Patriots practice, Brady walked in with a notebook, pen and sat dead center, front row.
"Then Randy Moss walked in," Rivers said, laughing. "He grabbed Randy. He had an empty seat which he wouldn't let anyone else sit in and he grabbed Moss and said, right here. It was amazing how much he was writing while I was talking. I wanted to see what he was writing. Like, this guy is nuts. I don't know what he was writing. But it was really impressive the leadership he showed in that meeting. I thought it was really cool."
UP NEXT
Magic: Play Friday night at Minnesota.
76ers: At San Antonio on Friday.