Flyers prepare for rebuild while other Philly teams thrive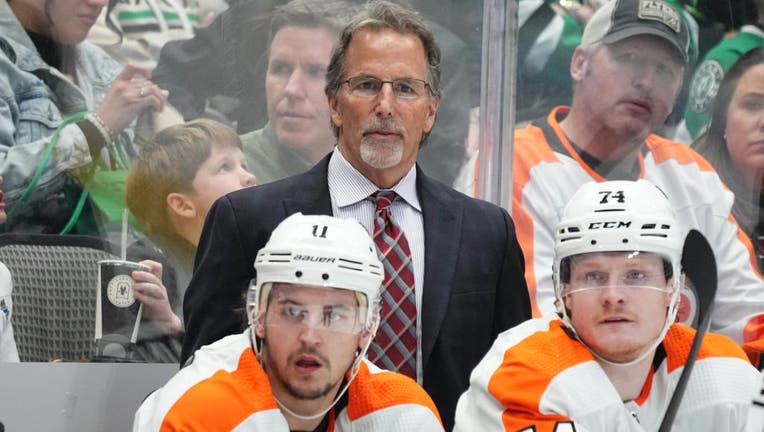 article
PHILADELPHIA - Hours after Eagles QB Jalen Hurts signed one of the richest deals in NFL history, hours before the 76ers were set to carry on their pursuit of an NBA championship, the leaders of the Flyers spoke out and said, hey, about those splashy headlines in Philly, they're not for us.
At least not yet.
The forlorn Philadelphia Flyers are in full-blown rebuild mode — and coach John Tortorella and interim general manager Danny Briere are tempering offseason expectations for any fan looking for a quick fix.
One of the worst teams in the NHL this season just may land there next year, too.
But for once, after seasons of poor drafting, misfires on attempted quick fixes in free agency, a seeming disconnect between ownership, the front office and the bench, Tortorella, Briere and other members of a revamped power structure insist the Flyers have a cohesive plan for the future.
"It started with me, with the rebuild," said Briere, who was promoted in March. "I didn't hide behind it. I came in, I said it. Now, how fast or how long it's going to take, players will dictate that. But everybody's on board. Everybody agrees that we need to do this the right way."
He added, "We might need a little bit of patience from fans in that regard."
Hey, what's a few more seasons of lousy hockey for a franchise that hasn't won a Stanley Cup since 1975?
Tortorella also said Monday he's in with the Flyers for the long haul after a first season in Philly full of more discontent — he healthy-scratched several key players such as Tony DeAngelo, Kevin Hayes, Morgan Frost, Travis Sandheim and Rasmus Ristolainen — and a team he said was devoid of leadership, accountability or even many players he wanted to bring back next season.
Tortorella, who won a Stanley Cup with Tampa Bay in 2004, brandished his reputation as a fiery, no-nonsense coach on a team that seemingly wasn't ready for his prickly personality. He mentioned a few players would push back on his blunt criticisms — which Tortorella said he respected — but there were more headaches than expected from a 31-win team inside the locker room.
"Understand, at least here, you're going to have to accept the honesty and understand that that's all it is, is honesty. It's not a personal thing," Tortorella said. "We have a ways to go there. I think we're way too goddamn sensitive about that. About simply coaching. That surprises me. That's something that we're going to have to really grow at."
Briere inherited a mess when the Flyers fired team president and general manager Chuck Fletcher with the team spiraling toward its third straight season without the playoffs. The 45-year-old Briere, a beloved former Flyer who led the team to its last Stanley Cup Final appearance in 2010, has been resolute in his mission statement: Rebuild, rebuild, rebuild.
"We're not looking out to go sign a big-time free agent with lots of term on the contract, at the moment," he said.
The Flyers are $9 million under the salary cap for next season, with several young players expected to compete to make the leap to the NHL. The Flyers have scores of veterans such as Cam Atkinson, Hayes, Travis Konecny and Ivan Provorov all on the hook for hefty salaries for multiple seasons. Moving them could be a challenge, though Briere was to quick to hype their value Monday to boost their trade potential.
Briere said while some younger players such as Noah Cates, Owen Tippett and Cam York could be foundational pieces, no Flyer is untouchable in trade talks this summer.
"I thought we had some really good progress with our kids," Tortorella said. "A lot of them were put into some heavy minutes in key situations. So in a year where I'm sure everybody around us, an atrocious year as far as this, that, the record, not making the playoffs, I don't look at it that way.
"The way we have to, Danny and I, and the organization is the step that we are in in the process. That was going to be losing some games. No one likes doing it. But that's the part we're in right now."
But who makes the final call in shaping the roster?
Briere is expected to lose the interim tag and will have heavy say, as will Tortorella. Comcast Spectacor recently named Daniel Hilferty the CEO, and he's sure to chime in for the ownership group. But the Flyers have yet to name a team hockey president and Briere said he was in the dark about when that may happen.
"It's not going to be just a one-man show, making all the decisions or two people making all the decisions," Briere said.