Police: Eagles' Fletcher Cox armed himself with shotgun during attempted burglary
MULLICA HILL, N.J. - Authorities say Philadelphia Eagles defensive lineman Fletcher Cox armed himself with a shotgun when man attempted to break into his Gloucester County home.
According to investigators, Cox is dating the ex-girlfriend of the suspect. She was reportedly inside the home at the time of the incident.
Police say the man came to the residence and threw rocks through the windows of the woman's car. He then reportedly tried to force his way into the home throwing rocks through the front door and pulling of the knob.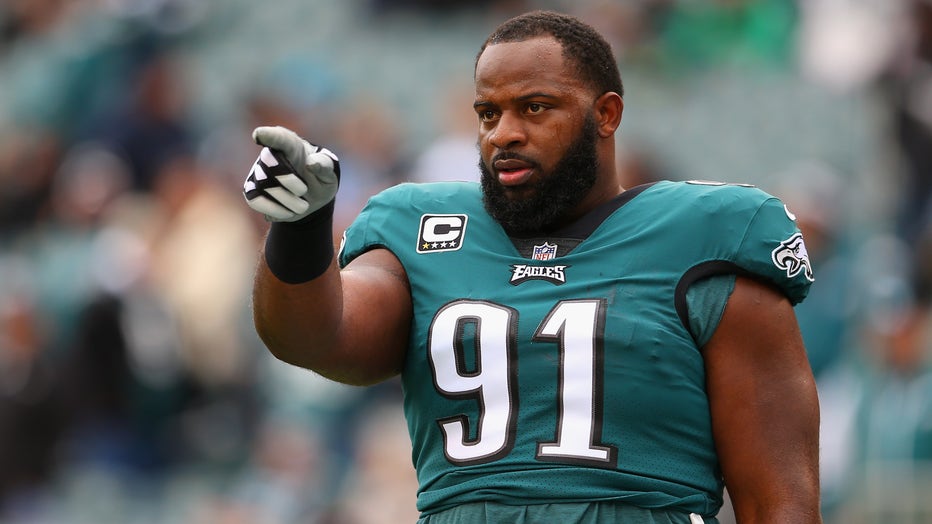 PHILADELPHIA, PA - OCTOBER 21: Defensive tackle Fletcher Cox #91 of the Philadelphia Eagles reacts as he warms up before playing the Carolina Panthers at Lincoln Financial Field on October 21, 2018 in Philadelphia, Pennsylvania. (Photo by Mitchell Le
Police say the suspect was armed with a baseball bat and also attempted to enter the garage several times. 
The suspect fled the area and reportedly lead police on high speed chase through Woolwich Township. Officers suspended the chase after the suspect's erratic driving became a concern for public safety.
An investigation revealed the man had been making suicidal statements to the ex-girlfriend via text message. He also allegedly sent the woman pictures of himself with a gun.
After the incident, Cox missed practice the next day but refused to reveal details about whether or not the incident was related to his absence. 
"I'm only here to talk about football. I'm not here to discuss my personal life," Cox told the media. "If you got anything, you know interesting about the Eagles and the Buffalo Bills organization, I'll talk about it. Anything else, I'm not interested in it."
Reportedly, this isn't the first time that Cox has been in hot water over a romantic partner.
Last August, Cox was accused of breaking up a marriage in North Carolina.
A man involved in that case sued Cox for $50,000 but the details of the settlement were never disclosed. Cox claimed he didn't know the woman was married.