Realmuto's 2-run homer powers Phillies past Reds 5-2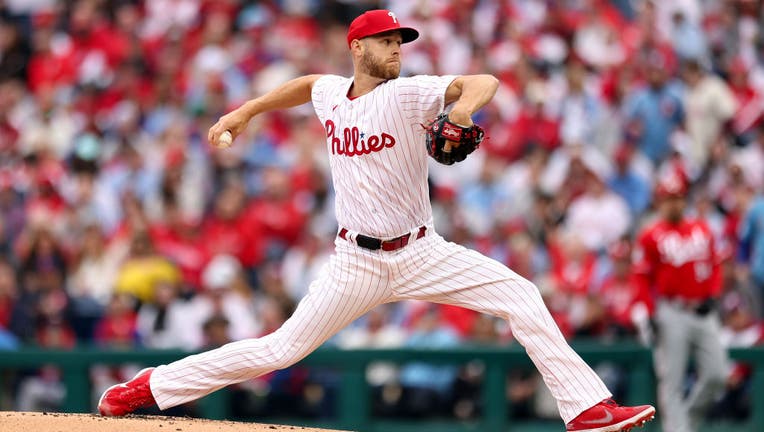 article
PHILADELPHIA - J.T. Realmuto hit a tiebreaking, two-run home run in the seventh inning and Edmundo Sosa added a solo shot to lead the Philadelphia Phillies to a 5-2 win in their home opener over the Cincinnati Reds on Friday.
Maybe all the Phillies needed to recover from a 1-5 start was to get home for an enjoyable reminder of last season's run to the World Series. Bryce Harper and Rhys Hoskins -- their two injured star hitters -- raised the 2022 NL championship banner in center field to a raucous ovation. The Phillies played postseason highlights on their new, vibrant 4K videoboard that can display 516 life-sized Phillie Phanatics. And some fans as part of a packed house of 44,365 sitting in the breezy, chilly air -- a day after the scheduled opener was postponed for rain that never came -- held signs reminding the Phillies their mission isn't complete:
"Un-Phinished business."
How about one win, for starters.
Realmuto made it happen on his first homer of the season on a drive to left-center on a 3-2 pitch against Reds reliever Derek Law (0-1). One more promising sign, Realmuto drove home free-agent signing Trea Turner, who led off the inning with a single.
Outside of the 2022 ceremony, the loudest sustained ovation from Phillies fans came for Turner's pregame introduction in his home debut. The 2021 NL batting champion led off and had two hits and scored two runs in the first home game of a $300 million, 11-year contract that will take him into his 40s.
For now, the Phillies just want Turner to take them into October.
Gregory Soto (1-1) tossed a scoreless seventh for the win and Craig Kimbrel worked the ninth for his first save.
Sosa's pinch-hit homer in the eighth gave the Phillies a 5-2 lead.
Injuries and slow starts hampered the Phillies against the Rangers and Yankees and the first game at Citizens Bank Park since a November Game 5 loss to Houston in the World Series was supposed to give them a jump start.
Instead, the first inning was just a road trip hangover: Turner, Kyle Schwarber and J.T. Realmuto all struck out swinging against Hunter Greene.
Greene was wild with his 100 mph fastballs, though, and walked Brandon Marsh with the bases loaded in the second inning. Greene retired Turner on a fly ball to center to end the threat.
The Reds tied the game 1-all in the fifth on Jose Barrero's RBI single up the middle off Zack Wheeler.
Turner sparked the Phillies with a leadoff single in the fifth and scored on Schwarber's RBI for a 2-1 lead. Again, Wheeler failed to hold the lead and was chased after Tyler Stephenson's tying RBI double in the sixth.
TRAINER'S ROOM
Reds: Manager David Bell missed Friday's game because of an undisclosed minor medical procedure. Bench coach Freddie Benavides was the acting manager. Bell was expected to return Saturday.
Phillies: Harper went deep in batting practice and the Phillies remain encouraged by the two-time MVP's recovery from reconstructive right elbow surgery. ... Kody Clemens was recalled from Triple-A Lehigh Valley and started at first base after Darick Hall was placed on the 10-day IL with a right thumb sprain. Hall said he scheduled for surgery Wednesday on his torn ligament and was expected to miss one or two months.
KID CLEMONS
Seven-time Cy Young winner Roger Clemens attended the game to watch son Kody make his Phillies' debut.
"Hello Philly! Let's go Kod!" Clemens tweeted.
THROW, EAGLES, THROW
Coach Nick Sirianni of the NFC champion Philadelphia Eagles received a rousing standing ovation when he threw the first pitch to the Phanatic.
UP NEXT
The Reds send LHP Nick Lodolo (1-0, 3.60 ERA) to the mound against Phillies LHP Bailey Falter (0-1, 3.38 ERA).