17-year-old pleads guilty to murder of Uber Eats driver in Haltom City
HALTOM CITY, Texas - A 17-year-old who killed an Uber Eats driver in Haltom City accepted a plea deal in court on Thursday and apologized to the family of the victim.
Police say Ryan Munsie Graham was stabbed to death by two teens who were attempting to rob her while she delivered food to an apartment complex on Northern Cross Boulevard in 2021.
PREVIOUS COVERAGE: 2 juveniles arrested for the murder of Haltom City Uber Eats delivery driver
The teens, who were 14 at the time of the killing, were charged with capital murder.
On Thursday, 17-year-old Zakariya Marshall accepted a plea deal to downgrade his charge from capital murder to murder.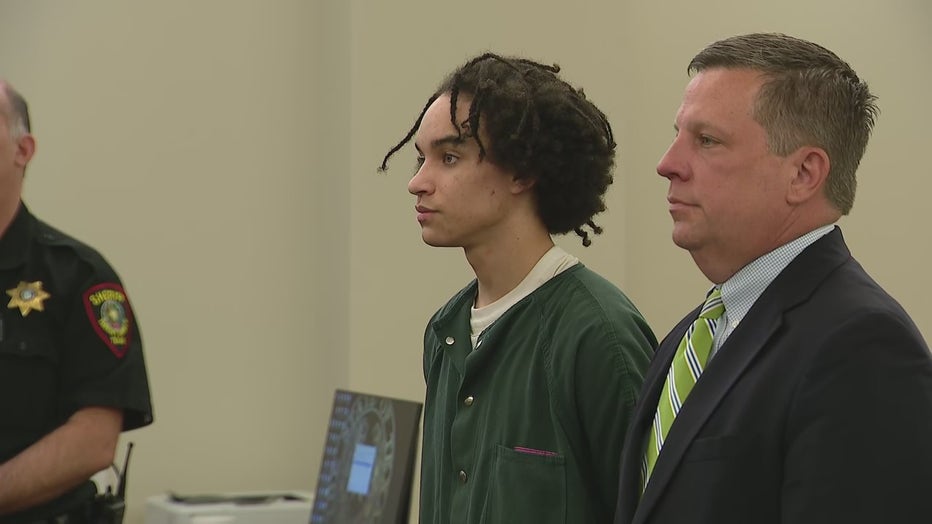 Marshall was sentenced to 45 years behind bars. He is eligible for parole after 22 years.
His accomplice pleaded guilty to aggravated robbery last year and was sentenced to seven years in the Texas Juvenile Justice Department.
After the plea deal was announced, Graham's family addressed Marshall directly on Zoom. 
Family members say Graham had four different jobs at the time of her death.
"The night of January 27, 2021, was the worst day of my life," said Donna Munsie, Graham's stepmother who now looks after her children. "She was trying to make a better life for her family."
At the time of her death Graham's children were 11, 10, and 5 years old.
"How do you tell those children that their mommy is not coming home?" Munsie said. "Ryan is never going to get to watch these three kids grow up."
Munsie held up a picture of Graham to show Marshall.
"I hope that he regrets what he did," Munsie said.
"He should spend his life in jail," she added. "And I don't think any of us really understand why it happened."
Marshall responded with a tearful apology and says he tried to take his own life while in juvenile detention, but has since found God.
"I think about her a lot. I'm sorry she was the one who had to experience my anger for things that had nothing to do with her," he said. "I am not the same person I was two years ago, but I still haven't forgiven myself."
Marshall says he had a lot of pain and anger over things that had nothing to do with the victim.
"I have plans for the future and I will never be the same person I was," he added.
Graham's mother took issue with the apology.
"Do you honestly expect that after what you did to Ryan, and you took her life away, that you're going to go on? You're going to be able to live out your big plans? Do you expect to caress the face of a loved one with the same fists that you beat me daughter in the face and stomach with? Do you expect at some point to kick a soccer ball with your child? The same feet that you used to kick my daughter in the head and the stomach? Those were choices, and now you've got consequences for your choices," Suzanne Munsie said. "I don't want to hear about anger…You made a choice to go out to try to steal a car. You made a choice when she was passed out to stab her in the neck with a knife. Who does that?"
"You've destroyed everything," she continued. "I'm glad they gave you 45 years."