Young aspiring sports commentator breaks down Eagles divisional round, NFC championship with Merrill Reese
PHILADELPHIA - When FOX 29 met Shaan Heble two weeks ago outside of Lincoln Financial Field, we were more impressed than disappointed that the 12-year-old, among screaming fans, quickly humbled talks about an Eagles Super Bowl run.
"I feel like we can't look forward to the Super Bowl, we just gotta' focus on the divisional round. There were a bunch of rusty mistakes that we made, but we came out with the win," he told FOX 29's Kelly Rule.
Fortunately, he's feeling much more confident today.
"We came out on fire and played really well," says Heble. "If we play the same way that we did, we'll punch our ticket to the Super Bowl."
Heble went to the game again on Saturday night. He described the energy in the stadium as electric, despite more Giants fans at the Linc than he would've liked, and said he had a great feeling after the Eagles scored their first two touchdowns.
"I feel like our whole offense looked really good even though AJ Brown didn't get a lot of targets, I feel like he's bound to have a breakout game," he says. "Our linebackers, our quarters, they all looked pretty sharp, got some sacks on Daniel Jones."
Heble, a seventh grader at Newtown Middle School, has his own YouTube page with nearly 800 subscribers. His videos include his own Eagles commentary, which is something he would love to do professionally one day.
That being said, we figured we'd loop in a Philly legend for our post-game recap—Merrill Reese, the voice of the Philadelphia Eagles.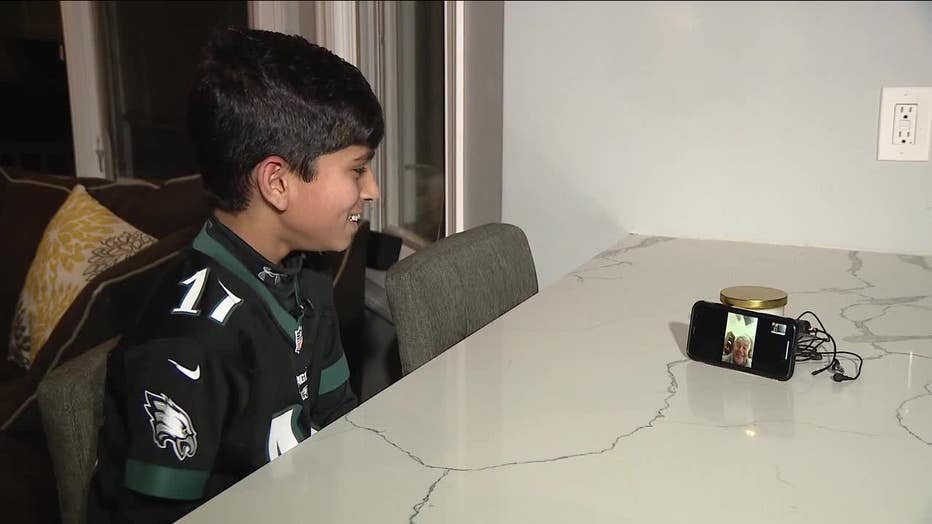 RELATED COVERAGE
He joined us via FaceTime.
"We only beat Davis Webb by six points, but this game, we played Daniel Jones, and we beat them 38-7, big difference," says Heble.
"Big difference," says Reese.                    
Looking ahead to next week, Reese pointed out the 49ers number one defense. They also agreed on key players to stop.
"Not only is Christian McCaffrey someone we have to worry about, but George Kittle and Deebo Samuel," says Heble.
"That's a very good point," says Reese. "They're both very dangerous players that have to be stopped, but again, as good as they are, the key to their offense: Christian McAffrey."
It turns out, Heble looks up to Reese in more ways than one. He gave him his best Merill Reese impression.
"It is first and 10, from the 35-yard line, Hurts from the gun, back to throw, he's going deep, he's got Brown, he's taking it in, he's in for the touchdown!" says Heble.
"You do a much better Merrill Reese impersonation than I do a Shaan impersonation," says Reese.
Heble has the commentary down pretty solid, but if he continues to watch and learn from Merrill Reese, he'll be doing play-by-play in no time.