Video captures black bear wandering through backyard in Bucks County
PERKASIE, Pa. - A black bear spotted roaming in the woods of Bucks County Friday has made its way into a local neighborhood over the weekend, according to police.
First sightings of the bear were reported in Perkasie on Friday near North 5th Street, between West Callowhill Street and Blooming Glen Road. Police thought the bear might have taken a southern turn towards Branch Road.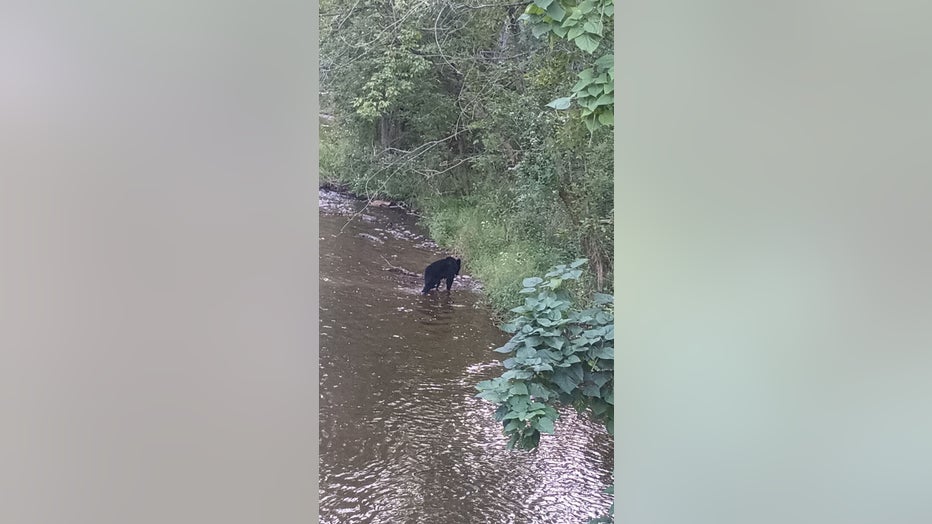 Black bear in Perkasie. Courtesy: Jordan Dhoble. (Courtesy: Jordan Dhoble)
On Saturday, police posted a video of the bear roaming around one resident's backyard in Hilltown Township, which is about 5 miles south of Perkasie.
"Hey, Hey, Hey residents! Yogi (at least that's what I named him) was spotted touring the Pleasent Meadows neighborhood this morning."
Police joked the bear was probably just searching for the "bear necessities," but cautioned anyone who sees the bear not to approach, but to contact police immediately.
RELATED COVERAGE: Watch Steve Keeley's previous encounter with a black bear in Deptford, N.J. in 2020
Wildlife experts say black bears are more likely to be a bit more aggressive in August and September as they seek food before settling into hibernation for the winter.
One resident, Jordan Dhoble, was able to get close enough to get a photograph of the bear, hanging out in the woods, along the stream that runs through Perkasie.
"My mom was in a little tizzy," Dhoble stated. "I said, 'Don't worry, Mom, we're not gonna see this bear.' Go out to ride my bike and lo and behold, the bear is in the woods, right down the street from my house. So, Mom's little tizzy turned into a little freak out. I let dispatch know where he's at. He's not bothering anybody. He's not aggressive, so they're just gonna let him be."