'Obvious mental health crisis': Attorney describes body camera video of Walter Wallace Jr. shooting
PHILADELPHIA - The family of Walter Wallace Jr. has reviewed the police body camera footage showing the events surrounding the deadly officer-involved shooting in West Philadelphia, according to the family's attorney.
Attorney Shaka Johnson said after viewing the footage Thursday morning his impression was the same as before that Wallace was in "obvious mental health crisis."  Johnson added he heard people shouting "he's mental," "he's mental."
Body camera video from the shooting of Wallace includes audio of one of the officers saying 'shoot him' to the other, before both opened fire, according to Johnson.
The family wants accountability and justice but they are not calling for the officers involved in their son's death to be charged with murder, Johnson said.
"They were improperly trained and did not have the proper equipment," Johnson said.
Johnson also announced a viewing for Wallace will be held on Saturday, Nov. 7 from 9-11 a.m. followed by a service at the Church of Christian Compassion.
The officers have not been named, but Police Commissioner Danielle Outlaw has pledged to release the video and audio tapes. In a news conference Wednesday, Outlaw lamented the lack of a behavioral health unit in a department she joined only this year.
Mayor Jim Kenney and District Attorney Larry Krasner released a joint statement Thursday night saying the footage and 911 audio files will be released by the end of next week.
"The Mayor, Police Commissioner, and District Attorney are in close communication about the specifics of when and how police Body-Worn Camera (BWC) footage and 911 audio files in relation to the killing of Walter Wallace, Jr., will be released. The Administration and the District Attorney expect BWC footage and 911 audio files to be released by the end of next week after certain matters are resolved in close consultation with Mr. Wallace's family and their legal counsel," the statement read.
Sources tell FOX 29 the two officers were not aware of two prior police calls at Wallace's home earlier in the day. Both officers did not have a Taser when called to the scene.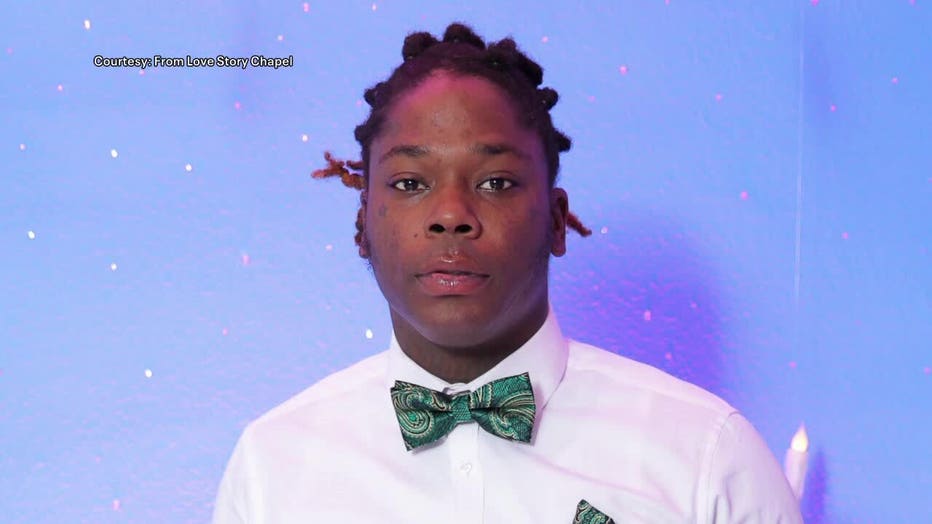 Walter Wallace Jr. was shot and killed by police Monday afternoon.
Investigators say Wallace Jr. was holding a knife when he was shot and killed by police Monday afternoon on the 6100 block of Locust Street in West Philadelphia. 
The family disputes police claims that their son lunged at police with a knife. They say city leaders have failed the family and the two police officers involved. 
The fatal shooting sparked consecutive days of unrest in the city, which included looting and rioting.
The family has called for peace while seeking justice for their son who they say was having a mental health crisis when police arrived before an ambulance. To that end, Commissioner Danielle Outlaw also said the police department should move "as soon as possible" to integrate with mental health services.
"We don't have a behavioral health unit, which is sorely needed," said Outlaw, when asked about reports that police had been called to the home twice before that day. "There's clearly a disconnect on our end in terms of knowing what's out there " at the scene.
There will be no curfew in effect on Thursday night, according to the city. However, Mayor Jim Kenney and Police Commissioner Danielle Outlaw urge all residents to remain home this evening unless travel is absolutely necessary, such as for work.
"We will not, repeat not, allow others to destroy property and further harm our communities," Mayor Kenney said.
Commissioner Outlaw praised her officers and addressed the 1,000 looters who targeted a Shopping Center at Aramingo and Castor. The damage and losses there could be in the millions.
"The widespread lawlessness including the burglary and looting of area businesses serve no purpose whatsoever," she said during a press conference on Wednesday.
On Friday afternoon, Philadelphia FOP Lodge #5 President John McNesby called for the public release of the body camera footage, claiming it would show the officers were "justified in their use of force."
"The Philadelphia Fraternal Order of Police Lodge #5 is once again asking city leaders and the District Attorney's Office to release police officer body-camera video and 9-1-1 calls related to this week's officer involved shooting in West Philadelphia. FOP leadership has reviewed the video and listened to the 9-1-1 tapes, the public deserves to know that this investigation will be transparent and show that officers followed police department training and protocols. The officers were justified in their use of force under very difficult and stressful conditions, an armed man confronting them with a knife. For nearly 50 seconds, officers retreated and ordered the male to drop his knife more than 20 times. We also question why the District Attorney's office will not release the tapes, so that the city can begin the process of healing."
___
RELATED COVERAGE:
53 officers injured, 172 arrested after deadly police shooting sparks consecutive nights of unrest
Police sergeant suffers broken leg after being struck by pickup truck in West Philadelphia
White House issues statement on looting in Philadelphia following death of Walter Wallace Jr.
___
For the latest local news, sports and weather, download the FOX 29 News app.
DOWNLOAD: FOX 29 NEWS APP
Sign up for emails from FOX 29, including our daily Good Day Digest