Community collecting donations for children of missing Pennsylvania woman
LIMERICK, Pa. - Family and friends of a missing Montgomery County mother are asking the public for help and prayers as their search nears two weeks. 
Investigators say Jennifer Brown, 43, was last seen by a "friend and business associate" on Jan. 3 and was scheduled to pick up her son from the bus stop the next day. 
Brown, according to investigators, never showed up at the bus stop on Wednesday afternoon and her car was later found parked outside her home on Stratford Court in Limerick Township.
The Montgomery County District Attorney's Office said Brown's car keys, wallet, purse and work cellphone were found inside the vehicle.
Her personal cellphone was not found, but investigators say it has been out of communication since Jan. 4. Brown is described by police as 5-foot-1, 150 pounds with brown hair and green eyes.
Over a week after her disappearance, family and friends of Brown say they are no closer to finding her. Meanwhile, Brown's young son is being taken care of by his grandparents and other family. 
"My heart breaks for Jennifer and whatever situation she may be in but also for Noah. Her son needs to have his normal routine, he needs his mom," Ellen Friend said. 
Family and friends are asking for donations in the form of gift cards to help Brown's two sons with clothing, food, gas and activities during her absence.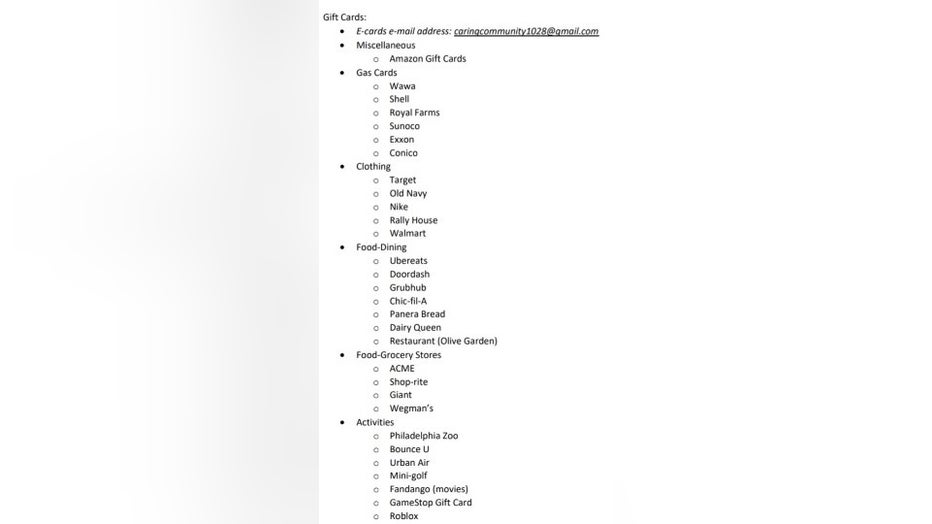 Family and friends organized a list of gift cards that will benefit Brown's 8 and 20 year old sons as the search for their missing mother continues.
A growing memorial with posters and candles currently sits outside of Brown's home, and missing posters are plastered in nearby businesses. 
"Every day it's wishing for her to come home safely," Friend said. "Always be grateful for where you are because honestly in five minutes life changes."