Going to Super Bowl LVII? Book early, and be prepared to pay
PHILADELPHIA - Eagles fans are making arrangements to get to the Super Bowl, but every minute that passes is likely going to make it harder to find the accommodations you want—and make it more expensive to go.
The WM Open in Scottsdale, being hosted during the same weekend of the big game, is already making inventory low and demand high.
Ticket prices for the Super Bowl will likely be the most expensive part of the weekend, with prices already starting at least $5,000 for nosebleed seating.
John Maley says he put down a deposit for a travel package with Philly Sports Trips a few weeks before the NFC Championship.
Yes, we gave him a little bit of a hard time for that.
RELATED: Airbnb warning Eagles fans of third-party scams in search of Super Bowl lodging options
"I thought it was an investment in our future!" says Maley. "I felt that passionately about this team, there's something different this year."
Maley is still waiting to purchase tickets for the game, but his package includes a chartered flight, lodging, and transportation. While it's not cheap, it takes the stress away.
"Seasons like this don't come around very often," he says.
Michael Diaz, social media manager with the Green Legion says they have also had a hectic 24 hours as people purchase their travel packages that also come with and without tickets, and entertainment.
"It's a once in a lifetime experience," says Diaz. "There's nothing available, so when there's nothing available, your rooms are going to cost $800 a night, that's the price. Some people were planning a shore house this year, or they were going to take everyone to Disney, and now they're switching their decision to this, but it's kind of how it goes."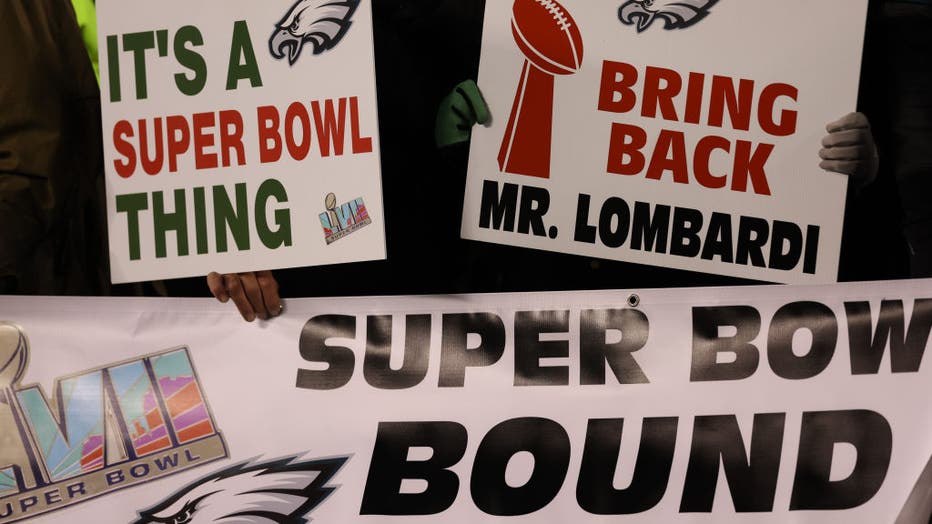 Football: NFC Championship: Philadelphia Eagles fans holds Super Bowl bound signs vs San Francisco 49ers at Lincoln Financial Stadium. Philadelphia, PA 1/29/2023 CREDIT: Simon Bruty (Photo by Simon Bruty/Sports Illustrated via Getty Images) (Set Numb
RELATED COVERAGE
If you want to book all of the accommodations yourself, that's still an option.
Jana Tidwell, a spokesperson for AAA, says if travel time is flexible, try to play around with departure and return dates and try airports other than Philly International.
If you can avoid it, she doesn't recommend checking a bag. While flying is likely the best way to go, a 35-hour road trip is still an option—AAA just recommends getting your car serviced beforehand.
"This really is a once in a lifetime opportunity, it's going to be costly, but there are many people that want to do this it's a bucket list item," says Tidwell. "If you're serious about traveling to Arizona for the Super Bowl, now is the time to make those plans."
AAA is also urging travelers to book through reputable websites as they tend to see an increase in scams when demand is high.