Man charged in Philadelphia shooting, chase that left man paralyzed from neck down
PHILADELPHIA - The Philadelphia District Attorney's Office has announced charges in connection with a shooting and car chase that ended in a crash on I-76 in South Philadelphia. 
Just before 3 a.m. Wednesday morning, police responded to a report of a shooting at FDR Park and a crash on I-76 near Passyunk Avenue. 
Officers responded to the scene on the highway and found a Ford SUV and Infiniti Sedan had been involved in a crash. 
Two people were found inside of the Ford SUV, including a 27-year-old man who was in the backseat suffering from a gunshot wound to the neck. A 32-year-old woman was behind the wheel of the Ford, according to police. 
Both occupants who were in the Ford were taken to the hospital for treatment, and the man who was shot was left paralyzed from the neck down. The Ford was found with eight bullet holes, but the woman behind the wheel was not hit.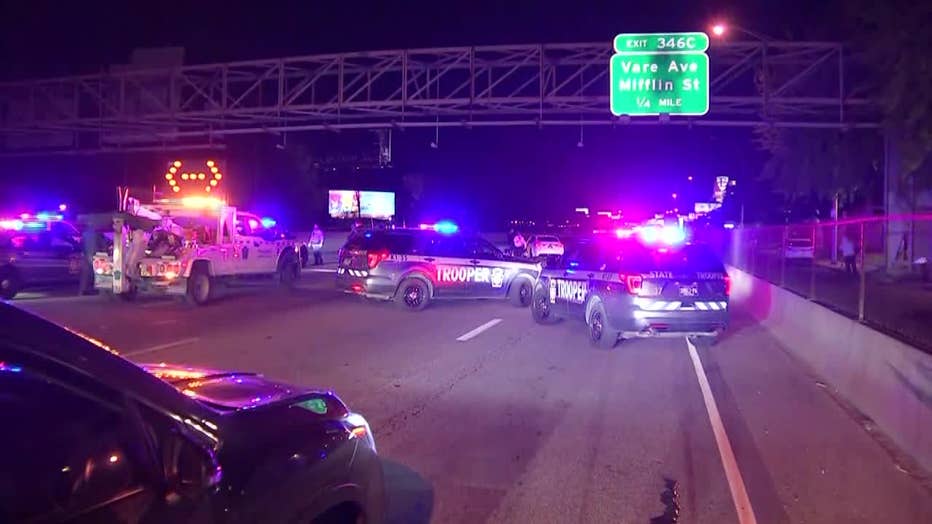 Police respond to lanes on I-76 West, where two vehicles crashed after a shooting and chase. 
Police arrested the 23-year-old driver of the Infiniti Sedan, who the DA's office later identified as Marcus Eberhardt. 
During the investigation, police recovered a firearm Eberhardt was licensed to carry from his car. A cell phone and 18 spent shell casings were also found at FDR park. 
According to officials, the incident appeared to be a drug-related transaction that turned violent. Eberhardt has been charged with aggravated assault, recklessly endangering another person, and related offenses. 
The investigation is ongoing.