No injuries reported after large fire at strip mall in Cherry Hill
CHERRY HILL, N.J. - Fire officials say no one was injured following a large fire at a strip mall Friday morning in Cherry Hill. FOX 29's Lauren Dugan spoke with employees who said they smelled gas, saw smoke, then ran out. 
The fire broke out at a business on the 400 block of Evesham Road sometime before 11 a.m. People who work at the strip mall say the six businesses were closed for a scheduled power outage, but as soon as the lights came on that's when the building lit up in flames. 
"It's devastating," said Barry Kratchman, co-owner of Classic Cake. "I mean you build a brand in Cherry Hill and you see it burn down. It's very difficult to see it happen."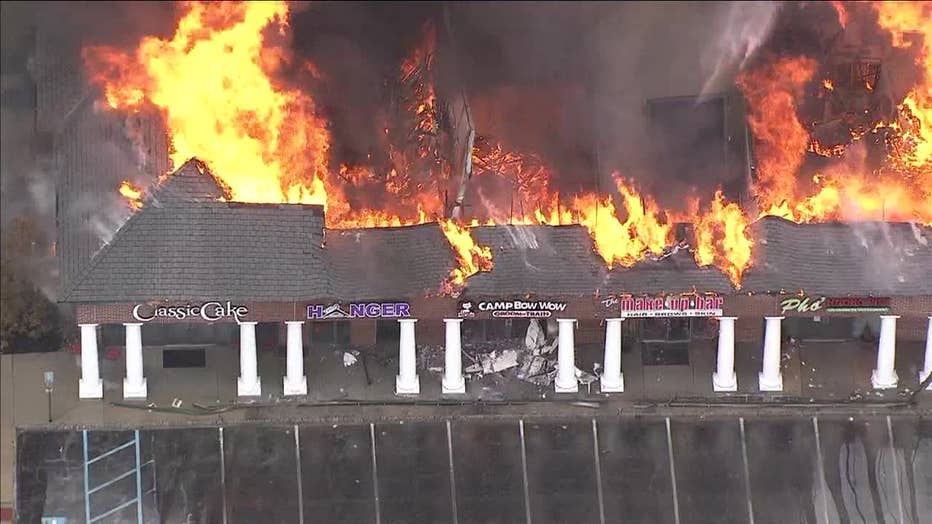 Kratchman watched with his employees, helpless from the sidelines. The Classic Cake staff was inside waiting to open the store when smoke started to trickle in. 
"It was just such a shock because everything happened so fast," said employee Taylor Salmons. "We were in the store, setting it up when the power went out and all of a sudden they told us, 'Get out of the building! It's on fire!'" 
Taylor Salmons has worked at Classic Cakes for seven years. It was supposed to be her last day. She ran out when she smelled smoke but left her cell phone behind. 
"Last day, didn't plan on it going this way," said Salmon. 
Cherry Hill Fire Chief Chris Callan says the fire started in the center of the complex and spread.
"It was an incredibly fast-moving fire, rapidly expanding as soon as the roof collapsed," he explained. 
After the fire was extinguished, the real work began for Classic Cake. They spent the afternoon calling customers to assure them where to pick up their orders. Now, they are determined to come back bigger and better than ever. 
"And we have to figure out a way to rebuild," said Kratchman. "I mean Classic Cake has been around in Cherry Hill for 35 years so we have to make sure we continue that."
The Cherry Hill Fire Marshal's office is investigating the cause of the fire.
___
For the latest local news, sports and weather, download the FOX 29 News app.
DOWNLOAD: FOX 29 NEWS APP