Building owner charged in Philadelphia fire, building collapse that killed fire Lt. Sean Williamson
PHILADELPHIA - Federal and local authorities on Tuesday announced an arson arrest in a deadly fire that lead to a building collapse that killed Philadelphia fire Lt. Sean Williamson.
Investigators with the Bureau of Alcohol, Tobacco and Firearms said 28-year-old Al-Asharf Basem Khalil was arrested at JFK Airport in New York days after they learned he fled to Jordan following the June 18th fire. 
Authorities say a commercial building on the 300 block of West Indiana Avenue was reported to be on fire around 2 a.m. Fire crews were able to get the flames under control in just 15 minutes, according to the Philadelphia Fire Department. 
Williamson and several others entered the building to inspect it when a large portion collapsed, causing the people to become trapped, officials say. 
As firefighters became trapped under the debris and rubble, fellow firefighters stood on top of the collapsed building digging by hand to quickly save their trapped crewmen, but Williamson did not survive. 
During a Tuesday afternoon press conference, authorities shared details about how Khalil was developed as a suspect. First Assistant Attorney Nelson Thayer told reporters two men were captured on surveillance cameras going into basement bilco doors prior to the fire and leaving after 20 minutes. 
"Video surveillance further showed that 20 minutes later, the 2 suspects leave the location after which smoke can be seen emanating from the direction of the building and immediately there after flames can be seen on the video," Thayer said. 
Khalil, who owned the property, allegedly lied to federal investigators about where he was at the time of the blaze. Investigators confirmed his whereabouts during the fire from surveillance video and audio captured near the property. 
When pressed for information about the second person spotted in the video evidence, investigators would not offer comment. Authorities also did not share a possible motive for the blaze that firefighters managed get under control in less than an hour.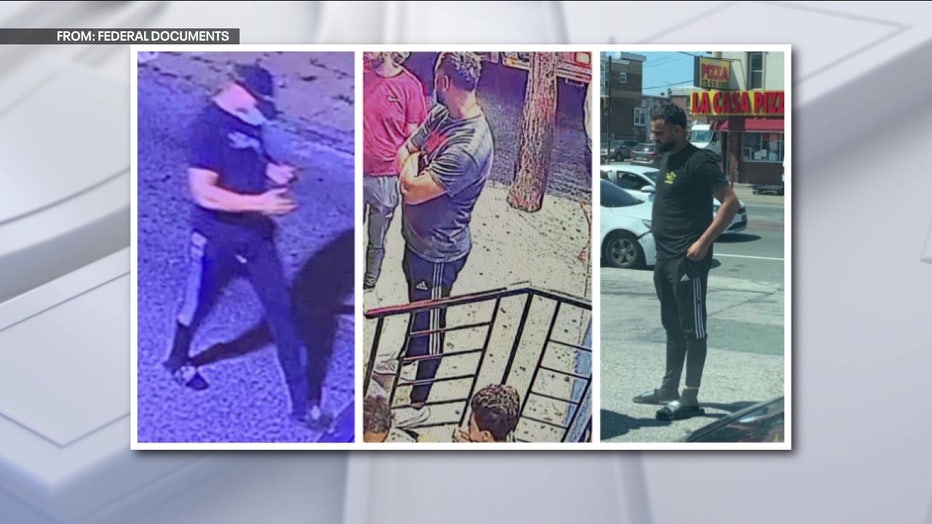 Investigators noticed Al-Asharf Basem Khalil, 28, was wearing similar clothing to a suspect captured outside a Philadelphia fire.
During questioning, investigators noted that Khalil's clothing was similar to one of the suspects captured outside the burning building. Thayer said Khalil told investigators that he had no plans to leave the country, but booked a one-way ticket to Jordan after another round of questioning the following day. 
Khalil has been charged with one count of malicious damage by means of fire of a building used in interstate commerce resulting in death, one count of aiding and abetting and willfully causing the same, and one count of making materially false or fraudulent statements.
If convicted, Khalil faces a mandatory minimum term of seven years in prison, according to federal prosecutors. If death results to any person, including a public safety officer performing duties, the statute carries a maximum penalty of life in prison or the death penalty.
The arrest comes a day after mourners gathered to lay Lt. Williamson to rest. He was a 27-year-veteran with the Philadelphia Fire Department, was remembered for his dedication to serving the City of Philadelphia. 
Philadelphia Mayor Jim Kenney called Williamson a hero for his decades of service protecting the residents of Philadelphia. 
"For more than 27 years, he dedicated his life to serving and protecting the people of Philadelphia, and sacrificed his life protecting others," Kenney said. "... he exemplified heroism by doing what our first responders do every day; put on their uniform, leave their loved ones, and carry out their sworn duty to protect and serve the residents of this city."