Man accused of aiding Philadelphia prison break charged after arrest at Chester County hotel
PHILADELPHIA - A suspect believed to be connected to the prison break of two Philadelphia inmates was taken into custody by federal agents at a hotel just outside the city. 
Michael Abrams, 21, was arrested Monday afternoon in Berwyn on charges related to the May 7 escape of Ameen Hurst and Nasir Grant from Philadelphia Industrial Correctional Center.
On Tuesday, the District Attorney's office charged the suspect with escape, criminal use of communicating facility, criminal conspiracy and hindering apprehension. His bail has been set at $1 million.
Abrams had open Violation of the Uniform Firearms Act and possession with the intent to distribute cases at the time of his arrest, according to the DA who requested bail be revoked.
Officials have not said exactly how they believe Abrams may have helped the inmates escape. Nasir Grant has since been re-captured after attempting to elude police in female Muslim garb.
Robert Clark from the U.S. Marshals Fugitive Task Force said Monday's arrest solely focused on Abrams, and investigators do not believe Hurst - who has a violent rap sheet - is in Chester County.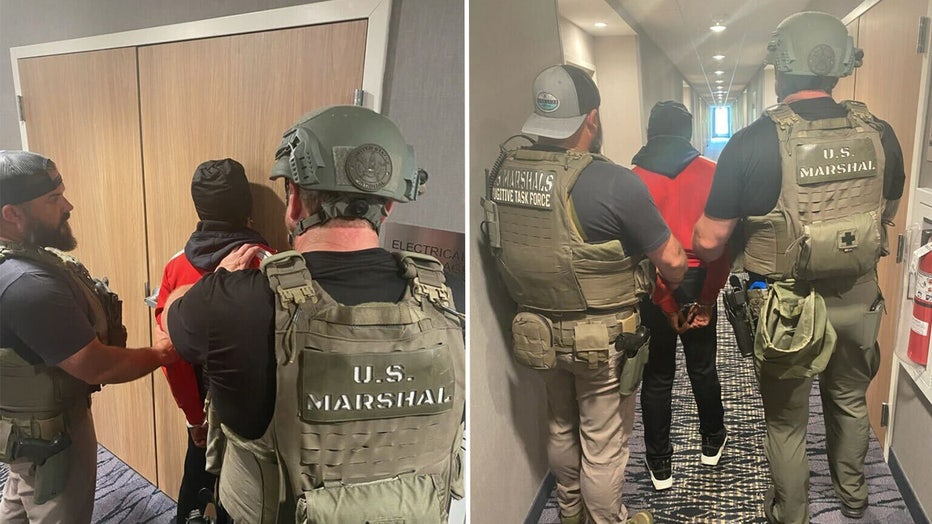 U.S. Marshals take 21-year-old Michael Abrams into custody at a Berwyn hotel.
"This is just a word of caution that people who do not cooperate in this investigation, people who were culpable in the escape – warrants are going to be issued, arrests are going to be made."
This is the third suspect accused of helping Hurst and Grant escape the prison through a hole in a perimeter fence. Xianni Stalling, 21, and Jose Flores-Huerta, 35, have also been charged. 
RELATED HEADLINES:  
Sources tell FOX 29 doors to their hold cells and an outdoor recreation yard were left unlocked. It's alleged the pair were captured on video cutting a hole in a perimeter fence with an unknown tool.
From there, it's believed Hurst and Grant hopped two barbed wire fences and escaped onto the 8300 block of State Road. 
Both men missed three separate headcounts before prison staff realized they were missing the afternoon following their escape. It was the first Philadelphia prison break since 2010.