Manhunt underway for inmate who escaped Philadelphia prison: Everything we know
PHILADELPHIA - Police are scouring all corners of Philadelphia and beyond as they search for the last of two escaped Philadelphia inmates.
Ameen Hurst, 18, and Nasir Grant, 24, sprung themselves free from the Philadelphia Industrial Correctional Center around 8:30 Sunday night, investigators said. Prisons Commissioner Blanche Carney told reporters the duo missed three headcounts before prison guards realized they were missing Monday afternoon.
Sources tell FOX 29 holding cell doors and a door to an outside recreation yard were left opened. The prison guard union claims that perimeter posts that's been left unmanned for months due to budget cuts may have aided Hurst and Grant's escape, while the city said it "categorically denies" those claims.
The hole that Hurst and Grant used to escape was cut with an unknown tool, according to Commissioner Carney, and the fence that was compromised was not equipped with an alarm that would have notified prison guards about a possible escape.
"That's part of our investigation, to see what happened, what was followed, what wasn't followed," said Commissioner Carney who told reporters investigators are "combing through the timeline" of events that lead to Hurst and Grant's escape.
Nasir Grant captured, 2 alleged accomplices arrested
Nasir Grant was taken into custody late Thursday night by U.S. Marshals after allegedly trying to use a "full female Muslim garb and a head covering" to avoid detection, according to authorities.
Supervisory Deputy of U.S. Marshals Eastern District Robert Clark told reporters that agents were conducting a surveillance operation in a section of North Philadelphia that they believed 24-year-old Nasir Grant was frequenting. 
During their operation, Clark said a person resembling Grant exited a property wearing full female Muslim garb and a head covering. Grant got into a vehicle that authorities followed to the 2800 block of Dauphin Street and pulled over. 
There, Marshals were able to surround Grants vehicle and take him into custody without incident. Clark believes the "element of surprise" was critical in helping agents make an "uneventful arrest." 
"I believe he was thoroughly surprised, he submitted to our commands, and it was pretty much an uneventful arrest which is how we like it," Clark said.
Earlier that same day, authorities arrested 21-year-old Xianni Stalling on charges of helping the duo pull off their escape. Philadelphia District Attorney Larry Krasner says Stalling has been charged with criminal conspiracy, hindering apprehension, escape and use of a communication facility. 
Police charged Jose Flores-Huerta, a 35-year-old who is currently incarcerated at Philadelphia Industrial Correctional Center, with Escape and Criminal Conspiracy less than 24-hours later. Flores-Huerta was allegedly among a group of men who beat another man to death during a fight outside Pat's King of Steaks in 2021.
Ameen Hurst still at large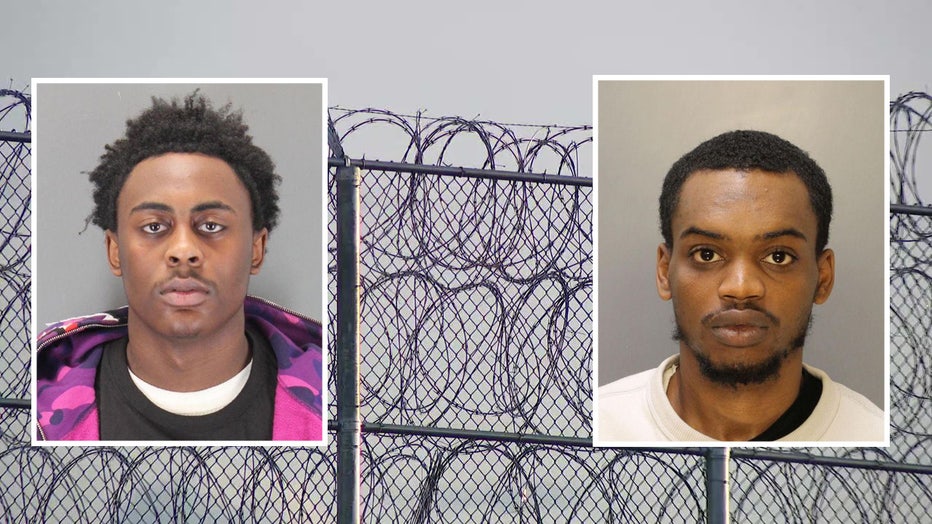 Ameen Hurst (left), Nasir Grant (right)
Authorities are particularly urgent to get Hurst back into custody due to his violent past. Hurst has been linked to three deadly shootings that claimed the lives of four people between December 2020 and March 2021. 
Hurst's deadly rap sheet dates back to Christmas Eve 2020, when investigators believe he fatally shot Dyewou Nyshawn Scruggs at a property on the 1800 block of Wynnewood Road. The following March, authorities believe Hurst opened fire on four people in a Philadelphia parking lot, killing 2 and leaving 2 others injured. 
About a week later, Hurst is accused of fatally shooting Rodney Hargrove as he waited for SEPTA bus after posting bail at Curran Fromhold Correctional Facility. Investigators believe Hurst was inside a car that chased Hargrove back onto prison grounds through an open gate where he was shot to death. 
"He's a very dangerous individual from what we know, and we are looking for the public's help to get him back," Inspector Frank Vanore told reporters Monday. "We want to get this individual back in custody." 
How are authorities searching for the escapees? 
The manhunt for Hurst and Grant is stretching far beyond the Philadelphia area. FOX 29's Chris O'Connoll reports U.S. Marshals along the east coast are on high alert searching for the escapees. 
Security Consultant and former Pennsylvania State Police Sergeant Bill Latorre says their investigation will focus on whether the inmates had help inside or outside the prison walls. 
"How would they get tools to go and cut a hole in the fence? How did that fence go, did they escape missing counts on three or more occasions?" Latorre said. 
A press release from the City of Philadelphia outline some of the measures that investigators will pursue in finding out how the duo managed to escape. The city says investigators will review security tapes and staffing assignments surrounding the escape. 
The investigation will also audit phone calls made by both Hurst and Grant prior to their escape. Staff and fellow inmates are also being interviewed as part of the investigation. 
"Findings from the investigation, including all phone logs, tablet logs, and official visitor information, will be provided to the Philadelphia Police Department (PPD) to assist in locating and apprehending Hurst and Grant," the city said.
The U.S. Marshals and the City of Philadelphia is offering a combined $25,000 reward for information that leads to the arrests of Hurst and Grant. Authorities warn they are armed and dangerous. 
'Red flags' found in Philadelphia prison system
Pennsylvania Prison Society, a group that monitors all county and state prisons in Pennsylvania, says it evaluated Philadelphia Department of Prisons's five facilities for two years and raised a number of red flags; including concerns about staffing. 
"The staffing crisis is perhaps the most visible and potentially led to this, or impacted this escape, but it's also impacted the lives and basic rights of 4,500 Philadelphians on a daily basis," Prison Managing Director Noah Barth said. 
Barth says a court-appointed monitor issued a report that highlighted a 40% vacancy rate for security staff among all Philadelphia jails, and a need for at least 800 new correctional officers. Providing a behind-the-scenes look at the prison system, Barth said housing units consist of two to four pods that can hold up to 150 inmates. 
"We have directly observed pods left unattended and have heard it from people in various units across the Philadelphia prison system, that their units sometimes go unsupervised only with staff outside in the control booth, or not even there," Barth said. 
"Philadelphia Industrial Correctional Center also has had a lot of problems recently with their locks and past disturbances of people getting out of their cells, and jamming locks, so there have been previous security concerns about this building in particular." 
Barth called the challenges facing the city's prison system a "real crisis" that needs "serious addressing" from Philadelphia's leadership. 
Philadelphia on edge
Pennsylvania Rep. Amen Brown says he's fielded several phone calls from concerned West Philadelphia residents who are on edge that Hurst, a West Philadelphia native, is back on the streets. 
"No matter where he is he's a threat, the reality is he's probably walking around with a ski mask on hiding in plain sight," Brown said. 
The family of Rodney Hargrove, who Hurst is accused of fatally shooting outside Curran Fromhold Correctional Facility shared a statement about Hurst's escape. 
"The Hargrove family prays that no one else is injured or further harmed now that Mr. Hurst is no longer in custody and sincerely hopes that he is apprehended quickly."
Pastor of Culture Changing Christians Worship Center Carl Day said he is fearful for his Kensington community and whoever may encounter Hurst or Grant during their escape. 
"I just fear however this may end, and I'm hoping and praying that ultimately those guys make the right choice before it's a fateful ending," Pastor Day said.