Philly fans happily welcome Taylor Swift as she opens weekend of sold-out concerts
SOUTH PHILADELPHIA - The moment tens of thousands of Swifties have been waiting for – Taylor Swift live at the Linc for a weekend of sold-out concerts. Her first tour in five years and night one, over the top, as Swift put on a show like only she can. The big spectacle continues for two more nights.
Swifties without tickets camped outside the stadium in South Philadelphia Friday night listening on portable speakers to enjoy what they could.
"I ditched the kids. I'm looking to buy one ticket. Help me out, help me out," Reagan Russo said.
Just before 8 p.m., those outside fans heard Taylor take the stage.
Inside, lucky fans went crazy actually seeing Taylor. Cellphone video recorded by Annmarie Jones, captured just some of the excitement fans felt.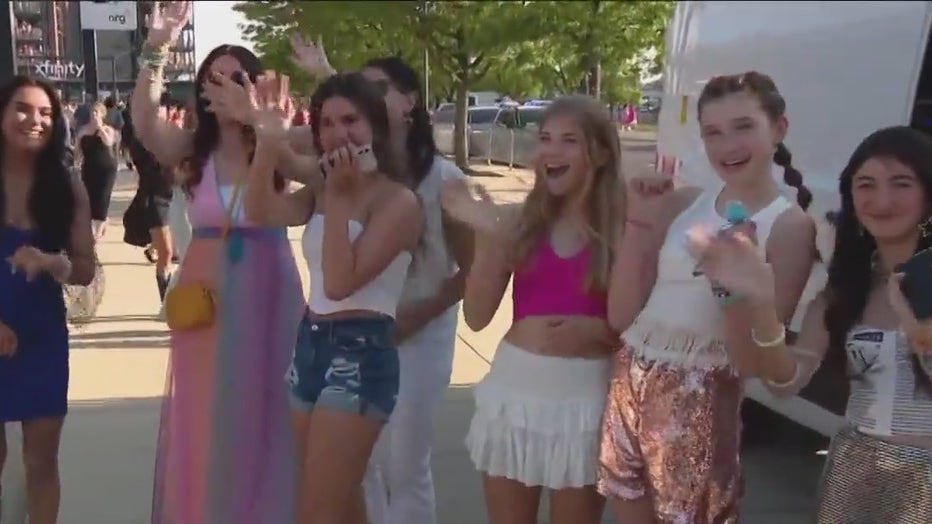 Jones reached out to FOX 29 just days ago when her StubHub tickets ordered and paid for in November didn't come through.
RELATED: Taylor Swift fans 'flabbergasted' after buying tickets to Philly show and not getting them
"Thank you for making this happen. You really did this for us," Jones said to FOX 29's Shawnette Wilson.
After two and a half days of emails and calls, Wilson was able to get the issue resolved with StubHub and the party of eight Swifties got in.
Hours before the show, fans dotted the stadium grounds with glitter and sparkly outfits, wearing Taylor's signature looks.
One father and daughter duo traveled from Frederick, Maryland.
"Are you a Swiftie or a chaperone?" asked Wilson.
"Today I am a chaperone," replied dad Sunil Konath.
One Philly girl is excited to have Taylor close to home.
"What do you love most about her?" Wilson asked.
Fan Samantha Ammons replied, "I love that she was born in Reading and I think she's an Eagles fan, so that's the best part."