'We are in this together': West Reading gathers for vigil to honor victims of chocolate factory explosion
WEST READING, Pa. - The West Reading community held a vigil to honor the seven people who died in the R.M. Chocolate Factory explosion one week ago. 
Officials with the Berks County Coroner's Office identified all seven victims as 30-year-old Xiorky Nunez, 63-year-old Susan Halvonik, 62-year-old Michael Breedy, 44-year-old Diana Cedeno, 55-year-old Judith Lopez-Moran, 49-year-old Amy Sandoe and 60-year-old Domingo Cruz.
At a West Reading Borough council meeting, a moment of silence was held for the victims and members of the community attended the meeting to express their sympathies.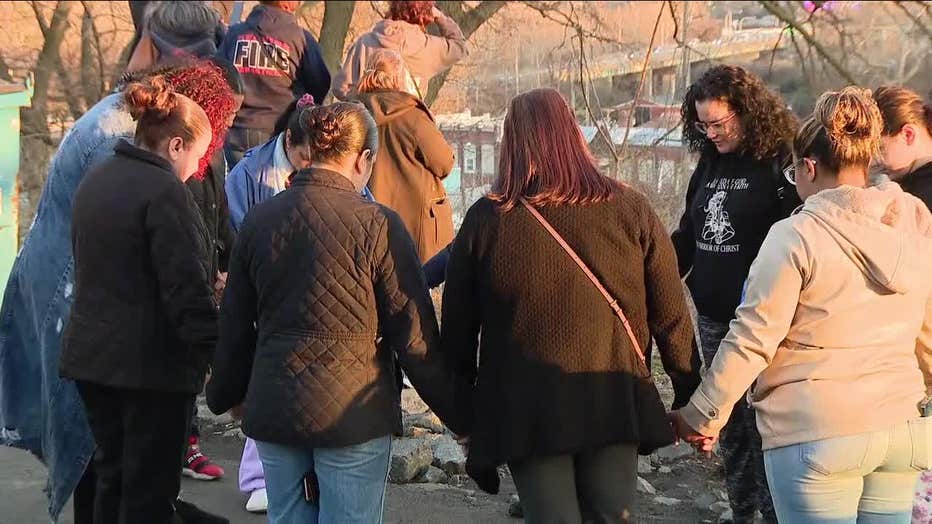 "We are in this together," one resident said. "This is a community." 
Officials also provided community members with mental health resources, business relocation assistance and help with employment compensation as a result of the deadly explosion. 
"It was heartbreaking to know what everyone was going through here. But the way you have all stepped up to the plate makes me proud to be a public servant," said Reading City Council President Donna Reed.
One survivor of the blast, pulled from the rubble Saturday, has been identified as Patricia Borges. A GoFundMe has been established to help with medical bills and recovery.
As the scene remains closed off to traffic on 2nd Street, a memorial continues to take shape.
RELATED COVERAGE
Dozens of people packed the Bethany Lutheran Church Friday evening, coming together before walking to the vigil and memorial site.
The sea of community members and families walked holding pictures and wearing t-shirts with the faces of the seven killed.
Daniel Brooks led the walk. "It's such a tragic thing to experience. It keeps running over and over in your head."
He was also working, but managed to get out when the explosion happened. "I had my daughter's 22nd birthday scheduled and I'm just happy I was alive to be there and made it there for her."
The family of Judith Lopez held her picture in the crowd. Her daughter captured a moment of her mom's of her mom's photo while holding a candle. She was too upset to speak, but allowed a close family friend to speak on behalf of the family.
"She's an angel. We were always together every weekend. Like I said, she's my sister," Marta Romero said.
The family of Diana Cedeno stood close to each other as the vigil began. They were also too upset to speak.
"Tonight, we come together as a community, to remember, to grieve and begin to heal," Mayor Samantha Kaag stated.
The President of the borough council read the names of the victims and the vigil ended with people walking over the footbridge to a memorial and message board. Then prayer and song.