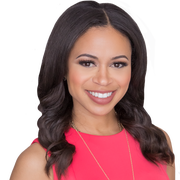 Alex Holley joined the FOX 29 News team in the summer of 2014 as co-host of "Good Day Philadelphia."  Her signature segment, "Alex Around Town," highlights popular and undiscovered places and events happening in the viewing area.  She also co-hosts "The Feed AT Night," since its debut in January, 2021.
 Alex moved to Philly from Myrtle Beach, South Carolina, where she was a reporter and fill-in anchor for WMBF-TV's morning news programs.  Prior to that, she worked as an anchor, reporter, and producer at KOMU-TV in Columbia, Missouri.  Alex anchored the innovative multi-source news website, Newsy.com, and is featured in the digital journalism display in the Newseum in Washington, D.C.
Since moving to Philadelphia, her work has garnered many awards, including a 2015 Emmy Award nomination for coverage of Pope Francis' visit to Philadelphia.  Philadelphia Magazine's 2016 "Best of Philly" issue described her as 'smart, funny and sassy' in naming her "Best TV Personality," an honor also bestowed on her in 2016 by the nation's oldest society of professional journalists, The Philadelphia Pen & Pencil Club.  That same year she was identified by NV (New Vision in Business) magazine as one of its "Movers & Shakers."   
A proud graduate of the University of Missouri, Alex carried a double minor in Sociology and Spanish.  She was voted Mizzou's Homecoming Queen and honored as a Mizzou39 member. She created a community service program for students called "SWIPES Make a Difference,"  which continues to help college students donate unused meal plans to those in need in local communities.  A third-generation member of Alpha Kappa Alpha Sorority, Inc. Omega Omega Chapter, Alex is very popular in the local non-profit community where she continues the spirit of service to volunteer with many charitable organizations in the viewing area.  She is also a member of the National Association of Black Journalists.
One of her favorite hobbies is travel.  Alex has explored more than twelve different countries, and is proficient in Spanish, having studied at the Universidad de Salamanca at age 13. She believes this global exposure helps add a versatile dimension to her work, as she uses her knowledge of different places to enhance the perspectives of her stories.
The latest from Alex Holley