Castellanos' 2 homers power Phillies past Rockies 4-3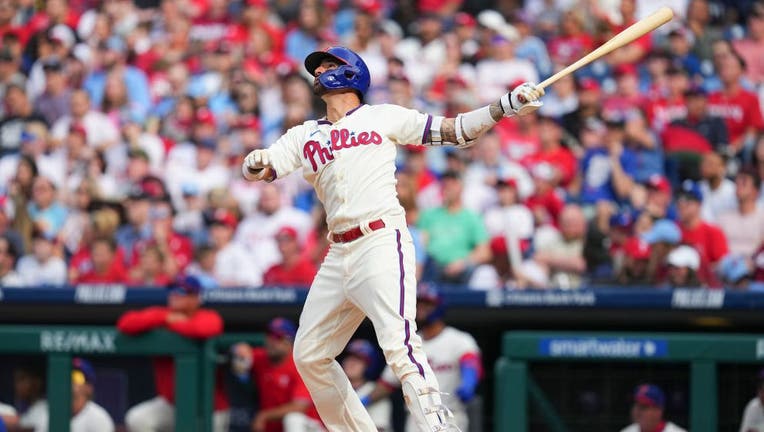 article
PHILADELPHIA - Nick Castellanos hit his first two home runs of the season and Cristian Pache also went deep for the first time this season to lead the Philadelphia Phillies to a 4-3 win over the Colorado Rockies on Saturday.
Castellanos' power outage this season was a thorny topic before the game for manager Rob Thomson. Thomson, who led the Phillies to the NL pennant last season, had little concern that Castellanos would eventually start slugging again.
"Just based on his history for him, he's hit home runs in the past, and I would expect him to do the same again," Thomson said.
How about the 10th career multi-homer game for the Phillies right fielder?
Castellanos, though, wasn't the only Phillies slugger not connecting at his usual rate.
Bryce Harper's only homers come in batting practice as he moves closer to a return from Tommy John surgery and the Phillies haven't found a power replacement at first base for Rhys Hoskins -- out with a torn ACL in his left knee -- and the 30 homers he hit last season.
As for the Phillies who usually go deep? Well, they haven't done much: Trea Turner hit 21 last season with the Dodgers and has one in 22 games with the Phillies. J.T Realmuto slugged 22 in 2022 and has two this season.
"They come in bunches," Thomson said. "I think eventually we'll hit some."
Castellanos hit 34 homers with the Reds in 2021, 13 last year with the Phillies and had none -- though he hit his NL-high 10th double in the ninth -- through his first 90 plate appearances this season.
"I think it's a small sample, really," Thomson said. "He's driven some balls too. It comes and goes. As long as he's seeing the ball and swinging at strikes, swinging at his strikes, the strikes that he likes to hit, then we're good."
On the 91st plate appearance, Castellanos finally drove one into the left field seats for a 1-0 lead. Castellanos homered for the first time since last Aug. 27.
Pache had only four career homers over four seasons, so his season-long homer drought wasn't as concerning as the ones experienced by Castellanos and Turner. But he drilled a two-run shot to deep center in the third for a 3-1 lead.
BULLPEN GAME
Connor Brogdon (1-0) worked 1 2/3 innings of relief for the win and Craig Kimbrel tossed a scoreless ninth for his second save.
ROCKIES RUNS
Phillies starter Cristopher Sánchez gave up three runs in a spot start and his first of the season. Sánchez, out all season due to a strained left triceps, gave up an RBI groundout to Jurickson Profar in the third and Yonathan Daza's RBI double in the fourth that made it 3-2. Sánchez left runners stranded when he left after 4 1/3 innings and Brogdon gave up a tying sacrifice fly to Mike Moustakas.
Freeland gave up five hits and struck out six in six innings.
TRAINER'S ROOM
Rockies: DH Kris Bryant tweaked his lower back in the first inning and was lifted for a pinch hitter in the third.
Phillies: To make room for Sánchez on the 26-man roster, RHP Andrew Bellatti was placed on the 15-day injured list (right triceps tendinitis). Bellatti was 1-0 with a 6.23 ERA, 10 strikeouts and six walks in 10 appearances this season. ... LHP Ranger Suarez (left forearm) threw a live batting practice session to Harper and is on track for rehab starts in the minors. "I feel that I'm very close. I feel that I'm ready," Suarez said through a translator. ... RHP Nick Nelson (left hamstring strain) is scheduled to pitch Saturday in a rehab assignment with Class A Clearwater.
UP NEXT
The Rockies send RHP José Ureña (0-3, 9.82 ERA) to the mound against Phillies RHP Zack Wheeler (1-1, 4.79 ERA).