Weather Authority: Heavy rain Friday night sets up snow, cold temps for Saturday
PHILADELPHIA - While Friday started calm and dry, Friday night is not a great night to be out on the roads now that precipitation has arrived.
In the wake of Friday night's system, cold air will be pulled down into the Delaware Valley, which means some snow will fall Saturday morning.
Friday night, between about 7 and 10 p.m., the heavier rain will come to an end, shifting to cloudy skies for some and some light showers for other areas. Temperatures overnight will dip to the upper-30s.
By about 5 a.m., the backend of the system will swing around, and snow will fall in the Poconos, the Lehigh Valley, parts of Bucks and Montgomery counties and Mercer County, between about 7 a.m. and 10 a.m., leaving a coating in the Philly suburbs, up to two inches in the Lehigh Valley and up to six in the Poconos.
A Winter Storm Warning is in effect for Monroe County, while a Winter Weather Advisory has been issued for parts of the Lehigh Valley.
Once the system pulls away, Saturday afternoon will be windy and cold.
Sunday will dawn sunny, but clouds will be on the increase in advance of a rainy and windy Monday.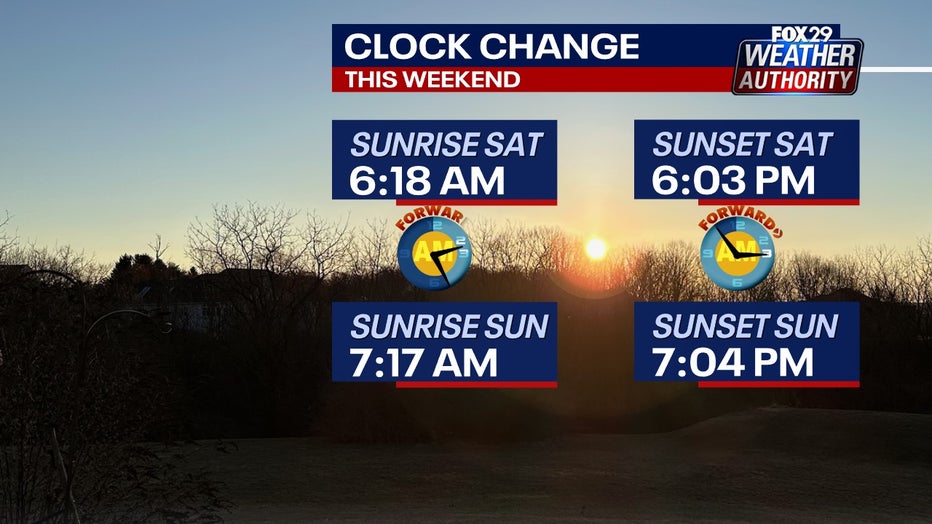 And, don't forget to turn those clocks ahead one hour Saturday night.
>> Download the FOX 29 Weather Authority App to get updates and alerts in your area. 
_______
SEVEN-DAY FORECAST
FRIDAY NIGHT: Rain to showers. Low: 38
SATURDAY: Spotty showers. High: 46, Low: 32
SUNDAY: Becoming cloudy. High: 48, Low: 38
MONDAY: Rainy, windy. High: 48, Low: 32
TUESDAY: Windy, cold. High: 40, Low: 30
WEDNESDAY: Still windy. High: 44, Low: 32
THURSDAY: Less wind. High: 52, Low: 36