InsiderAdvantage/FOX 29 poll: Fetterman, Oz neck and neck as Shapiro's lead over Mastriano narrows
PHILADELPHIA - As Election Day nears, a new InsiderAdvantage/FOX 29 poll shows Republican nominee Dr. Mehmet Oz has gained ground on Democratic nominee John Fetterman in Pennsylvania's U.S. Senate race.
The race is now a dead heat, according to the poll of 550 likely voters conducted three weeks before Election Day on Nov. 8. The poll has a margin of error of 4.2%
Fetterman and Oz are now tied in the polling at 46%, with 5% of those polled remaining undecided. Libertarian candidate Erik Gerhardt came in at about 2%.
MORE: 2022 Midterm Elections
InsiderAdvantage Chairman Matt Towery says Fetterman's shrinking lead was a result of self-described independent voters breaking for Oz by twenty points. 
"Oz is also picking an unusually high 14% of the African American vote and Asians and Hispanics prefer Oz say they are voting for Oz by a wide margin. Fetterman continues to enjoy a ten-point lead among female voters, while men prefer Oz at that same rate," Towery explained.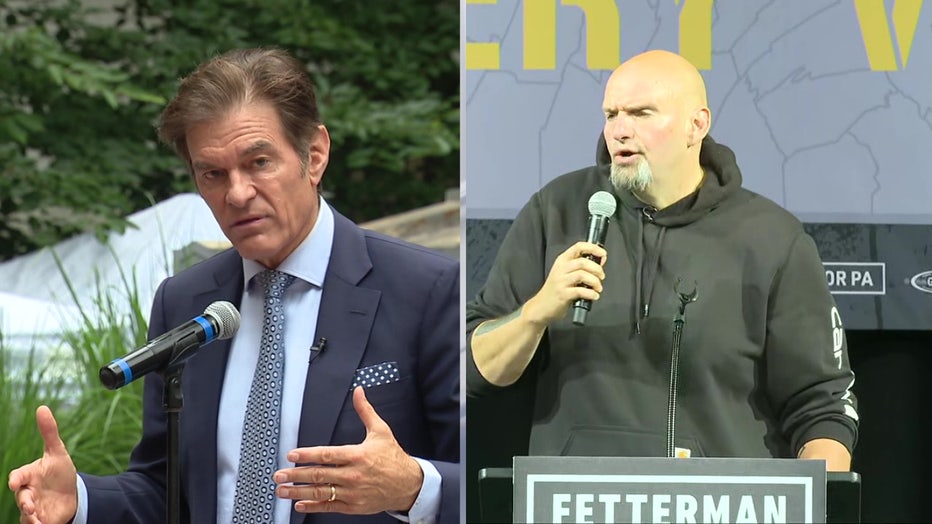 Mehmet Oz (Left) is slightly trailing John Fetterman (Right) in Pennsylvania's U.S. Senate race, according to the latest InsiderAdvantage/FOX 29 Philadelphia poll. 
Meanwhile, the race for Governor of Pennsylvania has tightened. In late September, Democratic nominee Josh Shapiro held a double-digit lead over Republican nominee Doug Mastriano.
MORE: Election Day 2022: Everything you need to know about voting in Pennsylvania
In the latest poll, Shapiro came in at 49% to Mastriano's 42%. 6% of those polled say they remain undecided. Libertarian candidate Matt Hackenberg finished at 2%.
"The race for Governor of Pennsylvania has tightened with Shapiro back under the 50% he enjoyed in our previous survey," Towery explained. "Mastriano has gained among independent voters who are breaking his way by nearly 18 points."