7 shot at park in West Philadelphia, 2 suspects sought
WEST PHILADELPHIA - Police say six men and a woman were shot at a park in West Philadelphia Saturday night.
Officers responded to Baker Playground on North 54th Street and Lansdowne Avenue just before 9 p.m. Officials say two gunmen started firing into a crowd watching a basketball game.
Police say the game continued as the players did not initially notice the gunfire. Approximately 20 rounds were fired by the two gunmen.
When officers arrived, multiple people were found suffering from gunshot wounds. Among the victims, officials say an 18-year-old man was grazed in the back of the head and a 29-year-old man was shot in the right side of his face.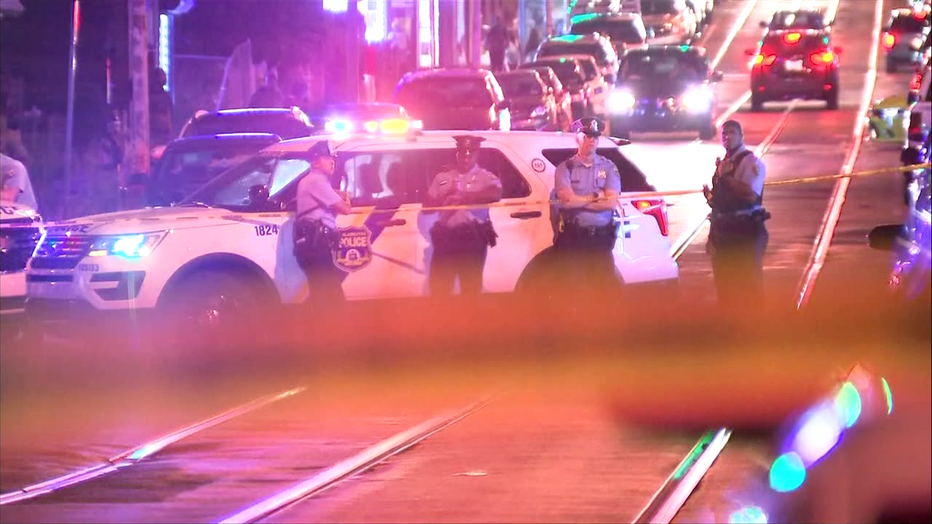 Seven people shot near Baker Park, in West Philadelphia Saturday night.
Police say all the victims were taken to Penn Presbyterian Hospital where they are all in stable condition.
Authorities describe the shooters as two men between 19-25 years old. Police say one of the shooters was 5'6 and the second shooter was between 5'10 - 6'2.
Neighbors tell FOX 29 the community held its annual basketball tournament at the playground Saturday, a day-long event with a cookout and music. They say the tournament has been held for at least five years, all without problems.
"They shouldn't stop the tournaments. It's positive for the kids. You can't close the playground down because where are the kids going to go?" asked neighbor Preston Pratt.
State Senator Vincent Hughes also came back to the scene Sunday after hearing a similar sentiment from neighbors.
"It's never been an incident, never been a problem and then one time something occurs. Something is out of whack," said Senator Hughes.
Philadelphia Police Commissioner Richard Ross couldn't pinpoint what that was Saturday and whether or not the gunmen were a part of the event or neighborhood. It's the second major shooting in less than a month. At a graduation party, gunfire erupted on Father's Day weekend, killing one person and injuring five others.
RELATED: 1 killed, 5 injured in shooting at graduation party in Southwest Philly
"Are we at a point where police have to police the playground at night? It just makes no sense," Commissioner Ross said.
Police say the investigation is ongoing. No weapons have been recovered and no arrests have been made. Police urge anyone with information regarding the investigation to contact them at 215-686-3190 or to submit a tip online.