Philadelphia officer wounded in shooting identified, 2 Delaware County men charged
PHILADELPHIA - Two Delaware County men were charged in the non-fatal shooting of a Philadelphia police officer during a traffic stop Wednesday afternoon. 
Eric Haynes, 45, was charged with two counts each of attempted murder, aggravated assault, assault of a law enforcement officer, reckless endangerment and assault. The Philadelphia District Attorney's Office said Haynes, who was on parole for a 2016 case, was also charged with weapons offenses and obstruction of justice. He is being held $10M bail.
Haynes was one of two passengers inside a car driven by 45-year-old Ernest Reed that was pulled over on the 200 block of North 60th Street. During the traffic stop, investigators believe a Haynes tried to leave the scene and was stopped by Officer Giovanni Maysonet which lead to a "physical struggle."
"It's in that moment in that split second that Officer Maysonet is trying to get the defendant to turn around that shots are fired, you can see all of that on the body-worn camera," Assistant District Attorney Joanne Pescatore said in a Thursday press conference.
Haynes is alleged to have fired at least two shots that hit Officer Maysonet in the chest of his bulletproof vest and an unprotected part of the abdomen. Officer Mychal Couch returned fire but did not strike Haynes, Reed or the third person. 
In an audio recording of the incident obtained by FOX 29, Officer Maysonet is heard saying "I think I'm shot twice, tell my family I love them if I don't make it." 
Officer Maysonet was driven by Officer Couch to Penn Presbyterian Hospital where he was originally placed in critical condition. Philadelphia Police Commissioner Danielle Outlaw, who was out of town and rushed back to Philadelphia, later told reporters outside the hospital that the 32-year-old Maysonet is stable and expected to recover. 
"It's just a very dangerous and difficult job done by very brave people," Mayor Jim Kenney said. "Our prayers are with the officer and with all our officers to make sure that he recovers and they stay safe."
Reed and an unidentified female passenger were taken into custody hours after the shooting. Reed, who prosecutors say also goes by the name Raymond Williams, was charged with tampering with evidence, obstruction of justice, possession of an instrument of crime, and reckless endangerment. He was also on parole the time of the shooting and is being held on $1M bail.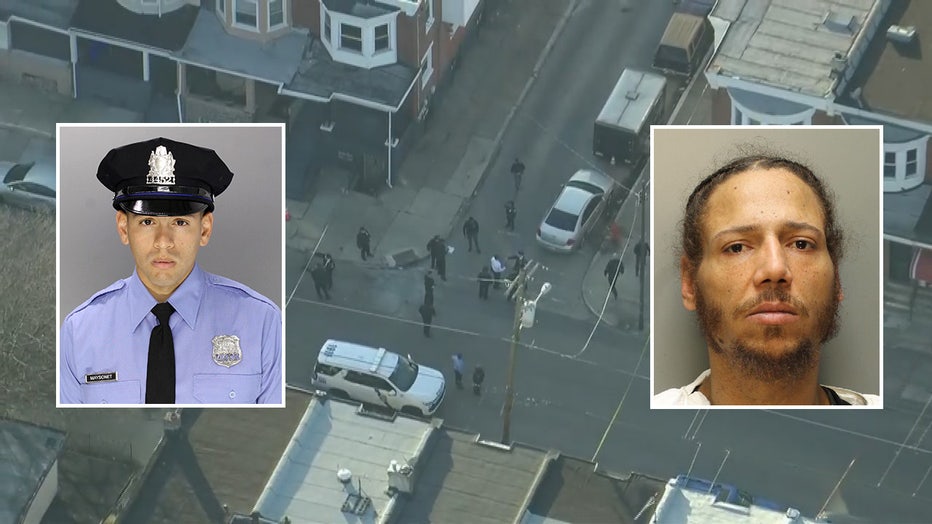 Haynes was later found inside a parked car on the 6800 block of Guyer Street and taken into custody. A semi-automatic firearm loaded with 17 9mm rounds was found near the vehicle, police said.
"Both of these men have lengthy, lengthy criminal records involving all sorts of crimes, including violent crimes," Pescatore said. Online records indicate Haynes' criminal history dates back to the 1990s and includes a federal conviction in New York. 
"Should this individual have been out on the street? I mean, that's not for me to say obviously he's a dangerous individual," Pescatore said.
No charges were brought against the third person who was inside the car at the time of the shooting.
"The abundant availability of firearms to anyone who wants one, including those who cannot pass a background check, poses an avoidable and preventable danger to law enforcement officers and the communities they serve every day," Philadelphia District Attorney Larry Krasner said.