'Humiliating': DSU lacrosse team stopped, searched for drugs in Georgia
DOVER, Del. - A lacrosse team's recent run-in with law enforcement in Georgia has left the Delaware State University president outraged.
The incident took place as the team began their ride home after a three-game tour in Florida and Georgia last month.
The team's bus was pulled over on I-95 in Liberty County, which is about 30 miles southwest of Savannah. Now, the team is questioning if they were racially profiled. 
In a YouTube video posted by a member of the team, two deputies are seen onboard the bus telling the team they would be searching their luggage. 
"If there is something in there that is questionable, please tell me now because if we find it, guess what? We're not gonna be able to help you," one deputy said. "Marijuana is still illegal in the state of Georgia."
Luggage and belongings of all the student-athletes were searched by police and drug-sniffing dogs, according to a letter from the university's president.
The team's coach, Pamela Jenkins, says smoking weed is the last thing on the mind of any Division One team on a tournament trip, so the drug search did not make any sense to her. 
Delaware State University president Tony Allen says the deputies were trying to "intimidate" the players into confessing to possessing drugs.
"To be clear, nothing illegal was discovered in this search, and all of our coaches and student-athletes comported themselves with dignity throughout a trying and humiliating process," Allen said.
MORE HEADLINES:
The drug search allegedly stemmed from a minor traffic violation after officers claimed buses were not permitted to drive in the left lane, according to a member of the team.
Allen says the incident has left him "incensed" and prepared to take action. He has reached out to Delaware's governor, congressional delegation, attorney general and black caucus, as well as Georgia law enforcement.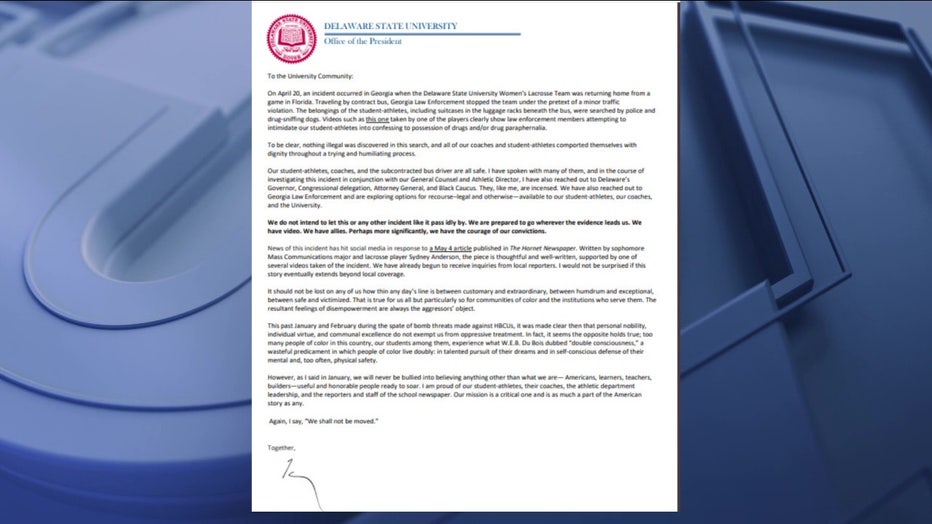 DSU president "incensed" after lacrosse team incident.
Georgia Sheriff William Bowman made a statement on Tuesday afternoon.
"We realize that this current environment, even a traffic stop can be alarming to citizens, especially African Americans," he said. "This is why we make an effort to have a diverse department and hire people who believe in community policing and respect for all individuals."
When law enforcement expert, Dr. Ron Martinelli, was asked about the stop, he said that Georgia Sheriffs' deputies have every bit the same clearances as Georgia State Police to do narcotics investigations on I-95, which remains a massive drug corridor, but he does not know what provided the suspicion that the team was carrying narcotics. 
Coach Jenkins hopes justice can be served for her team, and she says that the team will move forward in a positive way.