'Fans are very passionate': Dilworth Park hosts It's a Philly Thing pop-up ahead of Super Bowl LVII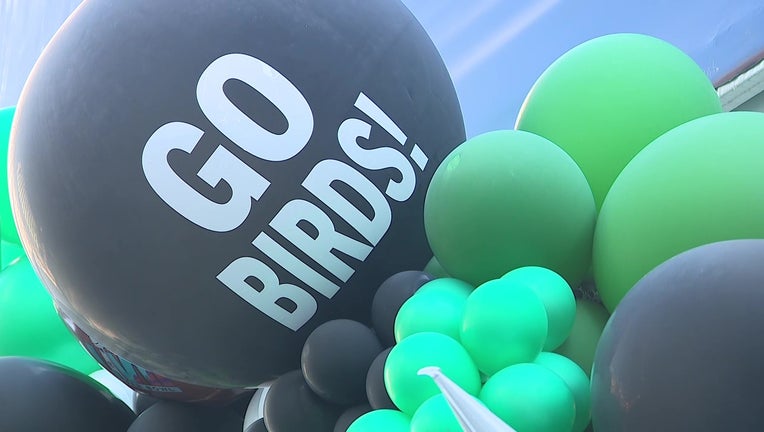 article
CENTER CITY - Following the theme leading up to Super Bowl XVII, there was a "It's a Philly Thing" pop-up celebration for the Birds at Dilworth Park on Friday and Saturday.
The event featured Eagles-themed refreshments, face painting, temporary tattoos, a pep band and more.
Some Eagles fans traveled from out-of-state to be in Philly for Super Bowl weekend including Melanie Alvarez and Blake Saucillo from Houston.
"This is our first time in Philly, so we're excited to see the city, eat the food, join the crowds and celebrate with everyone," said Alvarez.
RELATED COVERAGE:
"Clinched onto Bryan Dawkins and rode it out from there," said Blake Saucillo. "Came out here just to feel the vibes to enjoy the town. It gets a little rowdy from what I've heard. For the most part I think it's the passion. Fans are very passionate around here."
BellaU is a clothing boutique from Ocean City, but this weekend it was selling limited-edition merchandise at the event. The owner Trish Giova said everyone is looking for Eagles apparel and accessories.
"We're up here, we're selling, we're having fun. Great vibe," said Giova. "It's going awesome. We actually do the holiday market here, so we're usually set up for the winter for the holidays and sold a bunch of Eagles stuff and kind of been along the ride the whole time."
Lafonda Fenwick lives in Maryland and said she's been rooting for the Eagles for decades, making the trip up to Philly to go sightseeing and get her dose of the local Eagles vibe before the Super Bowl.
"I like stuff with the Eagles, the Birds, Fly Eagles Fly so I just came to get the Philly flavor," said Fenwick. "Everyone's a fan. It's a true sports town. I got a hotdog yesterday, but when I opened it up, the bread was green!"