Super Bowl LVII: Philadelphia announces safety preps, road closures ahead of Eagles-Chiefs matchup
PHILADELPHIA - The City of Philadelphia has announced road closures and other safety preparations for this weekend when the Eagles take on the Kansas City Chiefs in Super Bowl LVII. 
The preparations and closures are very similar to those announced two weeks ago, ahead of the Eagles win over the San Francisco 49ers in the NFC Championship game.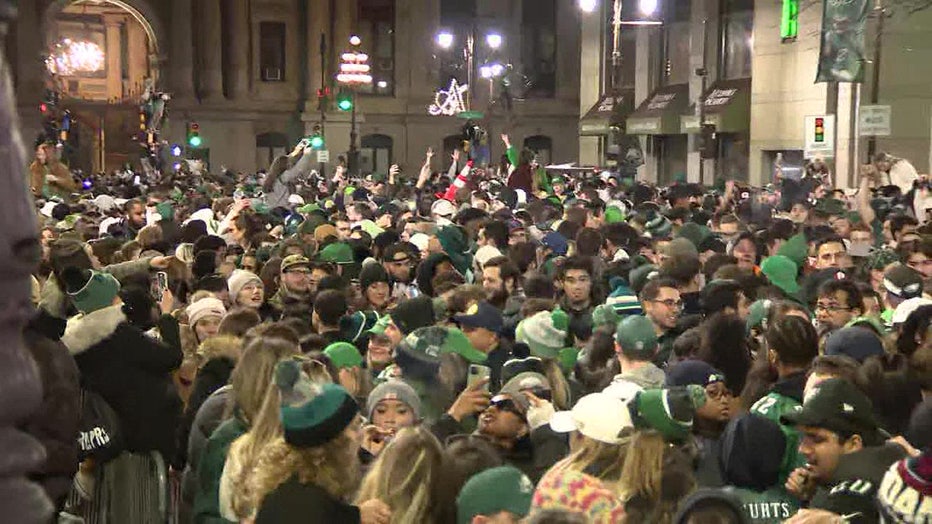 Following that game, fans took to the streets - and the light poles – for several hours to celebrate their NFC title. 
Sunday's game kicks off at 6:30 p.m. on FOX 29. 
Philadelphia Parking Restrictions and Road Closures
Preparations from Sunday got underway Friday, when city officials said residents and businesses would begin to see temporary 'No Parking' signs along South Broad Street and City Hall. 
Those 'No Parking' restrictions will go into effect Sunday at noon, and any vehicles parked in those areas during the posted hours may be relocated, officials said. If you believe your car has been relocated, officials advise that you contact the police district in the area where your car was parked. 
At the conclusion of the big game, several road closures will go into effect 'to maintain public safety in the vicinity of City Hall and surrounding Center City streets.'
Roads will be closed to traffic between 11th and 20th streets and Spring Garden and Locust streets following the game. The 676 ramp at Broad Street, east and west, will also be closed temporarily. 
City officials warned motorists to expect travel delays as a result of the closures.
SEPTA route detours may also be put into place following the game. Customers can check SEPTA's System Status regularly for updates.
Public Safety
The city confirmed that crews will be evaluating whether they will grease poles to prevent climbing, and taking other 'measures to reduce the risk of injury and public property damage.' 
City officials say they will not be disclosing if or when the poles will be greased for 'public safety reasons.'
MORE HEADLINES: 
Barricades will also be put into place at key locations to help control the flow of crowds. 
Throughout the day Sunday, officials say traffic control, emergency medical services, and law-enforcement support will all be provided.