Homeless defend their right to camp at Center City PATCO station, as city cleans the area
CENTER CITY - Philadelphia leaders asked a group of homeless people taking shelter in a Center City PATCO station to temporarily move their belongings so city sanitation workers could clean the underground corridors.
The cleanup began Wednesday morning around 11 at 13th through 15th and Locust Streets.
PATCO commuters scurry down the station steps at 15th and Locust, but before they board the train, many pass the homeless encampment that stretches to 12th Street underground.
"In the morning, I'll take a cab, because it's too much. It's too much. I wanna get to work and not smell," PATCO rider Leyda Muniz stated.
While some commuters say they don't feel safe, others aren't b othered.
"I've been riding 35 years, never concerned about safety," remarked one commuter.
City crews cleaning the homeless encampment Wednesday were met with a group of concerned neighbors who kept a watchful eye.
 "We're down there several times a day, and we have been for several months, offering services to people. And more than two dozen people have accepted services," Office of Homeless Services Director Liz Hersh said. She called the effort a "lifeline" that is also necessary for health and safety.
"We go around and ask people to pick up their stuff and move. We provide them with trash bags and then we do some cleaning up and then they come back," Hersh added.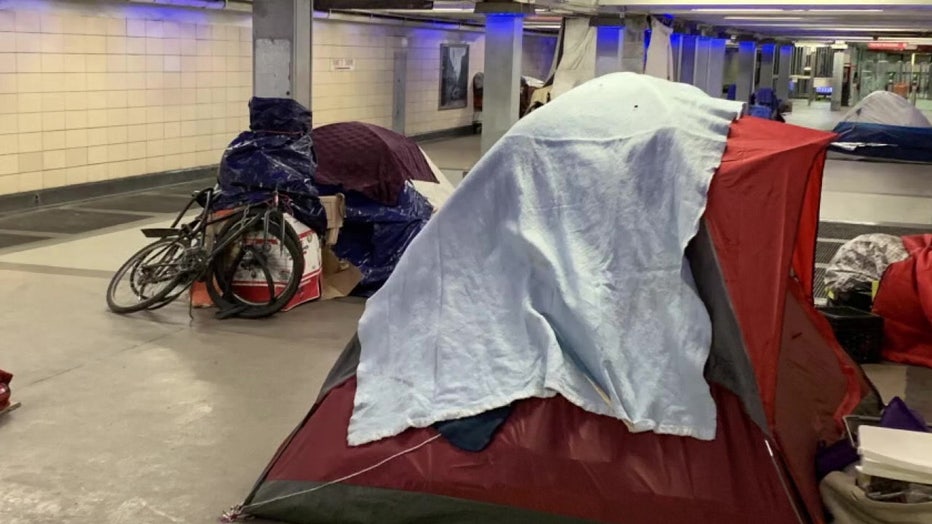 A homeless encampment has popped up inside a Center City PATCO Station.
A flier posted near the PATCO station asked anyone living inside to remove their personal belongings so crews can clean the area. The homeless are not being asked to permanently leave the station, but the city says anything left behind will be thrown away. The flier also added that police will be nearby during the clean-up.
John Hanson, President of PATCO, says their jurisdiction starts where people buy tickets and where they board a train. He says the homeless encampment is the city's responsibility and wants everyone to feel safe.
"People who are living in the concourse are in crisis. Our riders deserve to be safe, they need to be safe," Hanson added.
As tension continues over the tents, the one thing everyone can agree on is the messy situation.
Several tents and makeshift living arrangements have popped up inside the underground station over the last several months to form a new homeless encampment. This comes after the city peacefully negotiated an agreement to disband a homeless community along the Benjamin Franklin Parkway last fall, a situation begun in the spring and languished until the settlement was reached. 
The city hoped to avoid a similar standoff Wednesday. Organizers have already called to "Block the Eviction" by defending their living quarters from city clean-up crews. 
___
DOWNLOAD: FOX 29 NEWS APP
SUBSCRIBE: Good Day Digest Newsletter | FOX 29 Philly on YouTube