PennDOT to begin repairing potholes in various counties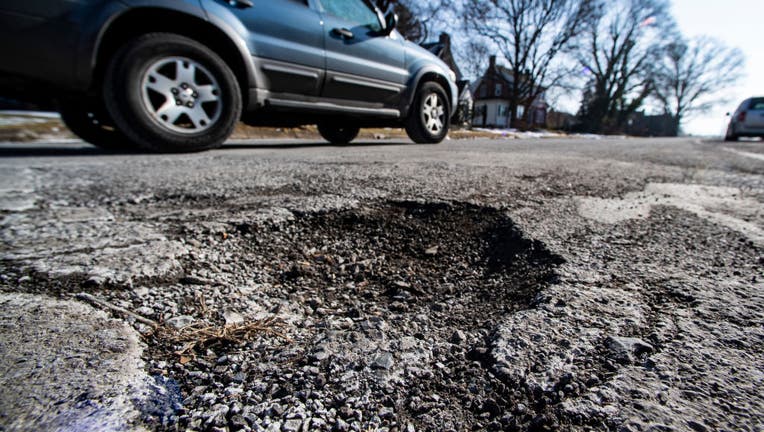 article
KING OF PRUSSIA, Pa. - Drivers in Pennsylvania will begin to see less potholes across the state as PennDOT is set to begin making repairs in various counties. 
On Friday, the agency announced that maintenance crews would begin making repairs on 40 state highways and rows throughout the state next week. 
Lanes will be restricted in the areas that have deteriorating pavement so crews can make the repairs. 
RELATED: Local motorists try to swerve potholes, avoid costly repairs
Drivers are being advised to be alert and expect lane closures and changes in speed limit near work crews. 
The roads that will be repaired include: 
Bucks County
Holland Road, Northampton Township.
Chester County
Route 3, West Chester Borough;
Route 41, Londonderry Township;
Merlin Road, Charlestown Township;
Birchrun Road, West Vincent Township;
Art School Road, West Pikeland Township;
Hopewell Road, East Nottingham Township;
Reeceville Road, Caln Township; and
Newark Road, New London Township.
Delaware County
U.S. 1 (Township Line Road), Springfield and Haverford townships;
U.S. 202, Chadds Ford, Concord, and Thornbury townships;
U.S. 322 (Conchester Highway), Concord, Bethel, and Upper Chichester townships;
Concord Road, Chester, Concord, and Aston townships;
Cedar Grove Road, Marple Township;
Baltimore Pike, Middletown, Upper Providence, Nether Providence, Springfield, and Upper Darby townships, and Clifton Heights, Lansdowne, East Lansdowne, Yeadon, Media, Swarthmore, and Morton boroughs;
Beatty Road, Nether Providence and Springfield townships;
Chelsea Road, Bethel and Upper Chichester townships;
Tanguy Road, Thornbury Township;
Bethel Road, Concord and Bethel townships;
Thornton Road, Thornbury and Concord townships; and
Cheyney Road, Thornbury and Concord townships.
Montgomery County
Interstate 76 ramps,  Lower Merion and Upper Merion townships;
U.S. 422, Lower Merion and Upper Merion townships;
Route 611, Cheltenham, Abington, Horsham, and Upper Moreland townships and Jenkintown Borough;
Fort Washington Avenue, Upper Dublin Township;
Bethlehem Pike, Lower Gwynedd and Springfield townships; and 
Township Line Road, Abington and Cheltenham townships.
Philadelphia County
Interstate 95 and ramps;
I-76 and ramps;
Interstate 676 (Vine Street Expressway) and ramps;
U.S. 1 (Roosevelt Boulevard);
U.S. 1 (City Avenue);
U.S. 13 (Baltimore Avenue);
U.S. 13 (Frankford Avenue);
Benjamin Franklin Parkway;
Kelly Drive;
John F. Kennedy Boulevard;
Rhawn Street;
Aramingo Avenue; and
Harbison Avenue.
PennDOT is reminding drivers to report potholes and additional road concerns by calling 1-800-FIX-ROAD or submitting a claim here.