Police: Multiple people injured after stolen Hyundai crashes with business van, SEPTA bus in Lawndale
PHILADELPHIA - Investigators with the Philadelphia Police Department say a crash involving a stolen car left people injured on Thursday morning. 
Chief Inspector Scott Small told reporters officers responded to Rising Sun Avenue and Martins Mill for a report of a crash just before 1:30 a.m. 
Authorities say officers arrived on scene and found three vehicles involved in a crash. 
Police say a Hyundai, which was stolen, had a person with severe head trauma unresponsive in the front passenger seat. He was transported to Einstein Hospital, where he was placed in critical condition, authorities say. 
A business minivan was also involved in the crash, causing a 31-year-old to become trapped inside the driver's seat, Small said. 
According to officials, firefighters had to remove the door of the van to get him out. He was transported to Einstein Hospital, where he is in stable condition. 
MORE LOCAL HEADLINES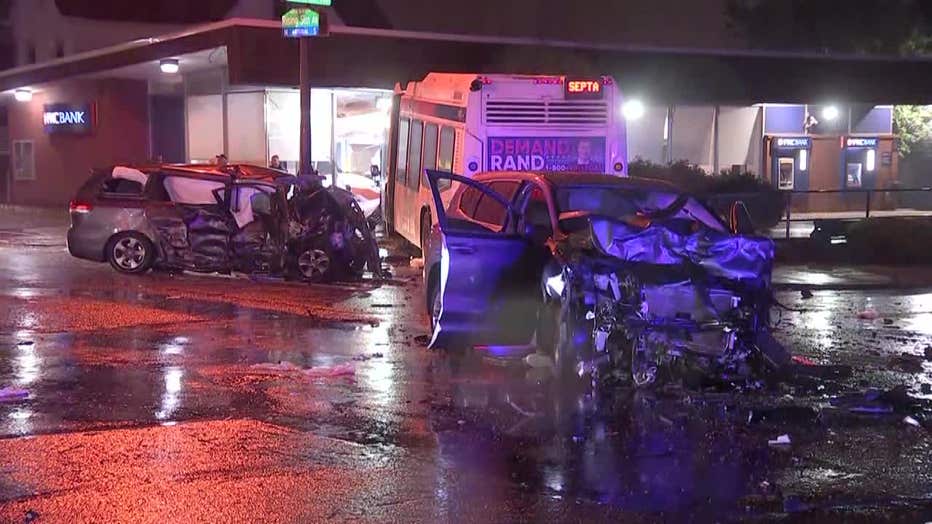 The scene on Rising Sun Avenue in Lawndale, where a stolen Hyundai was involved in a crash with a business minivan and a SEPTA bus. The crash caused the SEPTA bus to crash into a PNC Bank on the street. 
The crash also involved a SEPTA bus, which subsequently drove into a PNC Bank on Rising Sun Avenue, causing damage to the building. 
The bus driver sustained face and head injuries and was transported to Jefferson Torresdale Hospital, where he is in stable condition, police say. 
Three bus passengers got off and left the scene, according to Small. 
Authorities say the Hyundai was stolen out of Northeast Philadelphia last week and has since been used in several recent robberies. 
According to police, the suspect driving the Hyundai got out after the crash and got into a Volkswagen that was following it before the collision, fleeing the scene. 
The driver of the minivan told authorities cash from his business was inside the vehicle, but he believes the cash was stolen in the chaos from the crash. 
Detectives from the Northeast Division and the Crash Investigation Unit are investigating. 
This is a developing story. Check back for updates.