1 arrested after shooting in South Philadelphia leads to wrong-way chase, crash on I-76, police say
PHILADELPHIA - The Philadelphia Police Department is investigating an incident that began at FDR Park and ended with lane closures on I-76 West. 
Authorities say police responded to a report of a shooting on Pattison Avenue in the area of FDR Park in the South Philadelphia section of the city just before 3 a.m. 
Officers who responded to the scene did not find anything initially, according to Philadelphia Police Chief Inspector Scott Small. 
Small told reporters officers found a scene on the westbound lanes of I-76, where a Ford SUV and Infiniti Sedan were involved in a crash. 
According to authorities, the Ford had eight bullet holes and a 26-year-old victim in the back seat with a gunshot wound to the neck. 
Small says the shooting victim, who was unable to move due to the gunshot injury, was transported to Presbyterian Hospital, where he is in critical condition. 
Police say a 32-year-old woman was the driver of the Ford SUV. 
MORE LOCAL HEADLINES
A 22-year-old man was driving the Infiniti and a gun was found on the vehicle's floorboard, authorities say. 
Investigators say a preliminary investigation revealed the drivers of both vehicles got into an altercation on the 1900 block of Pattison Avenue. 
According to Small, that's where crime scene technicians found 19 spent shell casings from the shooting. 
Officials say a PennDOT driver witnessed the incident and told authorities the two cars then drove at a high rate of speed the wrong way on I-76 West. 
The two vehicles eventually crashed on I-76 as police responded to the scene, police say. 
The 22-year-old driver of the Infiniti was taken into custody, according to Small. 
Lanes on I-76 West were closed for several hours but have since reopened.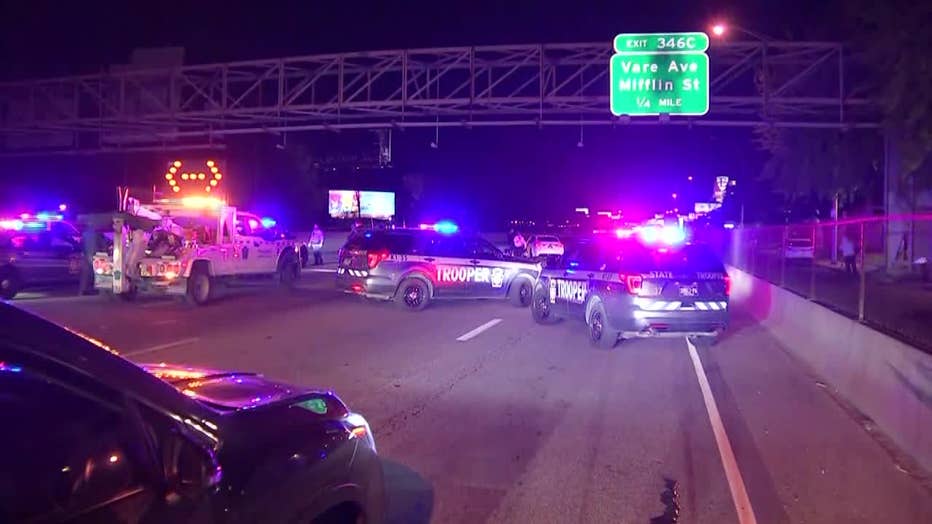 Police respond to lanes on I-76 West, where two vehicles crashed after a shooting and chase. 
This is a developing story. Check back for updates.