Video: 2 suspects sought, $40K reward offered in Kingsessing triple shooting that killed 2 people
KINGSESSING - Philadelphia police have released surveillance video of a January triple shooting that killed two people and critically injured a third and announced a $40,000 reward in the arrest and conviction of the two suspects.
According to officials, the shooting happened when two men opened fire outside on a street into the Shangri-La Chinese Restaurant, Tuesday night, January 17th, around 11:30, on the 5400 block of Chester Avenue, in Philadelphia's Kingsessing section.
When police arrived, three people were laying on the ground inside the restaurant, all three bleeding from gunshot wounds and unresponsive.
RELATED COVERAGE: Police: Shooting inside Kingsessing takeout restaurant leaves 2 dead, 1 critically injured
They were all transported to Penn Presbyterian Medical Center where 19-year-old Johron Jones and 43-year-old Kristie Manago died from their injuries. A 20-year-old man was listed in critical condition.
The surveillance video shows the two suspects approach the restaurant on foot, pull guns from their pockets and begin firing into the store from the sidewalk outside.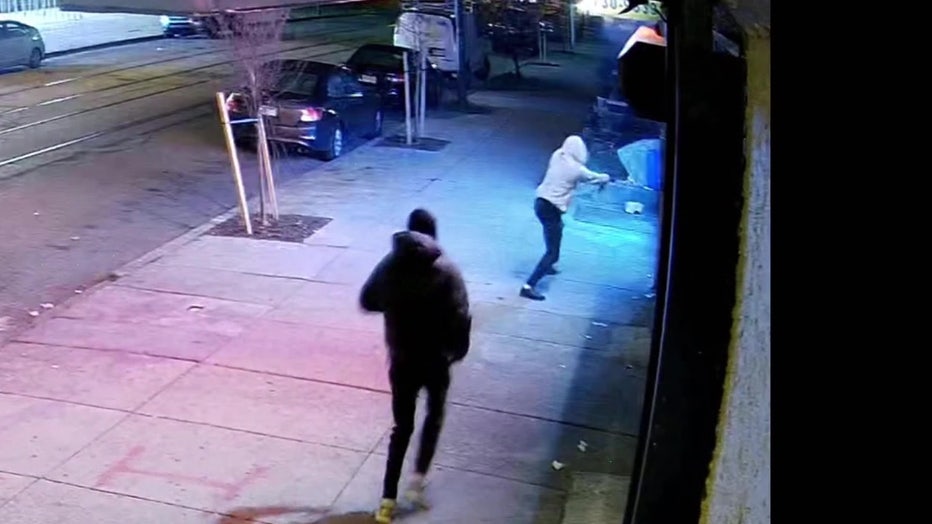 Within 20 seconds, the pair finish and run off in the opposite direction of the restaurant.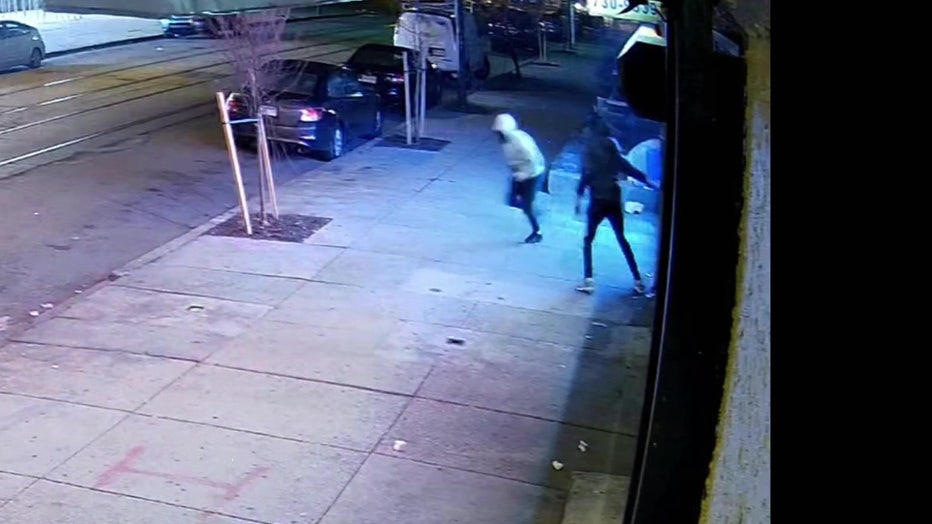 The two suspects are described:
Suspect #1 has a thin build and is wearing light-colored, hooded sweatshirt, black facial covering, dark-colored pants and dark shoes.
Suspect #2 has a thin build and is wearing a dark, or black, hooded, puffy jacket, black face covering, black Adidas athletic pants, with three white vertical stripes on the upper, outer legs and gray athletic shoes.
Officials also announced a $40,000 reward is being offered for the arrest and conviction of the two suspects.
Anyone who sees these men should not approach them, but call 911 immediately.
Anyone with information regarding the two suspects or the incident itself, is urged to contact the Philadelphia Police Homicide Unit at 215-686-3334 or 3335 and ask to speak with Detective Bradley at extension #699, or Detective Craig at extension #671.
___
Tips can be submitted by calling 215-686-TIPS (8477) or texting PPD TIP (773847). Tips can also be submitted anonymously online, here. All tips are confidential.
Click here to find resources for victims of violence in Philadelphia.