Philadelphia's Next Mayor: Democratic Primary Debate on FOX 29
PHILADELPHIA - FOX 29 and Temple University have partnered to host "You Decide: Philadelphia's Next Mayor, The Democratic Primary Debate" live from Temple University. 
Seven Democratic candidates for Mayor of Philadelphia are facing off in a 90-minute-long LIVE debate, hosted at Temple University, where they will field questions on the most pressing issues for Philadelphians - from quality of life, to education, crime, and the economy. 
FOX 29 Evening Anchor Jason Martinez is serving as moderator for this limited commercial presentation, with FOX 29's Shiba Russell leading a panel including Thomas Drayton and Jeff Cole. In addition, FOX 29's Shawnette Wilson is presenting questions from the live audience comprised of Temple University students and local community members.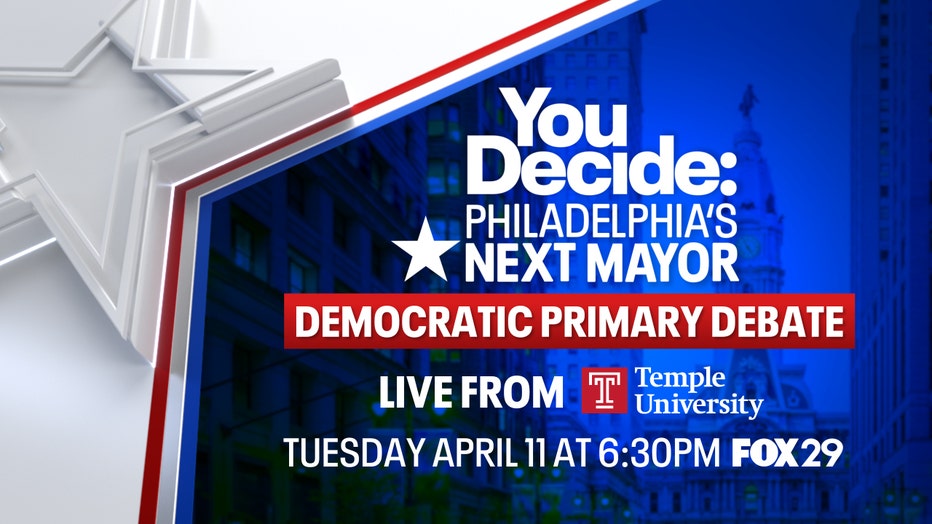 WHEN: Tuesday, April 11th 6:30 p.m. ET – 8 p.m. ET
BROADCAST: FOX 29
STREAMING: Livestream will be available on FOX29.com, FOX 29's YouTube channel, Tubi, and Amazon News
TO ATTEND: AUDIENCE: For FREE tickets to be a part of the audience, please visit this link.
Former City Council Member Allan Domb
Former City Council Member Cherelle Parker
Former City Council Member Helen Gym
Former City Council Member Derek Green
Former Philadelphia City Controller Rebecca Rhynhart
PA State Representative Amen Brown (PA, 10th District)
Businessman Jeff Brown
This content is a part of Every Voice, Every Vote, a collaborative project of The Lenfest Institute for Journalism, with lead support provided by the William Penn Foundation. Learn more by clicking here.