Embiid scores 47 as 76ers beat Jokic, Nuggets 126-119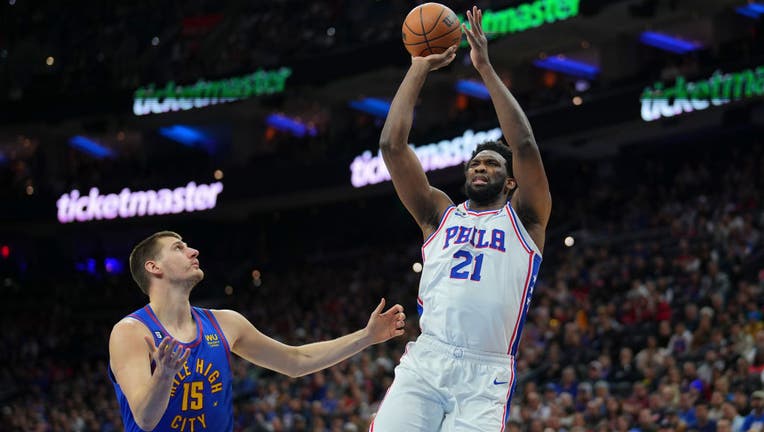 article
PHILADELPHIA - Joel Embiid won the battle of MVP candidates with 47 points and 18 rebounds as the Philadelphia 76ers extended their winning streak to seven games with a 126-119 win over Nikola Jokic and the Denver Nuggets on Saturday.
Jokic and Embiid have finished first and second in voting for the NBA's Most Valuable Player award over the last two seasons. Both are among the top candidates for MVP as this season hits the halfway mark.
James Harden had 17 points and 13 assists, and Tobias Harris scored all 14 of his points in the second half after being shut down by Denver's defense in the first half.
Jokic had 24 points, eight rebounds and nine assists for Denver, which has lost three of its last four games. Jamal Murray chipped in 22 points and Michael Porter added 20.
Embiid has scored 40 or more points nine times this season and 35 times in his career.
The Nuggets began the day with the second-best team field goal percentage at 50.7% and tops in 3-point percentage at 39.5%. In the first half, they overwhelmed Philadelphia's perimeter defense, shooting 65.9% (29 for 44) from the floor and 10 of 17 (58.8%) from beyond the 3-point line. The hot shooting helped the Nuggets to a 73-58 lead at halftime.
Embiid started to take over toward the end of the third quarter, putting together a 16-point quarter on 5-of-6 shooting that keyed a 14-0 run that allowed the Sixers to close within 99-98 early in the fourth.
In the final quarter, Philadelphia wore down a Nuggets team playing the final game of a three-game, week-long trip. P.J. Tucker followed a Harden missed 3-pointer with a tip-in with over a minute left to stretch the lead to five. Embiid then hit a 3-pointer to restore an eight-point lead.
TIP-INS
Nuggets: Jamal Murray did start after being listed as questionable with a left hip sprain. Murray missed the game at Milwaukee on Wednesday night. There were times in the third and fourth quarter where Murray appeared to try to stretch things out, but remained in to score 22 points.
76ers: For the second straight game, Embiid did start after being listed as a game-time decision with left foot soreness. Embiid had missed the final game of Philadelphia's five-game trip in Sacramento last Saturday night. .. Philadelphia was issued a third-quarter technical foul for only having four players on the floor.
UP NEXT
Nuggets: Start a three-game homestand against New Orleans on Tuesday.
76ers: Play the first of back-to-back home games against Orlando on Monday.